According to anti-extremist group, Hope Not Hate, naval authorities surrounded the vessel and took over control from those on board.
An employee at the Suez Canal Authority confirmed "it was arrested by the security authorities" because of "a matter of security due to the lack of documentation and papers".
Satellite tracking shows the ship currently just outside the entrance to the Suez Canal where it was trying to gain access to the Mediterranean.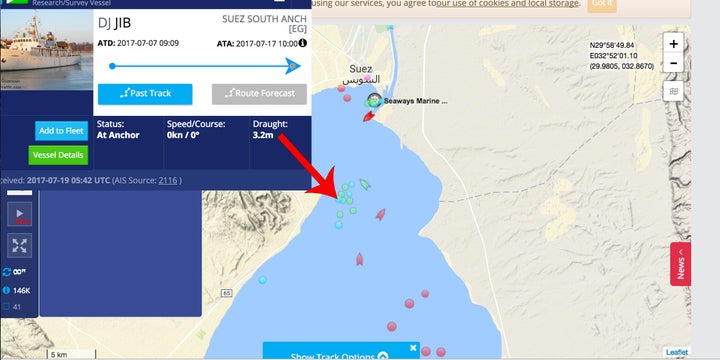 Just 21 hours ago Defend Europe had tweeted a picture of the ship, named the C-Star, declaring the start of their planned week-long mission.
The group later posted on update on their Facebook page saying "our mission to defend Europe goes on".
The Defend Europe group has accused charities such as Save the Children of effectively acting as human traffickers by rescuing them from peril.
The trip is being financed by a crowdfunding campaign which raised £91,000. The mission's stated aim is to "document the doings of the NGOs, expose their collaboration with the human smugglers, and intervene if they do something illegal".
Earlier this week Katie Hopkins yet again caused controversy after being photographed with some of the alt-right figures planning to travel on the ship.
The blonde lady pictured with Hopkins is Canadian Lauren Southern, 20.
A spokesperson told HuffPost UK:
"Activities of far-right groups planning to disrupt search and rescue operations aimed at saving lives are deeply concerning.

"They ignore the moral and legal obligation to save lives at sea. Without NGOs and other search and rescue actors, many more lives, like the men, women and children we have rescued, would be lost. These activists wish to disrupt efforts to bring these people to safety.

"2016 was the deadliest year on record in the Mediterranean with more than 5,000 deaths at sea, and 2017 could be worse still. As things stand, the Mediterranean Sea is one of the largest unmarked mass graves in recent times. As a humanitarian organisation, our mission is to save lives and we go where children face the greatest risks.

"During 2016 Save the Children assisted in the rescue of 2,700 refugees and migrants. So far this year the total stands at almost 4,000, including more than 625 children."
Related