As millions of Hindu followers celebrated the sun god during Chhath, the sun itself remained elusive in Delhi as the sky became obscured by a seemingly-impenetrable smog.
The sprawling Indian capital, home to more than 25 million people, has been smothered under a thick blanket of toxic fog for days, with pollution at its highest level in three years.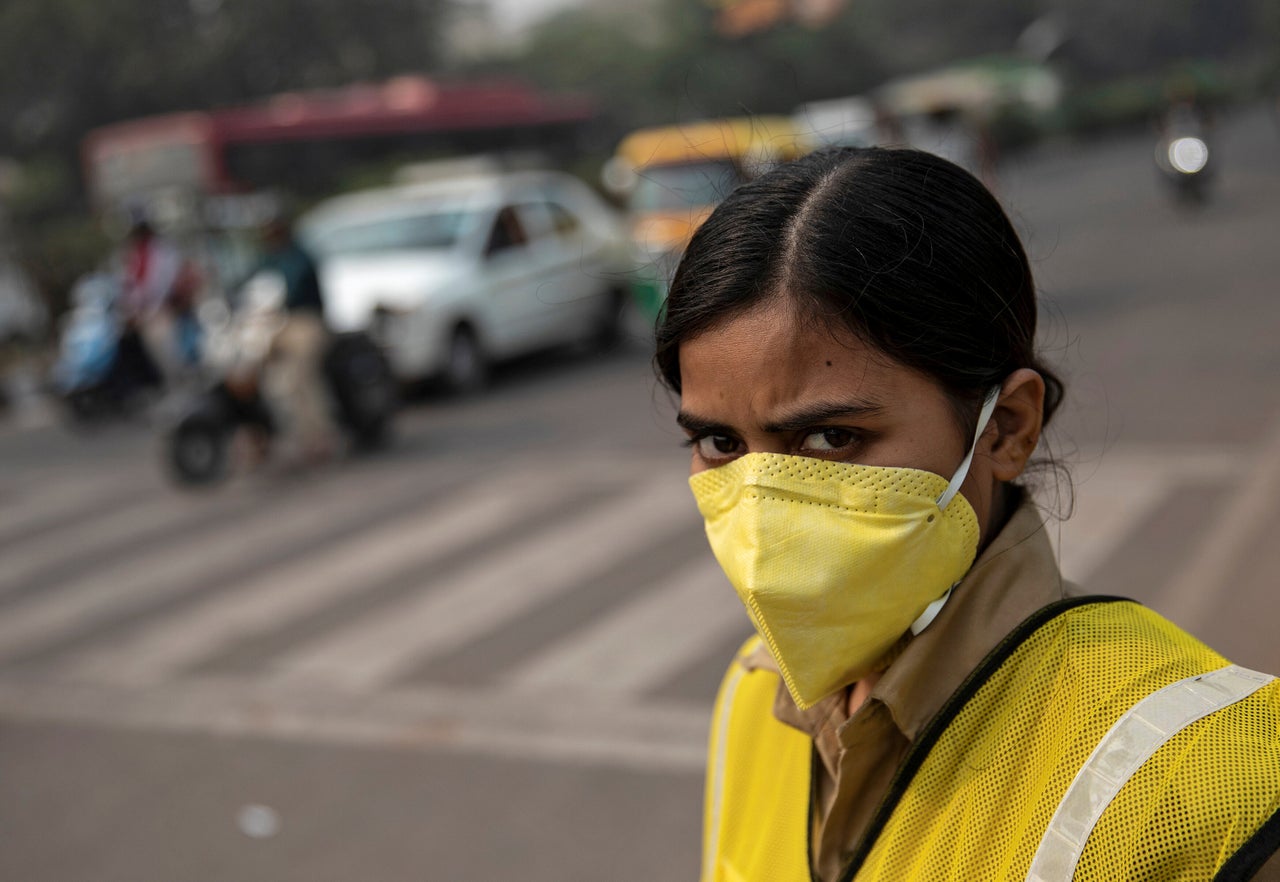 According to independent online air quality index monitor AirVisual, Delhi was the most polluted major city in the world on Monday, at twice the level of Lahore in Pakistan, which was a distant second.
The US Embassy air quality index, which measures the concentration of tiny PM 2.5 particles, exceeded 500, which indicates a much higher potential for aggravation of heart and lung disease amongst the general population, as well as an increased likelihood of premature death affecting both the elderly and people with existing conditions.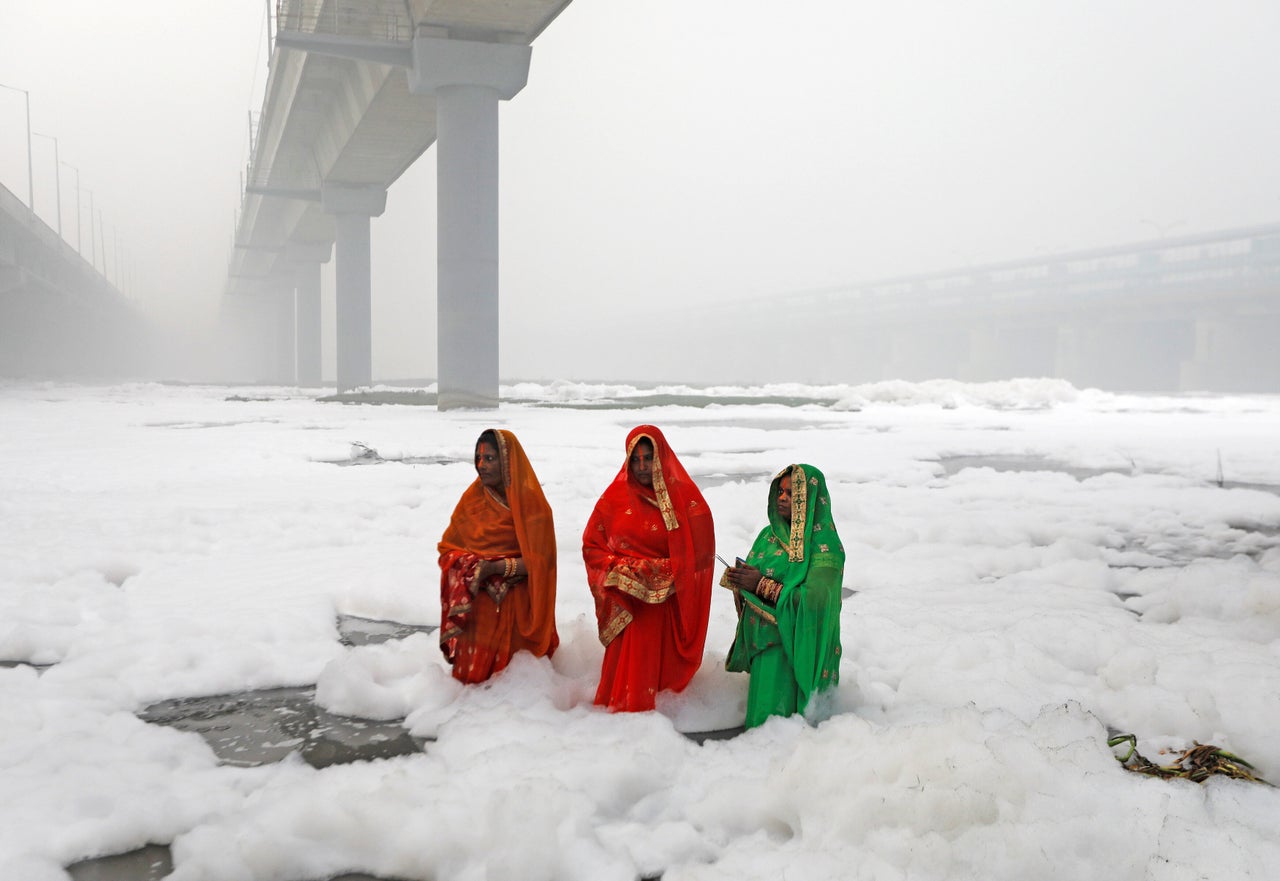 The severity of the crisis has forced leaders to take action – residents have been advised to stay indoors as much as possible, schools have been closed, and strict car-rationing measures have been enforced.
On Monday, only private vehicles with number plates ending in odd numbers were permitted to take to the roads, with even number plates permitted on Tuesday and so on.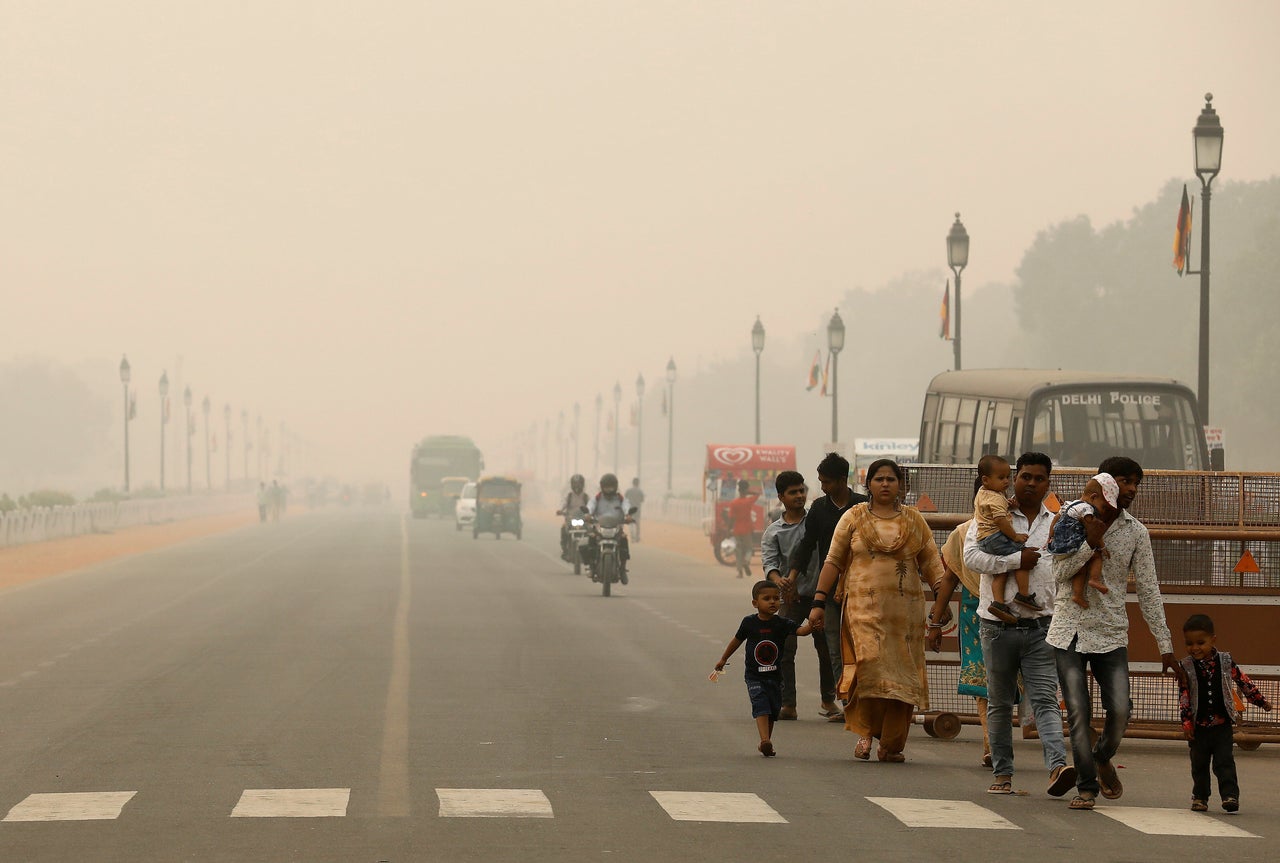 The output from exhaust pipes pumping out fumes on Delhi's overcrowded roads has an impact on air quality year-round in the capital – as it does in cities worldwide – with coal-powered factories and wood-burning stoves also causing issues.
It's not just motorists and industrial pollutants causing massive issues however – each year around late October and November the situation worsens significantly as a result of farming practices in the agricultural areas surrounding the city.
Farmers in neighbouring states burn the remaining stubble of their crops en masse in order to clear the fields – a process which releases a number of harmful pollutants such as carbon dioxide and sulphur dioxide into the atmosphere.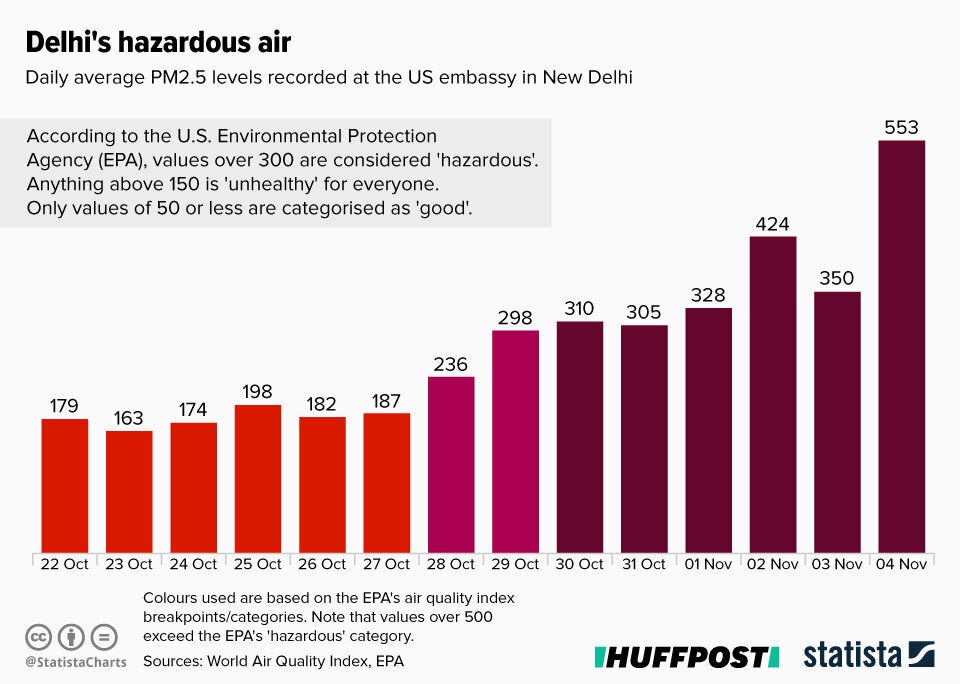 This creates a lethal cocktail of particulate matter, carbon dioxide, nitrogen dioxide and sulphur dioxide - all worsened by fireworks set off during the Hindu festival Diwali a week ago.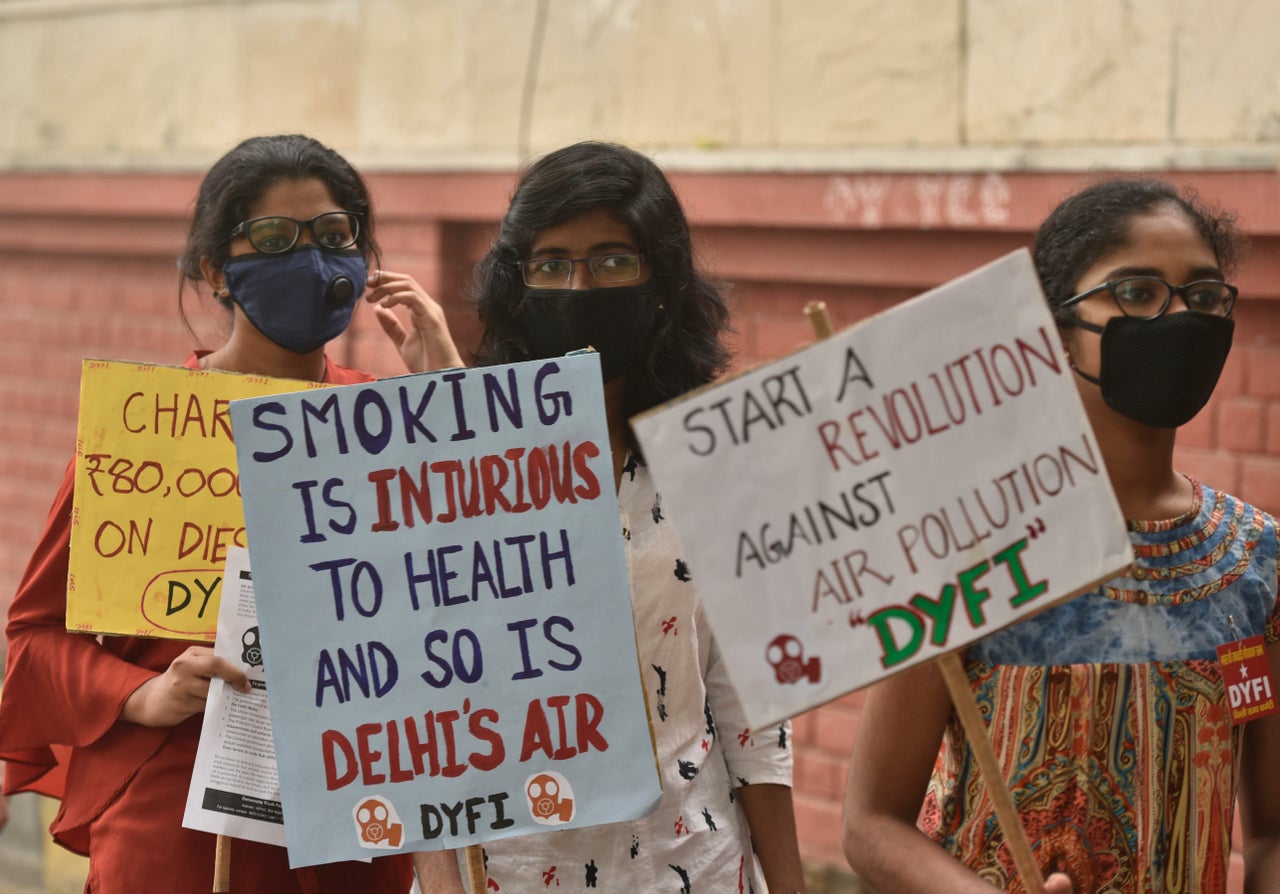 A perceived lack of substantial action to tackle the extreme levels of pollution in the Indian capital led protesters in gas masks onto the streets in order to demand better air quality.
Delhi's chief minister Arvind Kejriwal said on Friday that the city had been turned into a gas chamber, and urged residents to protect themselves from the high levels particulate levels.
The conditions have caused widespread anxiety amongst residents, many of whom have voiced a desire to leave the city in order to escape the conditions.
"I feel like moving out as well because I'm young and I'm still on a stage of building up my life and my career," Delhi resident Divyam Mathur said.
Doctors were reporting a spike in patients with respiratory related issues, according to Sachin Taparia, head of Local Circles, a Delhi-based private consultancy that conducts surveys on government policies and programmes.
A survey of 17,000 people in the Delhi region by his consultancy found that 40% want to get out of the Delhi region because of the failure to control pollution.
"Delhi has turned into a gas chamber as the pollution levels hit the 'severe+' category," Taparia said.
Siddharth Singh, a resident of Noida, a satellite city of Delhi's, said that "the air smelled like burning leaves.
"Many people have a persistent dry cough and itchy eyes. Everything is hazy, so the eyes don't focus on objects in the distance. Everything looks morose."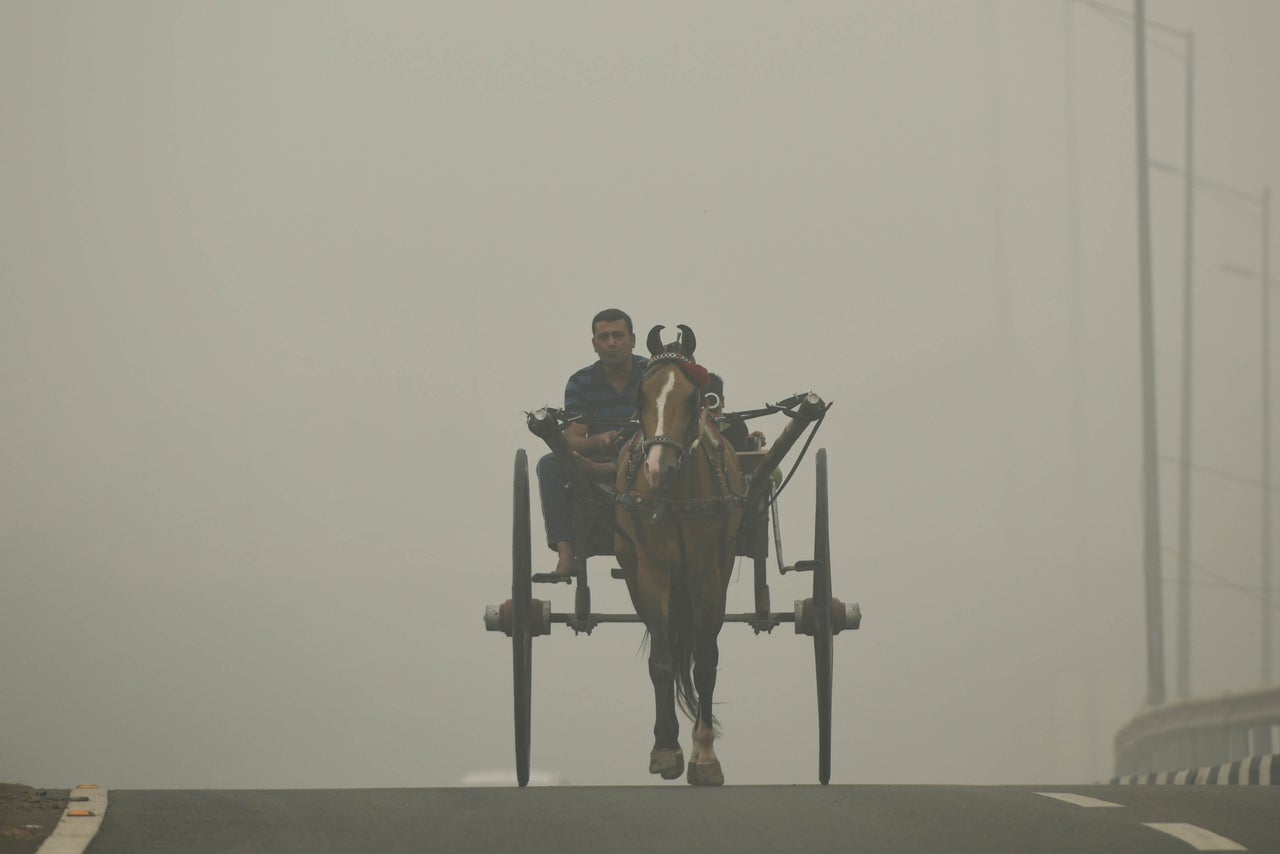 There's little respite from the smog expected in the coming days. Residents hope that forecast rainfall might bring some relief, but it's not expected to fall until Thursday.
Ankusha Kushi, a student, told AFP: "I have a headache every day I wake up. It's suffocating to breathe sometimes.
"And inflammation in the nostrils and all. And eyes also. Like it kind of burns,"