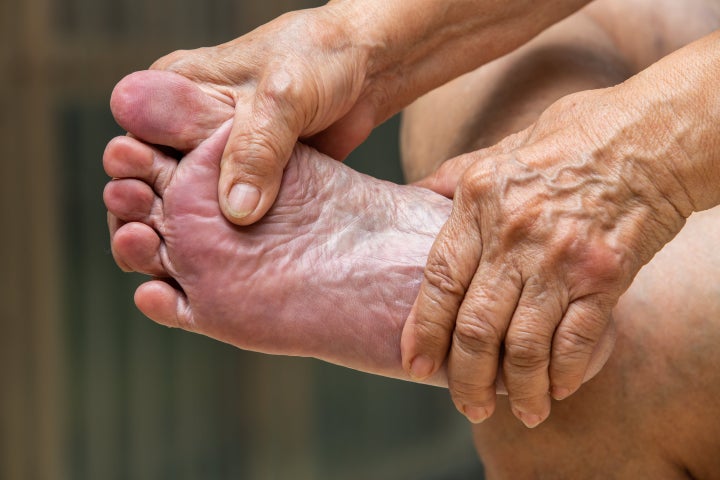 A worrying surge of advanced foot disease cases have been reported by clinicians during lockdown, prompting a warning from charity Diabetes UK.
The charity is urging people with diabetes not to delay in seeking medical help if they experience problems with their feet. At least one diabetes-related amputation occurs every hour in England.
Clinicians across the UK are seeing greater-than-expected numbers of people presenting for urgent care with unusually advanced and severe foot disease, while the UK has been under lockdown.
For people with diabetes, foot ulcers and infections can develop and deteriorate very quickly to more advanced foot disease. Seeking early treatment could prevent the need for amputation. However, due to delays reported, Diabetes UK has learned of patients needing to go straight to major amputation.
Nicholas O'Brien, 68, from Chipping Norton was diagnosed with type 2 diabetes in February this year, but his GP suspects he may have been living with the condition for up to 10 years.
In May, he developed a small verruca on his foot, which began to get worse, but O'Brien's fear of going to hospital stopped him from getting it checked out.
By August, his foot had become so painful that he visited a GP, who advised him to go to hospital as soon as possible. He managed to avoid amputation, but still had to have a significant part of his foot cut out.
"I was hesitant to seek help, especially with everything that has been happening this year," he said. "I want to urge everyone with diabetes to take good care of their feet and to seek help if, and when they need it – you can potentially save yourself from a lot of pain."
Jodie Buckingham, lead podiatrist at Oxford University Hospitals, said over the past few months, she has seen for herself the "sudden surge" of people with diabetes and advanced foot disease being admitted to hospital.
"Unfortunately, some people are presenting to foot care services at a point that their foot condition is so severe that they require immediate admission under surgical teams," she said.
Dan Howarth, head of care at Diabetes UK, said it's "perfectly understandable people are afraid to seek medical attention", but the consequences cannot be underestimated.
"It is crucial that people with diabetes know how important it is to seek medical attention if they spot any signs of foot problems," he says. "A matter of hours can make the difference between losing and keeping a foot, or worse. The NHS is and remains open, and the health service is still there for you."
It's vital all people living with diabetes know how to look after their feet, the charity said. This includes checking feet daily and reducing the risk of problems by managing blood sugars, blood pressure and living a healthy lifestyle.
If you notice any signs of foot problems, get in touch with your GP or practice nurse. If you're being treated for an active foot problem (monitoring of a problem or treatment) then you should continue to go to your appointments.