MPs witnessed a "jaw-dropping" moment in Westminster today when Shadow Home Secretary Diane Abbott left a debate on the security services to take a phone call.
She was lightly mocked by former minister Ed Vaizey, who was speaking in the debate on extending agencies' investigatory powers when it happened.
Abbott had been responding on behalf of the Labour Party but exited her seat to take a call when her phone rang.
One unnamed MP told HuffPost UK: "It was a truly jaw-dropping moment."
Vaizey was unfazed by the interruption and even took the opportunity to goad Abbott for leaving in the middle of a debate she was responding to.
"I don't know where the Honourable Lady, the Member for Stoke Newington is getting her instructions from," he said. "But clearly she will come back having taken this phone call and no doubt elucidate us perhaps on the complex issue of Scottish and Westminster relations."
Vaizey had been discussing the roles of the House of Commons and Holyrood in creating laws that affect Scotland during the debate on the Investigatory Powers Bill.
A source in Abbott's office said the MP's phone rang as she was leaving the debate and that it did not interrupt proceedings.
"It is sad that after an important day in the chamber, the news story isn't about legislation but rather a sensationalised account of Diane's phone etiquette," they said.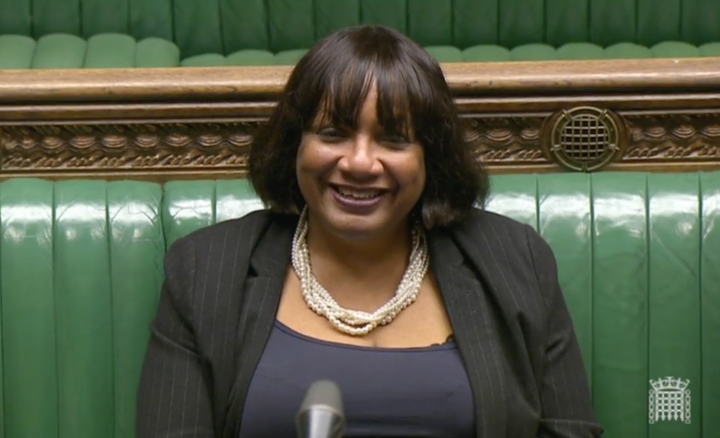 It came after Abbott dismayed some onlookers during the Women Of The Year Awards - also by using her mobile.
One of those present at the event last month said the Hackney MP was on her phone "the whole way through" a film paying tribute to Hillsborough families campaigner Margaret Aspinall, and during a speech by the PM praising her work.
Abbott's office later told The Huffington Post UK that she was dealing with the breaking news that Lisa Nandy's Urgent Question on the child sex abuse inquiry had been granted in the Commons.
"She talked briefly on her phone after receiving a call but then because she didn't want to disrupt the event, she used email to correspond with her office about the Urgent Question," her spokeswoman said.
"She decided not to leave the table but instead use her phone. It was not to text, browse, or show disrespect."
Related