Students with disabilities have urged universities to make online learning more accessible after revealing their struggles during lockdown.
Many have said they received inadequate support following the transition and pointed to broader gaps in higher education for disabled students.
Now, as they prepare for more home learning in the new academic year, students have spoken of their fears if more support is not provided.
Disability groups and student unions have for years advocated for more online learning, arguing it would be a step forward in the implementation of the Equality Act, which demands that "reasonable adjustments" be made for students with special needs.
But as the Covid-19 pandemic swept through the UK and online learning became the norm, not all universities were ready for the challenge.
Students with disabilities had to reconcile workload and health needs in a short time and with little support. From reduced control over screen exposure to prevent seizures, to issues with obtaining extensions for coursework, not all students benefited.
According to the Office for Students, more than one in eight students in England declared at least one disability in 2018-19. However, an Office for National Statistics report paints a grim picture: 21.8% of disabled people had a degree in 2019 compared with 38.0% of non-disabled people.
The number is as low as 7% for people with severe or specific learning
difficulties.
"Those of us who don't feel safe going into in-person classes need to be properlyconsidered. Disabled students cannot be an afterthought any longer"
Charli, 19, is worried about continuing remote courses. A Lancaster student with an autism spectrum disorder, she has struggled to receive help from department staff and disability services in the past.
Her support plan details options to achieve learning outcomes in spite of her disability. Yet the personnel's limited awareness translated into erratic support and the switch to online learning exacerbated the problem. Autism may hinder the ability to follow complex conversations, especially with background noise – but Charli's lectures did not have subtitles. Moreover, extensions for group projects were too short for her extenuating circumstances.
"The excuse that it happened so fast last term isn't valid now," she says. "Those of us who don't feel safe going into in-person classes need to be properly
considered. Disabled students cannot be an afterthought any longer."
Lancaster University said: "Whilst we are not able to comment on individual students, the university's approach to disability is inclusive and we take the support and wellbeing of all our students very seriously.
"Our departments worked hard to put in place the necessary individual reasonable adjustments for the new teaching and assessment arrangements. We are continuing with our efforts to effectively support our disabled students to ensure they also receive the best student experience."
In 2014, Pippa Stacey was diagnosed with myalgic encephalomyelitis (ME) while at York. She now authors books and articles on chronic fatigue syndrome, and has her own social enterprise.
For her, faculty members can become more receptive to individual needs
through better diversity and inclusion training.
"Even when studying is primarily based online, regular contact and communication from both parties will help to ensure that disabled and chronically ill students aren't being disadvantaged," she said.
Konstantina Nouka is a disability officer at Reading's Student Union. She received 30 complaints during the lockdown and some students felt so unsupported they deferred exams.
Nouka is now involved in consultations across schools to improve online teaching, but she is adamant: "Universities across the UK need to invest in training for students with special needs and disabilities. There is still a huge deficit of knowledge among teachers, tutors, and professors when it comes to disabled students."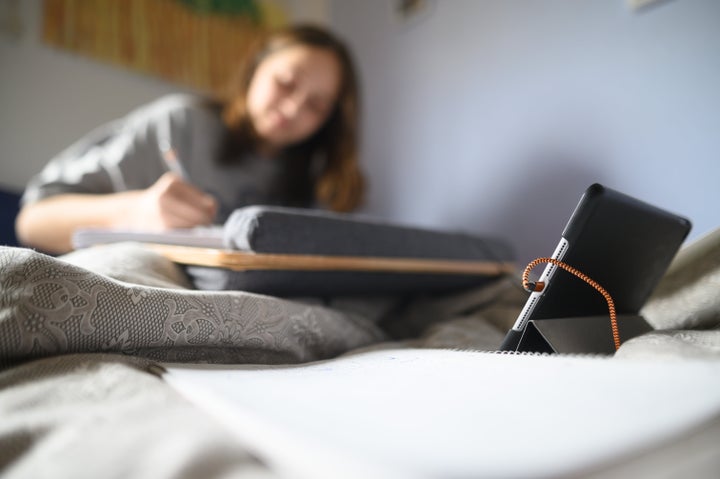 An informal survey conducted by Disabled Students UK shows that changing learning set-ups can cause anxiety and fatigue.
Many disabled students also experience issues with pre-existing conditions flaring up when adjusting to a new study environment, sometimes with reduced access to medical care under lockdown.
Marelize, 20, has had complications with her eyesight disability since the beginning of lockdown. Her severe blepharitis, which causes excessive sensitivity to light, worsened due to prolonged computer sessions and the move to two-week online exams. She had to request several deferrals to relieve symptoms and complete courses. As a result, she has outstanding assessments two months after the end of the official deadline.
Marelize appreciates that Bristol's law school never questioned her claims and that it will supply a screen reader for the upcoming term. But online learning gave her a different understanding of her status.
"Before lockdown, I didn't really see myself as being hugely affected by my condition," she said. "I just put it down to me struggling with the course and being 'lazy', so I didn't seek all the help available to me."
Students attending the same school may have differing experiences, it should be said.
Lorna, a student with ME, praised Durham's Supported Progression programme in a blog for the Higher Education Policy Institute.
"I must admit I did not expect people to have even heard of [my disability],"
she says. "But in my experience some have and some even understand the severity of it.
Yet she recognises that is not the case for everyone: "Disabled students are an untapped potential, yet we struggle to receive these life-changing experiences at top universities."
Another student, who wishes to remain anonymous, experienced a problem despite arrangements at Durham. He and his classics coursemates welcomed provisions allowing them to type in Greek and enjoy quality lecture recordings. However, the exam timetable did not fully accommodate his need for limited screen time to prevent epileptic seizures.
He says: "My last two exams were nearly consecutive and this did make it stressful. Even though I had completed and submitted the paper, it was hard to move onto the next one."
Abigail, 19, also thinks that her college at Oxford, where she studies English, could have been clearer on the inclusion of extra time and breaks: "Putting the onus on disabled students to clarify just causes more stress than necessary," she says.
But a lack of active support from the school for her two chronic illnesses did not negate the advantages of remote tuition. She hopes that some changes, such as larger archives of online resources, will become permanent.