Coronavirus has changed everything. Make sense of it all with the Waugh Zone, our evening politics briefing. Sign up now.
More than a million people have signed a petition calling for Boris Johnson's top aide Dominic Cummings to be sacked over his lockdown trip to Durham.
HuffPost UK understands that the force's use of the word "might" in its statement relates solely to the fact that any determination of a potential breach would be decided by the courts.
The prime minister has stood by his adviser, triggering a revolt of dozens of Tory MPs and a sharp decline in personal and party poll ratings.
Now a change.org petition – called "Dominic Cummings must be sacked" – has attracted more than a million public signatures.
Friday's Downing Street daily press conference, headed by chancellor Rishi Sunak, was the first time in a week ministers have not been asked about the aide's conduct.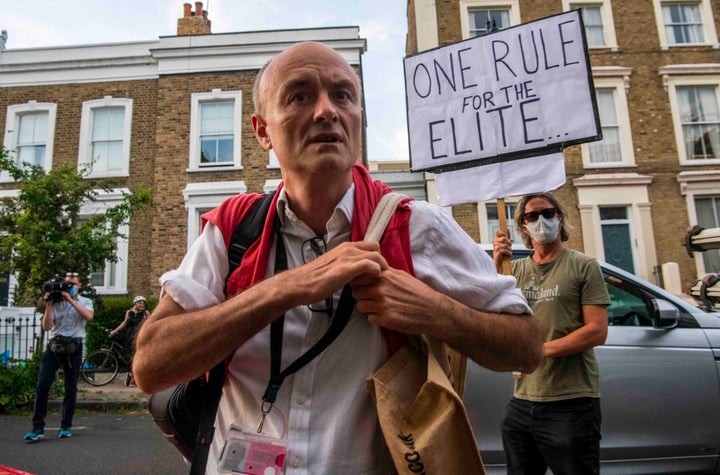 A police and crime commissioner said on Friday that the PM's easing of lockdown restrictions announced on Thursday appeared "rushed forward to help ministers in a difficult position".
Northumbria's Labour police and crime commissioner Kim McGuinness said: "One of the hallmarks of the government's handling of this deadly pandemic has sadly been a series of mistimed and badly explained messages.
"By pre-announcing changes to lockdown ahead of a tempting weekend of sunshine, the PM must have known he was going to create a situation that is difficult to police.
"The messaging looks like it was rushed forward to help ministers in a difficult position.
"When our country eventually gets through this and the inevitable inquiry into the government's handling takes place, the communications plan, or the lack of, will have to be part of that.
"My message to people is to follow the latest guidelines, avoid large groups and be patient as we seek to reduce the R number and slow the spread of this deadly virus."
It came as attorney general Suella Braverman faced calls to apologise for defending Cummings' trip.
Shadow home secretary Nick Thomas-Symonds suggested Braverman's actions undermined the legal independence of her office.
Braverman had previously declared her support for Cummings, saying "protecting one's family is what any good parent does", and endorsed a statement from No.10 which said Cummings had behaved both "responsibly and legally".
Thomas-Symonds told BBC Radio 4′s Today Programme: "I can't comment precisely on the communication between the attorney general and Durham Police, but what I can say for certain is this – the attorney general was wrong to be out making public statements about an individual case before even the police had made a public statement, and particularly given her role as superintendent of the Crown Prosecution Service.
"She shouldn't have been commenting on an individual case in those circumstances. That is to misunderstand the role of the attorney general – to give unvarnished advice to government without fear or favour – and at the bare minimum she should apologise for that."
Thomas-Symonds' comments come after Labour's shadow attorney general Lord Falconer wrote to Braverman earlier this week arguing that her tweet was part of a "politically orchestrated campaign" in support of Cummings.
He added that she had breached the principle that her decisions should be free from "political considerations or influence".
Responding to Lord Falconer's letter on Wednesday, Braverman said: "There is of course no question of my having offered any public legal view (as you know, law officers do not publish their legal advice much less tweet about it), nor of seeking to pre-empt any formal investigation.
"The purpose of my comments, as I think would be obvious to a fair-minded observer, was simply to support the decision to clarify events. You will understand that I propose to make no further comment."
In a second letter on Thursday, she added: "As you know, the police and Crown Prosecution Service operate independently and I have no role in their day to day decisions in individual cases.
"I fully support and have every confidence in that operational independence and, as I noted in my last letter, I have no further comment to make about this individual case."