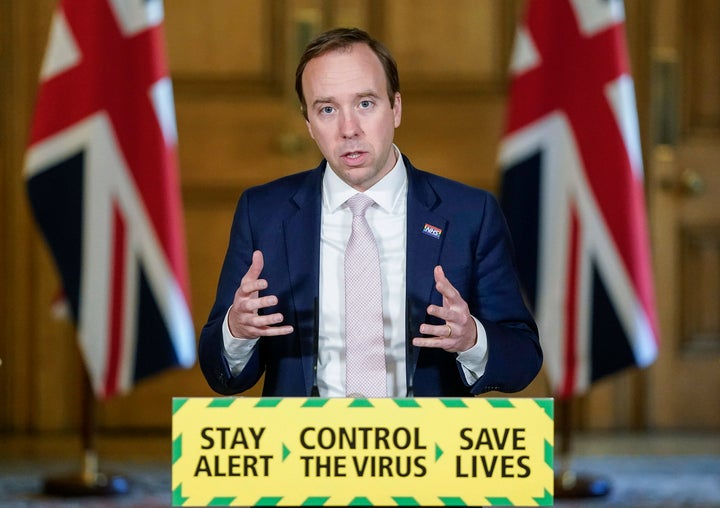 Coronavirus has changed everything. Make sense of it all with the Waugh Zone, our evening politics briefing. Sign up now.
Britain's statistics watchdog is expected to warn Matt Hancock that it still has concerns about government figures for daily Covid-19 tests, HuffPost UK can reveal.
Hancock is in a race against time to hit Boris Johnson's target of 200,000 daily tests by Monday, as part of the wider goal to get a "world beating" test-and-trace system in place by June 1 to ease the country's path out of lockdown.
But with the Department of Health and Social Care (DHSC) not expected to publish statistics on capacity until Sunday, just hours before the deadline, critics fear the target could be achieved by new moves to "artificially" inflate the figures.
Sir David Norgrove, the chair of the UK Statistics Authority, told Hancock on May 11 that he had concerns about the "trustworthiness" of the way the government was presenting and counting its numbers of tests for the virus.
Hancock said that he was publishing "a clear definition of how our target of capacity to perform 200,000 tests a day by the end of May will be measured and reported".
But it is understood that Sir David believes the minister has not fully addressed his concerns, not least on safeguards to avoid double-counting and the need to provide more detail on the nature and types of testing.
He and his colleagues at the watchdog are considering sending a new letter outlining their views next week.
It is rare for the UK Statistics Authority to write directly to cabinet ministers and the original letter was described as a "diplomatically-worded but strong public rebuke".
Sir David, a former Treasury economist and private secretary to Margaret Thatcher, is widely respected across Whitehall.
Some experts have heavily criticised the government for relying on the number of swab tests posted out to the public – without them even being returned to a lab – to help the government reach Hancock's earlier target of 100,000 tests a day by the end of April.
There are also complaints that expecting the public to correctly swab themselves at home, rather than have a trained professional carry it out, is unrealistic given the invasive procedure currently needed.
Professor Sir David Spiegelhalter, who has just joined the board of the UK Statistics Authority, has been scathing about the way the government has handled its Covid-19 figures.
Sir David, who attends Sage group of scientists advising ministers, told the Andrew Marr programme earlier this month that the daily No.10 briefings are "not trustworthy communication of statistics".
Data given during the briefings was "completely embarrassing" and amounted to "number theatre", he said. The decision to include the number of tests posted to people, but not yet completed, rendered the figures "inaccurate".
Some academics suspect that Hancock will use the new antibody tests, which were rolled out this week for the first time, to help meet the 200,000 target set by the prime minister in the Commons.
"That would look like artificially inflating the figures. These aren't tests of people who have it now, but of people who have had it before," one analyst said.
But ever since he unveiled his five "pillars" of testing in early April, Hancock has always insisted that antibody tests – if they could be made viable in time – would be part of the wider target.
He announced last week that 10m antibody tests, which reveal whether someone has previous had the virus rather than if they currently have it, had been bought from pharma giant Roche and would be sent to key NHS staff.
The antibodies are "Pillar 3" of the testing strategy's five elements, set out by the health secretary in early April.
On Friday, some London hospitals told staff every employee could now be offered the antibody test over the weekend.
One NHS trust emailed staff to reveal that "we are pleased to confirm that our capacity for testing has been significantly increased" and each of them could book a slot over Friday, Saturday and Sunday.
As of Thursday, the most recent day for figures on different "pillars", there were no figures for antibody tests. But by Sunday, the total could have increased dramatically.
For more than a week, the DHSC has also described as "unavailable" the actual number of people tested by some labs, rather than the number of tests completed.
Dave Buck, a senior fellow in public health at the King's Fund, said Hancock's letter "did not directly address" the concern about posted swabs being included in the overall target.
"More broadly, there is a change to the 'ambition' to say it is about the capacity to conduct 200,000 tests a day. It's a subtle change in language but clearly there to be seen."
Dr Kit Yates, senior lecturer in mathematical sciences at Bath University, said: "The data is certainly more accessible but still lacks much of the transparency Sir David and the UK Statistics Authority were hoping for.
"In particular, figures on the actual number of people tested daily are listed as 'unavailable' and a breakdown of testing figures by region or other potentially useful categorisation is still notably lacking."
Shadow health secretary Jon Ashworth told HuffPost UK: "Given the Cummings fiasco, public trust is draining away from ministers.
"That's why the UK Statistics Authority is right to castigate Matt Hancock. We need clarity over how many PCR tests have been carried out on people on a daily basis, how quickly they were turned around and a breakdown of how the 200,000 promise will be delivered.
"Testing and tracing is now crucial but will only succeed if people have confidence in it. Transparency is key to building that confidence."