Dominic Raab has confirmed the UK wants to strike free trade deals with countries that do not meet European human rights standards.
The policy was first revealed last week by HuffPost UK after we were leaked a clip of the foreign secretary explaining his position to staff. In the recording, he said the government didn't want to exclude countries from trade deals solely because they fell below European Convention on Human Rights standards.
To restrict deals to countries that meet these standards would mean missing out on "the growth markets of the future", Raab told Foreign, Commonwealth and Development Office staff.
After Raab's comments were reported by numerous news outlets, including The Times, Commons leader Jacob Rees-Mogg used parliamentary privilege to claim wrongly that HuffPost UK had "shockingly distorted" Raab's words.
He accused this website of "low quality journalism" and called deputy political editor Arj Singh "either a knave or a fool".
But Raab has now repeated his position during a Commons statement in which he announced sanctions on four Chinese officials deemed responsible for human rights violations against Uighur Muslims in Xinjiang.
The foreign secretary's exchange with SNP international development spokesperson Chris Law came after Downing Street refused to apologise for Rees-Mogg's remarks, despite rebuking him over the language he used.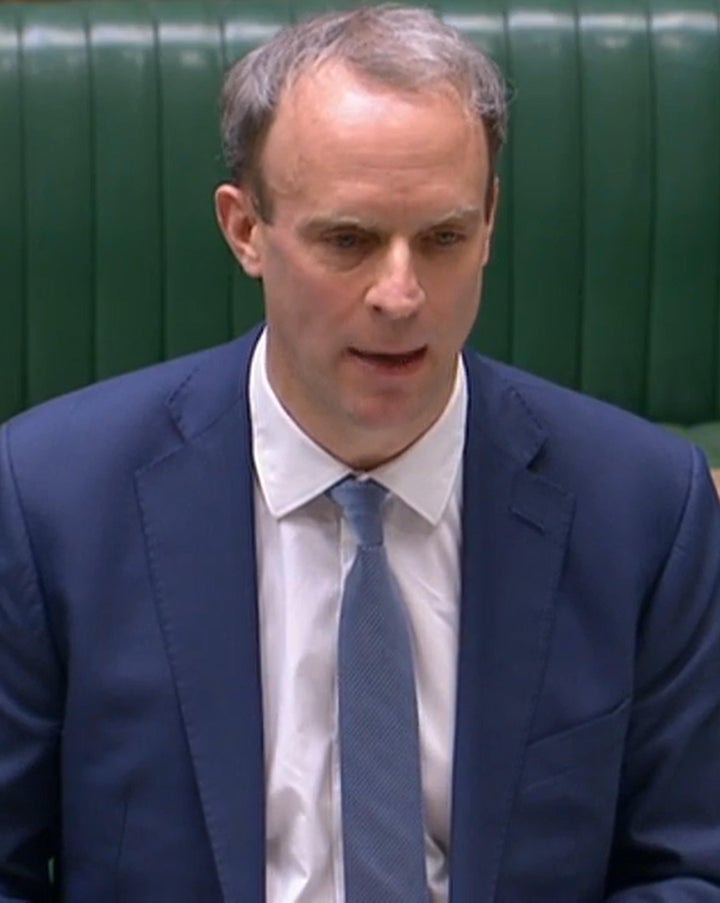 In the Commons, Law said: "Last week the prime minister published a long awaited integrated review which stated 'our first goal is to support open societies and defend human rights as a force for good in the world'.
"Yet despite this the prime minister wants to forge closer ties to some of the worst human rights violating states in our world.
"Moreover, in the immediate aftermath of the [...] publication, the foreign secretary lamented that restricting trade because of human rights abuses would mean missing out on growth markets.
"The foreign secretary's words last week do not chime with today's statement – his insistence that the UK will seek to do trade deals with countries that violate standard, enshrined in the European convention of Human Rights, the very last drawn up by British officials after the horrors of the Second World War, mark yet another record low for this UK government."
Raab replied: "I made clear we would never do an FTA [free trade agreement} with a country that had a human rights record that is beyond the pale."
He went on: "[Law] raises the question as to whether we would ever trade with countries who do not have ECHR-level human rights.
"I would just put it to him that he has never once [...] suggested that we should tear up any of the free trade deals that we do with countries that still have the death penalty, which of course wouldn't comply with ECHR.
"If he wants to keep making this argument, could he tell me which of the FTAs, whether it's Korea, Japan, or is it negotiations with the US, that he is opposed to?"
Raab's leaked remarks last week had proved particularly controversial as they came on the day Boris Johnson was accused by Tory MPs of going soft on Beijing. The prime minister had announced hours earlier that the UK would seek "deeper trade links and more Chinese investment" as part of a landmark foreign policy review.