Surrounded by a group of men, Donald Trump has signed an executive order cutting funding to health groups that advise on abortions.
In one of his first acts as president, he reinstated the "global gag rule" that bans American money from going to international health organisations that counsel on abortion as a family planning option.
American money helps 27 million women access contraceptives, with the US Government spending about $600 million a year on international assistance for family planning and reproductive health.
On Monday, Trump signed the order that ended this funding that better informs poor women on family planning options.
As he did it, the president was flanked by a group of men including his vice-president - and abortion rights opponent - Mike Pence.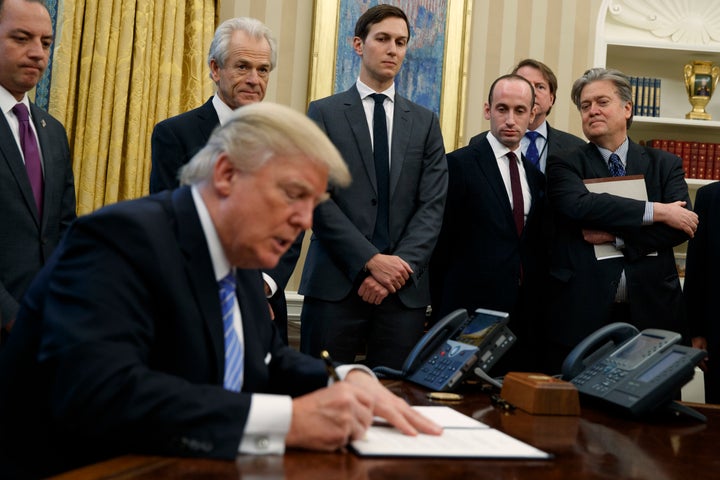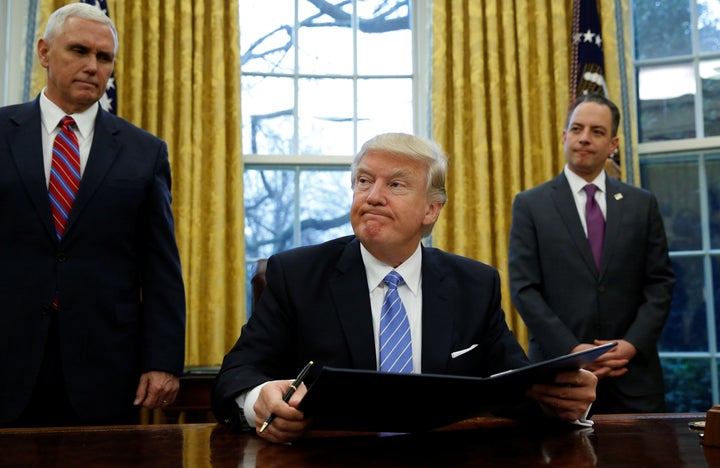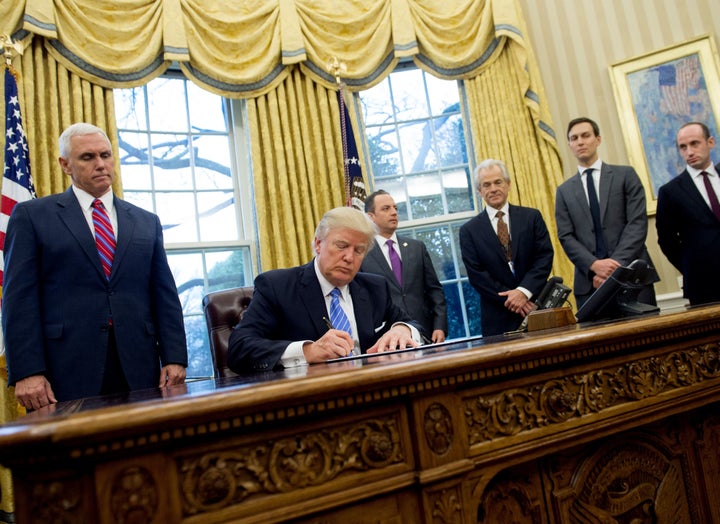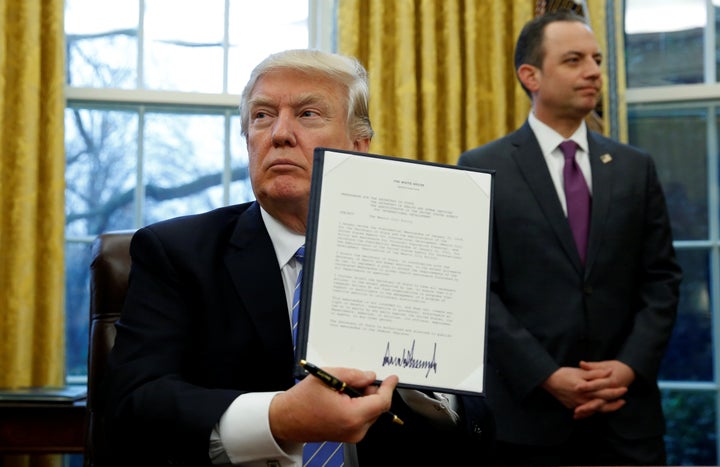 Last week, Democratic Senator Jeanne Shaheen said she would seek to introduce legislation to ban the gag rule permanently, after successive presidents have revoked and reinstated it.
She told Foreign Policy: "I will continue to stand up to President Trump and Republican leadership in Congress who are intent on rolling back women's access to reproductive healthcare, and will soon be introducing bipartisan legislation aimed to repeal the Global Gag Rule for good.
"Women around the world deserve to make important personal health care decisions without politicians in Washington interfering."
What is the Global Gag Rule?

The Global Gag Rule, also called the Mexico City Policy, prevents US foreign aid from going to any organisation that counsels women on abortion.

It was first put in place by Ronald Reagan in 1984. Since then, it has been revoked or reinstated every time the party in the White House has changed. It was revoked by Barack Obama in 2009, having been reinstated by George W. Bush in 2001 after Bill Clinton revoked it in 1993.

The end of US money to help women in developing countries be counselled on abortion could have deadly consequences.

The World Health Organisation estimates that more than 21 million women a year have unsafe abortions in the developing world, which accounts for about 13% of all maternal deaths.

US foreign aid has not gone to organisations that carry out abortions since 1973, when the Helms Amendment was introduced preventing this.
Rosa DeLauro, a Democratic congresswoman, said: "President Trump has made a swift turn to the Right in his first week in office, having chosen to deny safe, affordable family planning services to women across the world.
"The Mexico City Policy has long been a tool of conservatives to appease anti-choice advocates at the expense of women in struggling nations, including those in Central America and sub-Saharan Africa.
"At a time when we are still fighting a global HIV-AIDS epidemic and are grappling with the devastating effects of Zika, public health organisations are our first line of defense in saving lives."
She continued: "That President Trump has chosen to target them with his first set of executive orders is a turn in the wrong direction that only stands to reverse the progress we have made.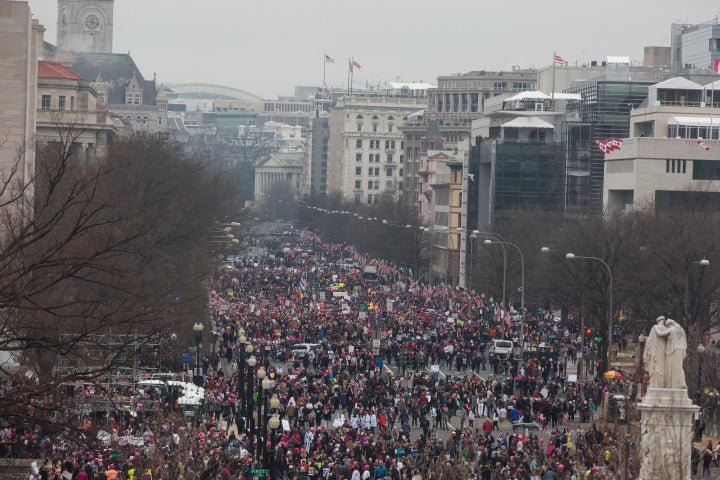 "The millions of women and men who marched last weekend, and millions more, are watching. We will not sit silently while President Trump and the far-right promote a dangerous and ideological agenda that will only make life worse for women and their families across the globe.
"President Trump should reverse this decision immediately and work to strengthen global public health programs, not defund them."
Trump's executive order was signed on the 44th anniversary of Roe vs Wade, the landmark Supreme Court decision that held a woman has a constitutional right to have an abortion.
Campaigners fear Trump's election places it under threat.
He is expected to nominate a social conservative judge to the Supreme Court to fill its vacant seat, which could tilt the court in favour of restricting abortion rights.
Trump also signed two other executive orders withdrawing the US from the Trans-Pacific Partnership, a trade deal, and imposing a hiring freeze on the federal government.
"Great thing for the American worker," he said as he signed the Trans-Pacific Partnership order.
"Except for the military," he said as he signed the hiring freeze.
As he signed the reinstatement of the Global Gag Rule, he said nothing.