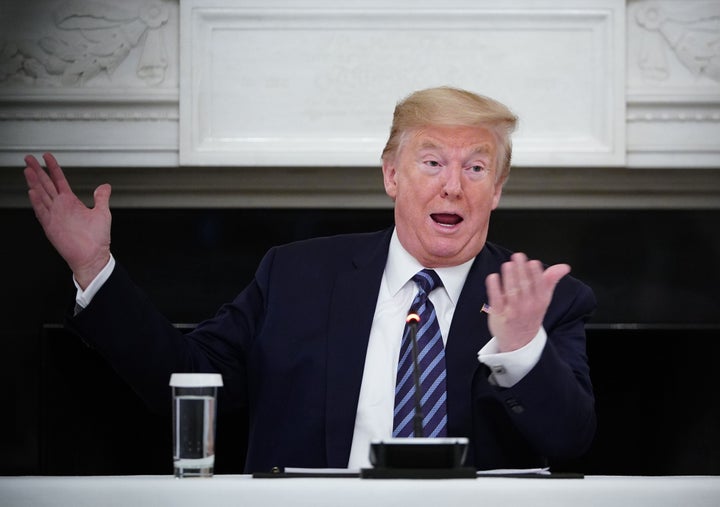 Donald Trump has said Covid-19 "will go away without a vaccine" – directly contradicting comments made by one of the US' top health officials and his own claims in the past.
More than 78,000 people have now died in the US after contracting coronavirus, making it by far the worst-affected nation in the world, with new infections showing no sign of coming to an end.
Speaking at the White House on Friday, the US president said: "I feel about vaccines like I feel about tests: this is going to go away without a vaccine."
"It's going to go away, and we're not going to see it again, hopefully, after a period of time."
The Washington Post reported that Trump did acknowledge the possibility of fresh "flare-ups" of the virus in the autumn, but maintained it would eventually disappear regardless.
He added: "There are some viruses or flus that came and they went for a vaccine, and they never found the vaccine.
"And they've disappeared. They never showed up again. They die, too, like everything else."
But even as he attempted to defend his position – which directly contradicts that of health experts – he acknowledged that a vaccine would be "very helpful".
Trump said: "Eventually it's going to go away. The question is will we need a vaccine?
"At some point it's going to probably go away by itself. If we had a vaccine that would be very helpful."
Trump's comments came just weeks after Dr Anthony Fauci – a leading immunology expert at the scientific forefront of the US' response to Covid-19 – said the exact opposite.
When asked on Fox News in April whether or not Joe Bidens' assertion that "this isn't going to be over until we have a vaccine" was correct, Fauci said there was "truth" in the democrat frontrunner's claim.
He added: "It's not going to be over to the point of our being able to not do any mitigation until we have a scientifically sound, safe and effective vaccine."
Days earlier, Fauci had been asked during a White House briefing if the country could "truly get back to normal... before there's an actual vaccine that's available to everybody."
At the time he responded: "If 'back to normal' means acting like there never was a coronavirus problem, I don't think that's going to happen until we do have a situation where you can completely protect the population."
But the US president didn't just stop at contradicting his leading expert – he also contradicted himself.
Just days ago, during a virtual Fox News town hall event, Trump told viewers that the US "needs the vaccine" – predicting it would be available by December.
He said: "I want it — I need the vaccine.
"We need — this country needs the vaccine. And you're going to have it by the end of the year. I firmly believe it.
"I may be wrong."
Meanwhile, Trump also said on Friday during a meeting with Republican lawmakers that he expected the nation's death toll to reach at least 95,000. The US currently has more than 1.3m confirmed cases of the virus.
It was confirmed on Friday that vice president Mile Pence's press secretary Katie Miller had tested positive for coronavirus, sparking concern that members of the White House inner circle were at serious risk of infection.
Miller is married to Trump's immigration adviser and speech writer Stephen Miller. On Thursday it was announced that one of Trump's personal valets had tested positive for the virus.