President Donald Trump has invited North Korean leader Kim Jong Un to visit the US following talks after he became the first American president to step onto North Korean soil.
Trump and Kim shared a symbolic handshake as they met at the Korean demilitarised zone in a historic moment.
Unconventionally, the meeting was initiated by Trump issuing an invitation to Kim via Twitter.
Trump tweeted Kim on Saturday suggesting they meet and "say hello" while Trump was in the region for the G20 summit in Osaka.
South Korean president Moon Jae-in said Kim accepted Trump's invitation to meet when the US president visited the heavily-fortified site at the Korean border village of Panmunjom.
Trump and Kim shook hands across the border at the Korean demilitarised zone in a historic photo-op as Trump sought to make a legacy-defining nuclear deal with the North.
Trump said it felt "great" to be the first US president to step into North Korea and hailed his great friendship with Kim.
Trump said: "If you look back two-and-a-half years before I was president, it was a very, very bad situation, a dangerous situation for North Korea, South Korea and for the world.
"The relationship we have developed has been so much for so many people."
Trump thanked Kim for making himself available to meet him at such short notice and said: "We met and liked each other from day one and that is very important."
He added: "Thank you for asking me to step over that line."
Kim said Trump's brief visit to North Korean territory improves ties between the nations.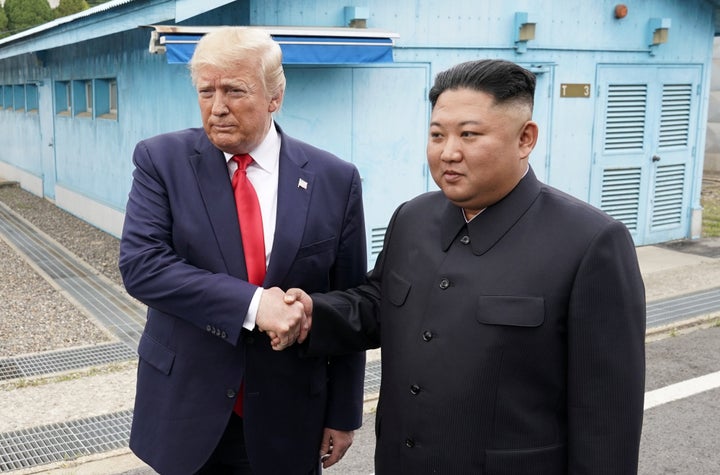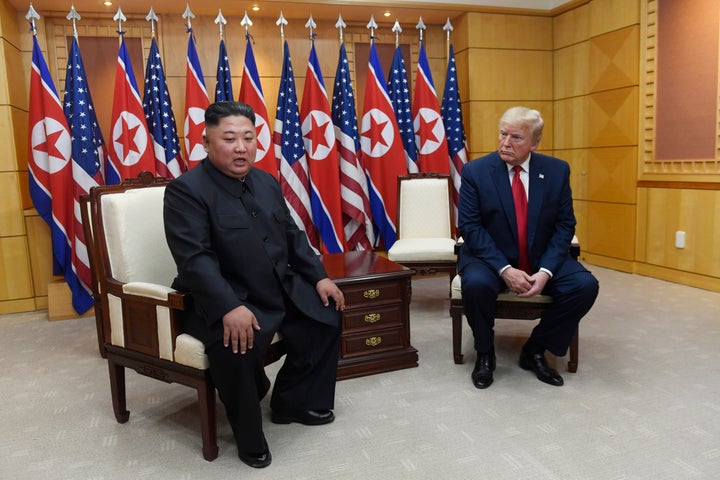 It is the third time the two leaders have met, and the first since a failed summit on the North's nuclear programme in Vietnam earlier this year.
Trump arrived at the Korean demilitarised zone after departing Seoul aboard the Marine One presidential helicopter shortly after South Korean President Moon Jae-in announced that Kim had accepted Trump's invitation to meet.
Trump was given his first glimpse of North Korea from an observation post and shown various landmarks.
Trump said there had been "tremendous" improvement since his first meeting with Kim in Singapore.
He said the situation used to be marked by "tremendous danger", but that: "After our first summit, all of the danger went away."
There are as yet no indications of a breakthrough in the stalled negotiations to end the North's nuclear programme.