Donald Trump has hit back at Theresa May after she criticised him for retweeting video propaganda produced by the UK's far-right fringe 'Britain First' group.
In signs of huge strain on the 'special relationship', the US President told the British Prime Minister to "focus on the destructive Radical Islamic Terrorism that is taking place" within the UK.
Trump shared three inflammatory anti-Islam videos spread by Britain First's Deputy Leader Jayda Fransen, and has faced cross-party criticism from the UK for spreading hate. But Trump appears unapologetic.
He wrote on Twitter:
"Theresa May, don't focus on me, focus on the destructive Radical Islamic Terrorism that is taking place within the United Kingdom. We are doing just fine!"
Trump's initially linked to a different Twitter user, instead of May's actual handle. It was was later deleted and Trump tweeted again with the correct account for the British PM.
In an unprecedented condemnation of the White House, May had criticised Trump directly when her official spokesman said the President was "wrong" to have supported Britain First's attempts to "divide communities through their use of hateful narratives which peddle lies and stoke tension".
The spokesman said: "They cause anxiety to law-abiding people. British people overwhelmingly reject the prejudiced rhetoric of the far-right which is the antithesis of the values that this country represents: decency, tolerance and respect.
"It is wrong for the President to have done this."
While Downing Street's words were seen as unusually strong, another government minister went further.
Sajid Javid, the Communities Secretary, hit out at Donald Trump for endorsing a "vile, hate-filled racist" far-right group.
He said he would would "refuse to let it go and say nothing" after the US President shared the inflammatory anti-Muslim videos.
He wrote:
"So POTUS has endorsed the views of a vile, hate-filled racist organisation that hates me and people like me. He is wrong and I refuse to let it go and say nothing."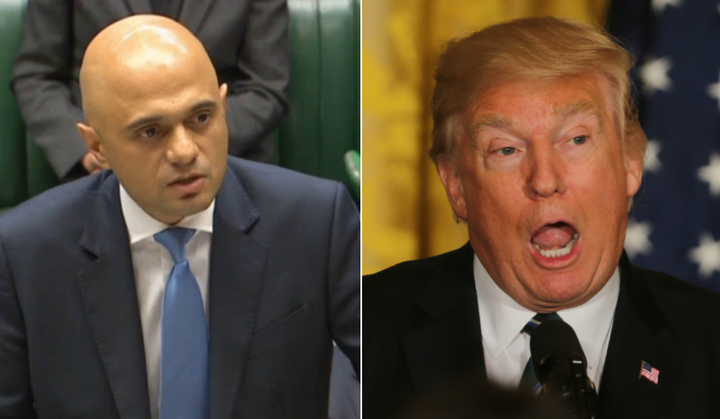 Conservative MP Justine Greening, however, told the BBC's Today Programme on Thursday that the UK shouldn't let Trump's retweet impact our our relationship with the US.
"Our relationship with US has longevity that will remain after presidents come and go. This is a president that behaves unlike any other in the nature of the tweets he puts out."
American commentator Ann Coulter, one of only 45 people Trump follows on Twitter, defended his attack on May on Thursday.
Speaking to BBC's Today Programme, Coulter said Trump had only "given as good as he's gets".
"I think he's very verbally attacked from the mother country for a lot longer than he's been attacking Briton. It started out with that petition to ban him."
Archbishop of Canterbury Justin Welby earlier said it was "deeply disturbing" that Trump had chosen to amplify the voice of far-right extremists
The videos are either unverified or have been debunked.
The clips retweeted by Trump include footage of migrants allegedly assaulting a boy on crutches, clips of a boy allegedly thrown of a roof and a video claiming to show a Muslim destroying a statue of the Virgin Mary.
Muslim MP Nadhim Zahawi has written to the White House of his "strong discontent" over Trump's sharing of inflammatory, anti-Islam videos.
He added that the American head of state should opt to spend time among British Muslims in their communities in places like Coventry, Birmingham and Manchester as part of any official trip to the UK.
Speaking on BBC Radio 4′s Today programme, shadow foreign secretary Emily Thornberry said the UK was in a "really difficult position".
Story continues below poll
She said: "I just don't know where to start. It's not as though we haven't seen this coming. The day that Theresa May was in the white house holding Donald Trump's hand was the day he signed the Muslim ban and it really has been the wrong approach right from the start."
"The idea that we have invited this man for a state visit - which is a huge honour - within weeks of him being elected, we have just got ourselves into a really difficult position.
"It's very hard because the invitation wasn't Theresa May's invitation to make, the invitation technically comes from the Queen and now puts the Queen into a very difficult, invidious position of entering into politics.
"He comes next year in a year which is supposed to be very happy for the Royal Family, what on earth are people to make of it?"
Trump's actions have increased calls for the Government to rescind a state visit for the US President, but Downing Street has said it still stands. "The United States is one of our oldest and closest allies. An invitation for a state visit has been extended and accepted. Further details will announced in due course," a spokesman said.
Home Affairs select committee chair Yvette Cooper, referring to a memorial plaque installed in the Commons in honour of murdered MP Jo Cox, said: "No matter what diplomatic route we find to do it, we cannot simply roll out a red carpet and give a platform for the President of the United States to sow discord in our communities.
"We know that he and they will keep doing this, and we also know from the plaque behind us, and from our own history, where the spread of extremism leads - unless enough of us are prepared to stand up now and say no."
According to Guardian reports, Britain's ambassador to the United States, Sir Kim Darroch, has also raised the issue formally with the White House, conveying the UK's government's concerns.