Jayda Fransen was a notorious Islamophobe long before Donald Trump retweeted her warnings about Islam.
She told the woman Muslims cannot control their sexual urges, saying: "That's why they are coming into my country raping women across the continent".
Fransen has also advocated shooting Muslims and called for her opponents to be hanged.
On Wednesday, Trump retweeted her three inflammatory, unverified videos she posted to stir up hatred of Muslims, a common tactic of the far right, anti-Islam Britain First, of which Fransen is deputy leader.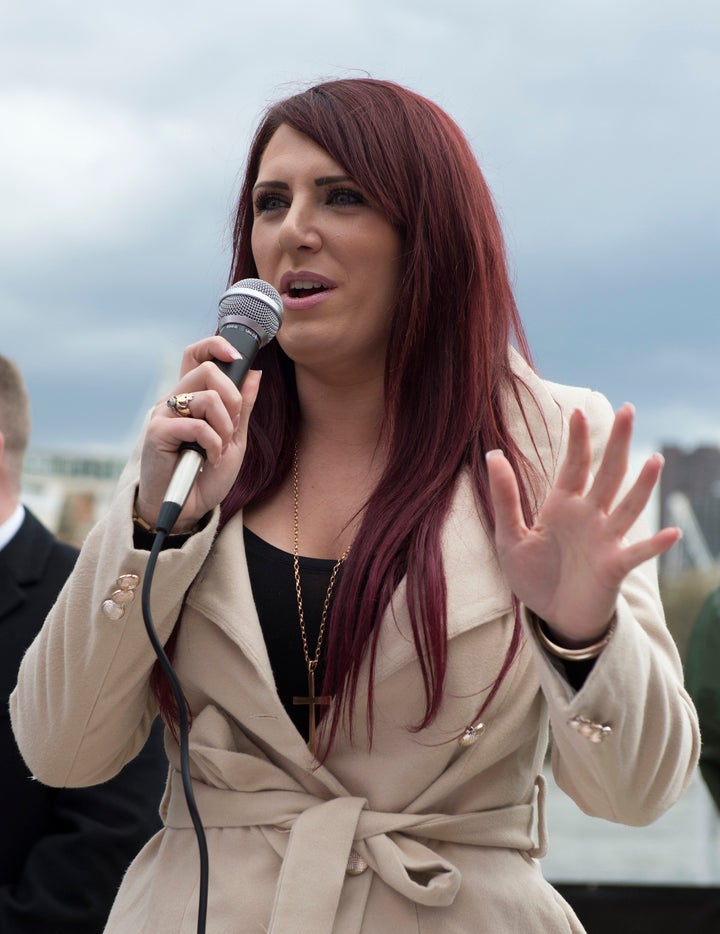 The videos Trump retweeted are all in keeping with Britain First's repeated claims
Britain First, a fringe group built around publicity stunts and social media, says that Islam is an irredeemable threat to Europe.
Trump's action stunned Britain, with one MP calling Britain First "a fascist, racist, extremist hate group".
For six years, the group has fought and failed to get this kind of publicity, as electoral success eluded it.
When Sadiq Khan became the first Muslim elected mayor of a major Western city last year, the Britain First candidate turned his back in protest.
Paul Golding, who is also the party's leader, said he was protesting Islamic extremism.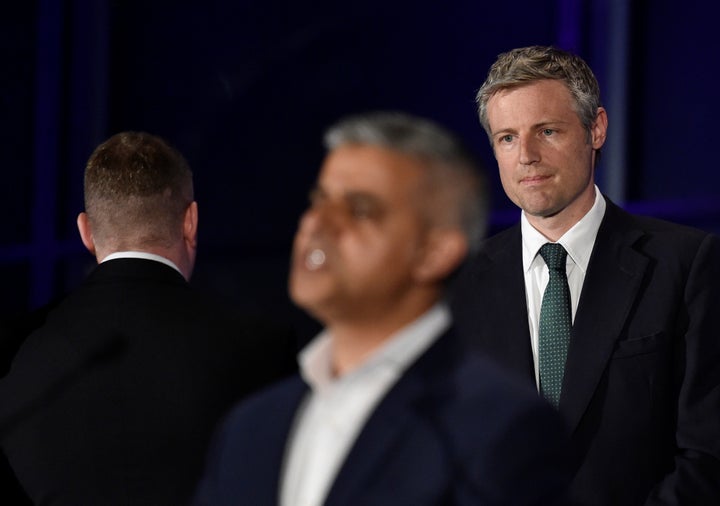 It has carried out so-called "Christian Patrols" in areas with large Muslim populations, during which its members have scuffled with locals, often while repeating the myth that British cities have "no go zones".
Its founder Jim Dowson, a fundamentalist Christian, quit the party in 2014, saying its confrontations with Muslims were "counter-productive".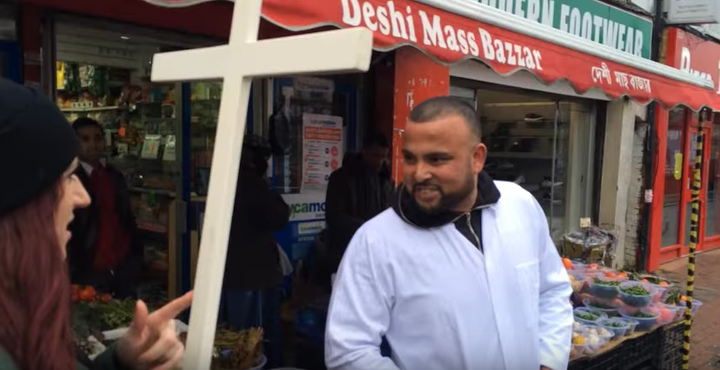 It is often more akin to a militia than a party. Members have been pictured holding wooden "training" knives and wearing combat fatigues in the woods.
When Thomas Mair shot and stabbed MP Jo Cox to death, witnesses said the far right terrorist shouted "Britain first!". The party said he was "categorically not a member" and denied any link.
The party is bigger on social media than at the ballot box
It has never come close to winning any elections (Golding polled just 1.2% when he stood for London mayor) but tries a build its following on sites like Facebook.
There, it publishes videos showing its leadership travelling to confront Muslims in public places and clips, like those Trump retweeted, that it claims show Muslims being violent.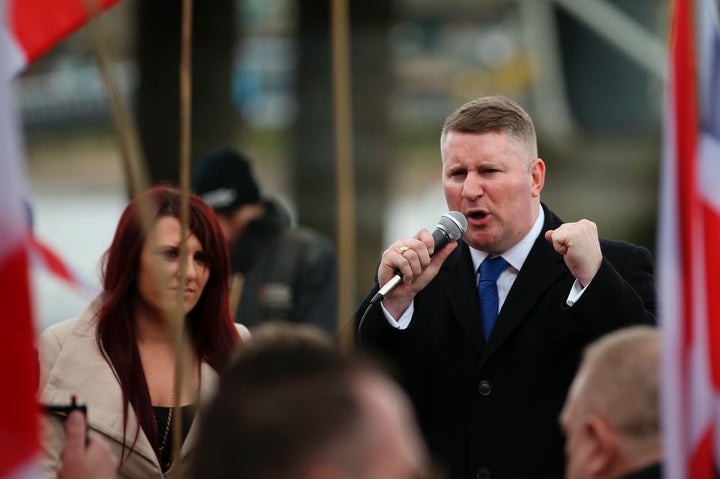 Its Facebook page has close to two million likes, more than any other UK party. Fransen's personal page has 210,000.
But campaigners Hope Not Hate estimated Britain First has just 1,000 members.
Paul Golding's attempts at notoriety
Both Golding and Fransen have were both banned from entering Luton, a town outside London where they have often demonstrated.
In the alarming clip, he predicted a "day of reckoning" and threatened "journalists and politicians" who have committed "crimes against our nation".
He said: "I can promise you, from the very depths of my being, you will all meet your miserable ends at the hands of the Britain First movement. Every last one of you."
Inside Jayda Fransen's Self Promotion Machine
Fransen, who was party leader during Golding's stint in prison, was ecstatic to receive Trump's attention, tweeting in block capitals: "GOD BLESS YOU TRUMP! GOD BLESS AMERICA!"
Fransen often styles herself a crusading heroine, signing off social media posts "OCS" - Onward Christian Soldiers - and calling herself a "soldier of Christ".
She often protests outside mosques holding a white cross.
On the London campaign trail, Fransen admonished the party's "pro-EU, Islamist-loving opponents" for "ruining our country", saying: "We will not rest until every traitor is punished for their crimes against our country.
"And by punished, I mean good old fashioned British justice at the end of a rope!"
Her and the party's social media channels churn out "Jayda's Soapbox", a series of videos where Fransen repeats far right shibboleths about immigration and the treacherous left.
A week after her November 2016 conviction for harassing a Muslim woman, she put out a video saying: "If the presence of armed police is required to protect an innocent Christian family against Muslims in Britain, then they should be permitted to turn their guns on those Muslims."
Fransen was charged over a speech she gave in Belfast and is due in court again on December 14.
She and Golding are also being prosecuted for religiously aggravated harassment over leaflets and videos they distributed during a rape trial of four Muslim men.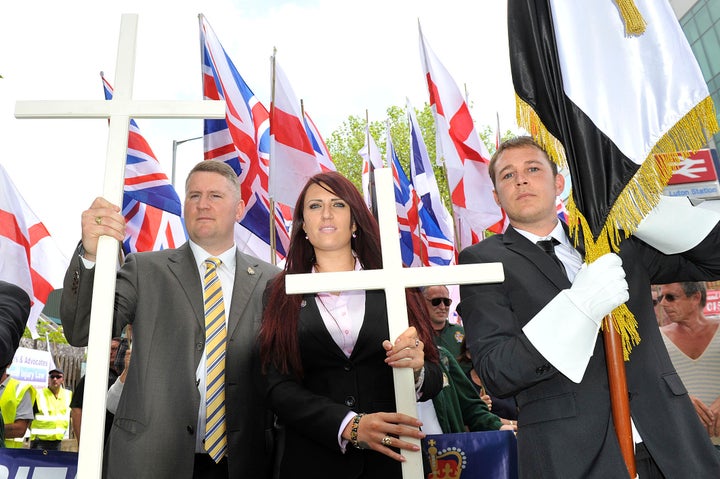 Fransen, from south east London, has a grandfather who immigrated from the Netherlands, which is problematic given her party's manifesto proposes paying people of foreign descent to leave.
When HuffPost UK tracked Britain First
"A pin-up girl of the far right, with a mane of purple-hair and tattoos creeping out of her short skirt, suit jacket and heels," Hopkins wrote of her.
"She made younger members of her security-detail blush when she addressed them by name... Fransen hosted most of the conference and stepped in when Golding was challenged on the wording of policies.
"She has studied law. The crowd listened to her."
Britain First's claims and confrontations