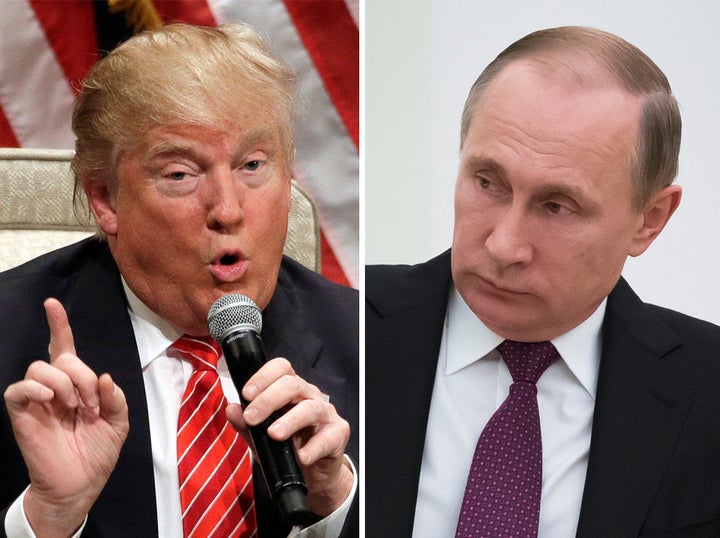 Moscow officials hit out at Donald Trump on Thursday, ending a fledgling gentlemanly romance between Russian authoritarian Vladimir Putin and his bewigged counterpart currently leading the Republican presidential race.
On Wednesday, Trump posted a video to Instagram burnishing his foreign policy credentials in a bizarre vignette featuring a judo-throwing Putin, Democratic frontrunner Hillary Clinton barking like a dog and an Islamic State militant with a gun.
"When it comes to facing our toughest opponents (Putin and Isis), the Democrats have the perfect answer," the video said, before cutting to Clinton in full woof.
According to The Guardian, Kremlin spokesman Dmitry Peskov responded on Thursday that he had seen the clip and noting "our attitude is negative."
"It's an open secret for us that demonising Russia and whatever is linked to Russia is unfortunately a mandatory hallmark of America's election campaign," said Peskov. "We always sincerely regret this and wish the electoral process was conducted without such references to our country."
The frosting of relations sits on contrast with earlier laudatory comments made by Trump and Putin. In December, the Russian leader described Trump as "a colourful and talented person without any doubt" and "the absolute leader of the presidential race".
Trump responded by saying, "It is always a great honour to be so nicely complimented by a man so highly respected within his own country and beyond."
On Wednesday, the Economist Intelligence Unit placed a Trump presidency among the top ten threats facing the globe.
Trump Chicago Rally
Popular in the Community