Donald Trump will not hold one-on-one talks with Theresa May during his three-day state visit to the UK, Downing Street has confirmed.
Instead, the US president and the outgoing prime minister will be joined by officials and other British ministers during their meeting on Tuesday.
The prime minister's spokesman said there was "nothing unusual" about the two leaders not sitting down together alone, and denied Trump had refused a private meeting.
May will take Trump for a tour of the Churchill War Rooms – the bunker beneath the streets of Westminster from where Winston Churchill ran the war effort. No. 10 suggested the pair would "be having discussions just the two of them" during this time.
Foreign Secretary Jeremy Hunt, who will be in the meetings with Trump, said the British government would raise the issues of Yemen, Iran and Russia.
"We are very concerned about Russia increasingly using cyber to destabilise the democratic process in Western countries," he told the BBC. "If the UK and the US work together we can achieve real results."
Before departing the US for the UK, Trump repeated his support for Boris Johnson to be May's successor and said he might meet with him.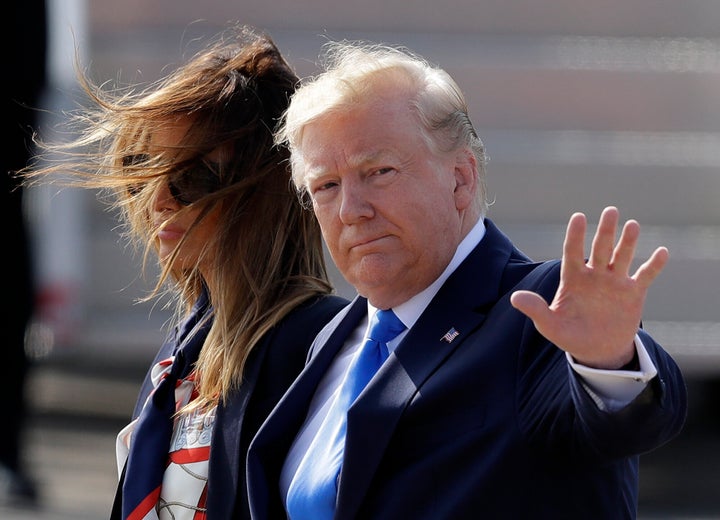 "He's been a friend of mine. He's been very nice. I have a very good relationship with him," Trump said of Johnson.
Johnson, who is the frontrunner in the leadership contest, officially launched his campaign on Monday morning with a video posted on Twitter.
Asked about Trump's near-endorsement of Trump, the PM's spokesman said "the president was asked a series of questions and he chose to answer them".
As Trump landed at Stansted Airport he fired off two tweets attacking Sadiq Khan.
The president branded the London Mayor a "stone cold loser" in the latest instalment of the pair's long running feud.