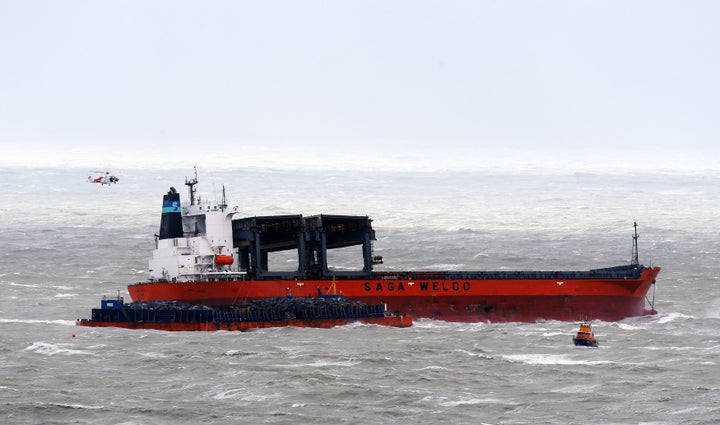 A 200-metre long cargo ship has collided with a barge full of rocks at Samphire Hoe, off the Dover coast.
A major incident has been declared.
The ship, the Hong Kong registered Saga Sky, is reported to have lost engine power and was taking on water while drifting towards Folkestone.
It is now reported to have regained limited use of its engines.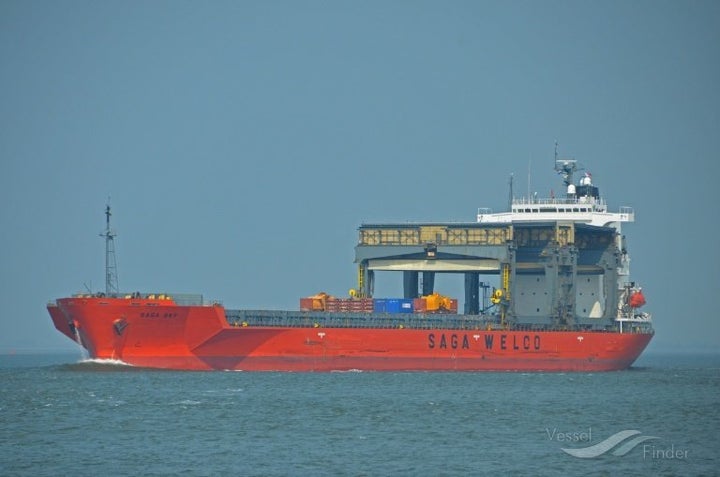 Eleven of the crew have been evacuated with 12 still on board who are taking the ship to a safe port.
Rescue boats and helicopters are attending the scene.
A RNLI spokesman said: "At this point there is no indication of any environmental leak concerning the cargo ship's fuel."
It has not yet been confirmed if weather played a part in the incident but footage shot earlier by someone driving into Dover Port shows the severity of the conditions.
A coastguard spokesperson said: "Two Coastguard search and rescue helicopters have been sent in response to a cargo vessel colliding with a stone barge three miles south west of Dover.
"The call from the vessel came into the UK Coastguard at around 7.20 this morning (20 November), reporting it had lost power and steering.
"Bad weather conditions have meant the cargo vessel has drifted onto the Varne Bank and is taking on water. It's understood there are 23 people on board.
"The situation remains under close monitoring by the UK Coastguard and all crew are currently being evacuated.
"Dover and Dungeness lifeboats have also been sent and are standing by the vessel.
"Deal and Dover Coastguard Rescue Teams have been put on standby to help receive crew members rescued from the vessel.
Duty commander Steve Carson said: "The weather conditions this morning are particularly challenging and we have declared this a major incident. We are now planning to evacuate the crew from the cargo vessel and our HM Coastguard helicopters from Lydd and Lee-on-Solent are on the scene."
Ferry services have also been suspended.
This is a developing story and will be updated regularly...
Popular in the Community