British officials will work with French border police following "extraordinary disruption" to motorists stranded in Dover since Saturday.
Travellers using the route to cross the Channel were warned the chaos could last through to Monday.
Kent Police said the disruption is down to a "vast volume of holiday traffic" coupled with delays caused by heightened security at the border in the wake of terror attacks.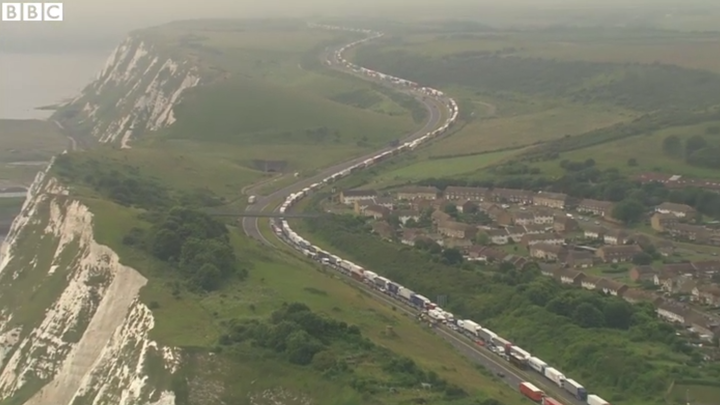 Late on Saturday, after a full day of disruption, the Home Office said it would send in the UK Border Force to help French authorities at the Port of Dover, the Press Association reports.
Increased checks were put in place by French authorities at the port in light of recent terror attacks, but questions have been raised about staffing levels to deal with the huge increase in people travelling at this time.
Port authorities said French border control booths at Dover had been "seriously understaffed overnight", claiming coaches were at one point having to wait 40 minutes each for all passengers to be checked in as only one French officer was available.
A spokesman said concerns about staffing levels were raised with the Government earlier in the week, and said those had been passed to French authorities.
The Government said Kent police will be "proactively managing" traffic to get drivers through more quickly.
A Government spokeswoman said: "We recognise the security pressures that French law enforcement organisations are under at Dover and we have agreed the UK Border Force will assist the PAF (French border police) with border checks to remove the backlog.
"We understand that there has been extraordinary disruption in the Dover area today but safety is paramount.
"Measures are also being taken on the approach to the port where Kent Police will be proactively managing traffic to speed up the process."
Many people were forced to spend the night in their cars on Saturday night.
Bottles of water were handed out by police and humanitarian workers.
Conservative MP for Dover Charlie Elphicke, who was stuck in traffic for about two hours on Friday evening, said there had been a lack of forward planning which led to "poor transport management" and urged the Government to apologise for the "traffic nightmare".
Shadow home secretary Andy Burnham accused the Government of being "caught ill-prepared once again", warning the Prime Minister should have expected heightened security checks in France.
Those stuck on the roads, some for most of the day, said they were frustrated at the lack of information as to when the disruption might end.
Joerg Walther and his family, who live in Lincoln, had been stuck around five miles from Dover since 11am and described the situation as "unprecedented".
The 50-year-old IT worker was travelling with his wife and 12-year-old daughter to his home town of Giessen, near Frankfurt, taking a ferry crossing to Calais first.
He said: "I feel this is unprecedented."
He added: "It's worrying us that we don't know the progress. We don't know what's going on and how long it's going to be."
Despite temperatures peaking at around 20.2C (68.36F) on Saturday, police advised people to stay in their cars.
Earlier motorists described people getting out of their vehicles to stretch their legs, and children playing football to entertain themselves.
Footage showed others playing music while people around them watched and danced on the gridlocked roads.
By Saturday evening Highways England warned of delays of up to 10 hours, and police said traffic was queued back 12 miles out of Dover.
Highways England said: "All traffic is being advised to use the M20/A20 as the A2 is at a standstill into the Port of Dover."
It added: "With the summer getaway there are severe delays on the M2/A2, M20/A20 and at Round Hill tunnel."
Police said disruption is set to continue "for the next 36 to 48 hours".