The girls, who both described themselves as being "fun", chatted about what they like doing best together.
"I love to play tag with my friend Flora," said Angharad.
"I like doing activities such as Brownies," Flora added.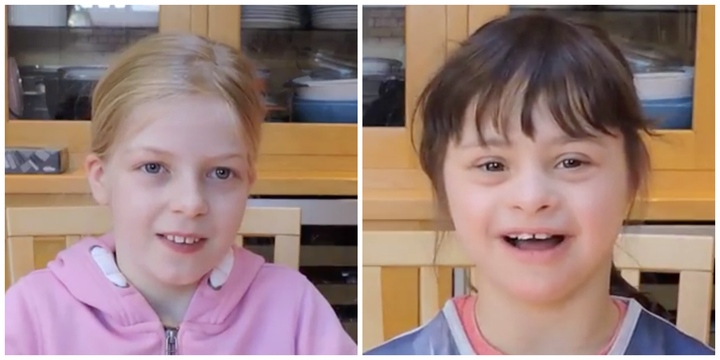 Chatting about school, the pair both said one of the best things about it is having fun with their friends.
"We have Welsh, English, music and Art together," said Angharad - and she sees their friendship lasting well beyond their school days.
"My wish is to grow up, be a ballerina and have my own baby," said Angharad. "And Flora to have a baby too so we can bring them up together."
The theme of Down's Syndrome Awareness Week (20 to 26 March) in 2016 is "my friends, my community", with a focus on the importance of inclusion.
The charity will be profiling different stories of children and adults with Down's syndrome throughout the week.
"This includes the opportunity to participate fully in their communities as and when they wish with the right support.
"Some people may need extra support to do things that are not specifically for people with a learning disability and we need to encourage our wider communities to be appropriately inclusive."
To hear Angharad and Flora's whole story, watch the video above.