Paralympian Natasha Baker is proof that nothing should hold you back from achieving your dreams.
At 14 months old, the five times Paralympic champion was diagnosed with transverse myelitis, an inflammation in her spine that left her with weakness and little feeling in her legs.
As a way to strengthen her muscles when she grew older, Baker rode horses. Due to the weakness in her legs, she learned to instruct her horses entirely through verbal commands and seat movements.
She was only 10 when she set herself the goal of one day becoming a Paralympic champ.
And now, at 27, Baker has achieved more than she ever thought she would. She won Britain's first equestrian gold medal at London 2012 and, as a result, became one of only 25 British Paralympians to be awarded an MBE by the Queen. Four years later, she won triple gold at Rio 2016.
Her aim is to change the perception towards those with disabilities and, in turn, inspire the next generation of Paralympic athletes.
We learned more about Baker's training schedule and recipe for success in our latest 'Fit Fix' interview.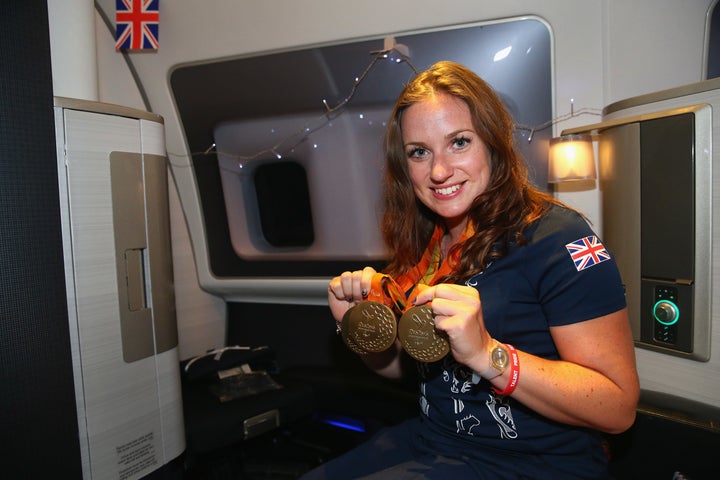 My Journey 🌍
What do you credit to your success in your fitness journey?
"Determination - no matter what. Competing and riding horses is a bit like riding a rollercoaster. There are so many highs and lows, you have to keep motivated and determined to succeed when the going gets super tough and keep pushing even when you're at the top. It's easy to get complacent, I just strive to be better tomorrow than I was today."
What's one of the most memorable moments in your career and why?
"Winning double gold at the Paralympics in London 2012. Doing it in front of a home crowd was truly spectacular, it still gives me goosebumps thinking about it. Not many athletes get the opportunity to compete at a home game, I feel so honoured to have represented Paralympics GB and brought home the bling."
Was there ever a low point and how did you get past it?
"There are always low points - my horse went lame [had an abnormal stance] a couple of days before final selection for Beijing 2008, excluding me from going to the games.
"In 2016 I was campaigning two horses for Rio, Cabral and Sookie, when Sookie sustained an injury in the field which has now ended her career. I have since lost Cabral (my top horse who won me 11 gold medals!) to a bacterial infection earlier this year. I literally felt like a part of me had gone with him, he was my best friend and we both went through so much together but it's made me even more determined to retain our Paralympic Gold in Tokyo in honour of him."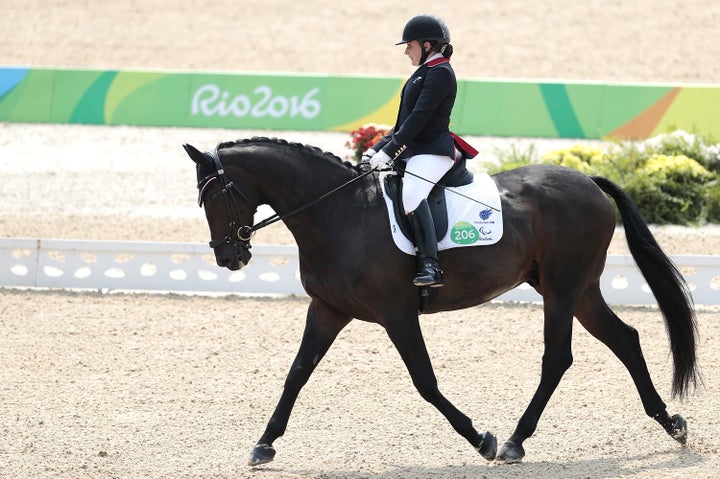 My Training 💪
Talk us through your week in fitness.
"I normally ride two horses for an hour each per day. I ride without stirrups all the time which is a safety precaution but it's also great for my core! The horses each get one day off a week.
"I love swimming and find this is great fitness for me. Due to my disability, the gym doesn't really work for me but I work closely with my physio doing body weight exercises and stretches."
What's your favourite type of workout and why?
"Riding! My horses are like my legs. I'm confined to a chair most of the time so to get on a horse for me is a form of freedom."
"Yes. I think it's important to have a normal life too. I love spa days, shopping and cinema, but I always look forward to coming home to the horses."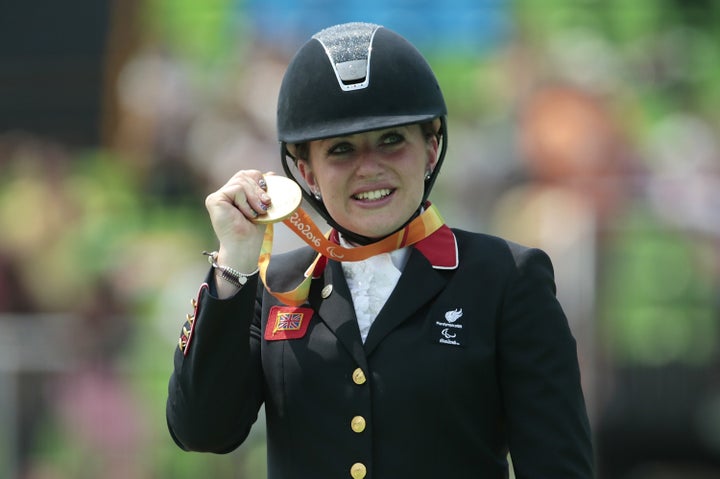 My Food
What do you eat throughout the week to complement your training schedule?
"My diet isn't too strict, not like it would be in some other sports. We can have a lot of different foods, in moderation. My boyfriend comes from an Italian family so he loves cooking pasta and we both enjoy cooking and trying new recipes. I just have to keep an eye on all the naughty things as I have a super sweet tooth."
What are your pre and post-workout snacks?
"I love snacking on dried fruit, nuts or yogurts."
What's the biggest lesson you've learned about food?
"Everything in moderation is good. I love food but can easily put on weight so just keeping an eye on everything that goes in my mouth."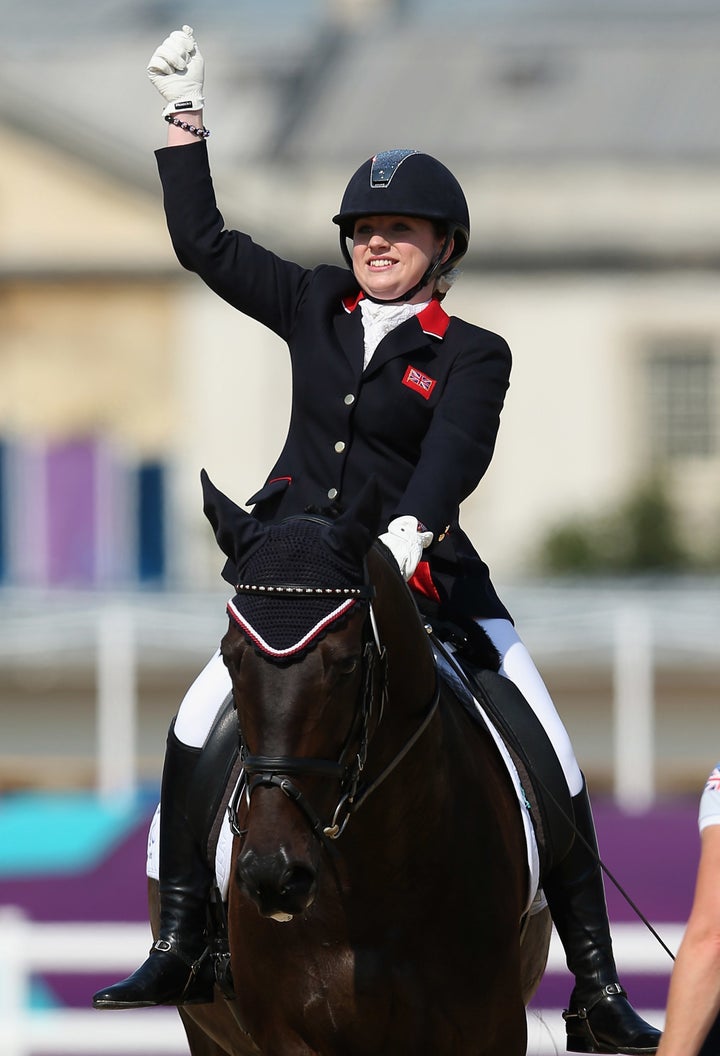 My Motivation 🙌
Do you have a motivational mantra that keeps you going?
″'Everything happens for a reason' and 'the harder you work, the luckier you get'. Horses are great levellers, it's the hard times that make you a stronger and ultimately more successful athlete."
Do you always have goals you are aiming for?
"For me I always aim to peak for a major championship, ours is normally in August/September so I build up all year so I am at my best to perform then. Fitness can play a huge part of success, especially in hot climates like Rio, one day I was riding in 38 degrees in full competition wear, I need to ensure my body can cope. I can then let my hair down after and enjoy myself."
What's your ultimate workout track and why?
"Nothing in particular - I love riding with music in the background but I don't like too much of a distraction. My mind and body has to be totally in tune with my horse."
'Fit Fix' is a weekly dose of fitspiration from leading athletes and fitness fanatics. Each week we chat to stars about their weekly workouts, the food they eat and what keeps them going.
Before You Go
Incredible Photos Show Paralympians Competing At Rio 2016