For years now, people have taken to Twitter on Christmas Eve to share their hilarious – and often eyebrow-raising – festive sleeping arrangements, whether reunited with a childhood bed (and decades-old Lion King cover) or consigned to a blow-up mattress in the spare room, wedged between a desk and an ironing board.
The tradition, dubbed Duvet Know It's Christmas, was kickstarted by writer Rhodri Marsden when he stayed at his parents house on Christmas Eve in 2011.
"I was lying in a single bed with a floral duvet in a room mainly used for storing old tat, and I thought 'I'm probably not the only one in this situation'," he tells HuffPost UK.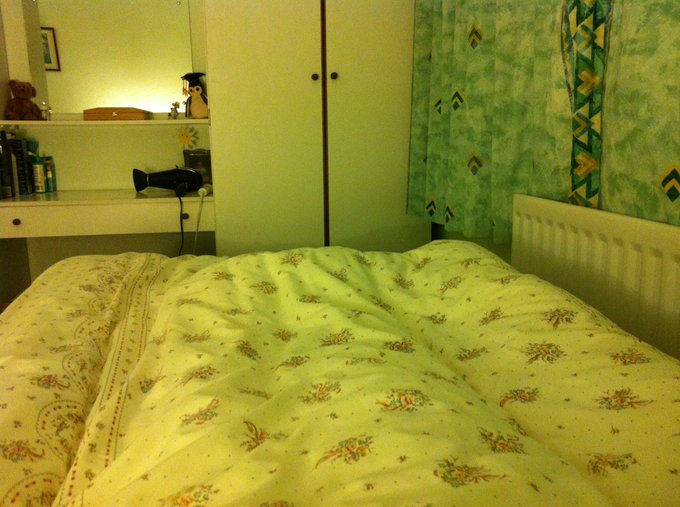 "So I took a photograph of it and tweeted it – as I'm prone to do with all kinds of nonsense – but this one seemed to strike some kind of chord," he continues.
"A few people sent me back their own pictures, and slowly, over the years, it snowballed."
This year, the tradition will be missed by many as the Covid-19 pandemic – and surging cases in the UK, thought to be the result of a new variant – have meant many people across the UK are unable to visit loved ones.
But Marsden has a plan to make sure we don't go without. This year he's trawled through years-worth of submissions to reveal our top 100 festive sleeping arrangements. Prepare for claustrophobia and so. much. clutter.
"Now it seems to be an inherent part of Christmas on social media," says Marsden of Duvet Know It's Christmas. "Which is crazy, really – but sometimes it's the things with no grand master plan behind them that become popular, thanks to some weird, self-propelled energy!"
Without further ado, here are his top 10 favourite submissions from years gone by.
10. In the living room
9. In the cellar
8. In the Victorian doll's house
7. In the drum room
6. In the cardboard box
5. In the office
4. In stuffed toy hell
3. In the utility room
2. In the fictional tween girl's room
1. And claiming the top spot is... Lemon meringue prison.