A government website advising benefit claimants on how to look for jobs suggests people on Universal Credit could find work as "striptease artists".
The Department for Work and Pensions' online tool is designed to help claimants "discover roles that match your skills and interests" and suggests search terms to help jobseekers find appropriate roles.
However, its webpage lists "striptease artist" alongside such jobs as hotel assistant, lobby attendant and bingo assistant.
It suggests the term could be used "in your online [job] search", and describes the kind of work involved as "dances in adult entertainment establishments".
The webpage, titled 'Work you could do', also lists "astrologer" as an elementary service occupation, describing the work involved as "divines and tells fortunes by various machines".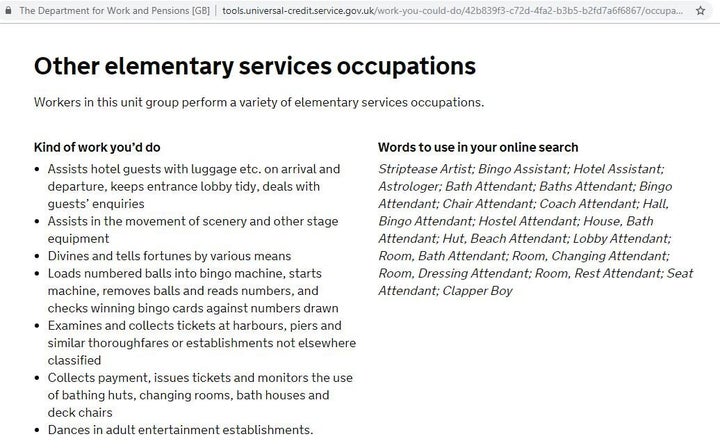 Universal Credit claimants are required to actively look for work, and in many cases are expected to spend 35 hours a week doing so. If job centre staff believe they are not doing enough to find a job, they can have their benefits docked.
Daphne Hall, vice chair of the National Association of Welfare Rights Advisers and an editor at rightsnet, where the page was first spotted, told HuffPost UK: "We think it's completely inappropriate that the government should be pushing people towards these jobs which could lead to a possible link to the sex industry, given all the evidence that's been put to the DWP select committee."
Hall said that the 'Work you could do' online tool is to help job centre staff advise benefit claimants on what kind of jobs to look for.
Lap dancing and striptease adverts have been banned from the main DWP ′Find a Job′ website, which lists available job opportunities, since 2010, following concerns they might pressure people into taking work they would feel uncomfortable doing – particularly as unemployed benefit claimants could have their benefits terminated if they refused a job offer.
Hall said: "It's very much a tool for Universal Credit claimants, that's what it's for. It's a government-owned thing, and I just find it absolutely unbelievable that they could have things like that on."

A DWP spokesperson agreed the content was inappropriate. In a statement, they told HuffPost UK: "This is inappropriate and we will immediately review this to determine why it is mistakenly listed. This is not the type of employment our work coaches help people into, and since 2010 more than 75% of all new jobs created are high-skilled and full-time."
Following enquiries by HuffPost UK, the 'Work you could do' site was temporarily taken down.
The problem was caused by the DWP webpages being automatically filled with data from the Office for National Statistics – the categories and specific job types on the DWP site correspond with those used by the ONS.
It is not clear whether the DWP was checking the material published on their own website for Universal Credit claimants.
Concerns have been growing that problems with Universal Credit such as payment delays, deductions and sanctions are forcing claimants into destitution and sex work.
The parliamentary work and pensions select committee heard this summer from women who had been driven to engage in "survival sex" for money due to problems with Universal Credit.
"Those aren't about paying for sex or anything," Hall said of the DWP striptease listing, "but they're sort of a bit of a slippery road towards it.