The government has awarded at least £1.4billion of outsourcing contracts linked to the roll-out of Universal Credit and other welfare reforms since 2012, HuffPost UK can reveal.
As Universal Credit continues to be beset by criticism it is forcing the poorest into debt, food poverty and rent arrears, new data has shown the firms that have profited from implementing the government's social security reforms.
The data, obtained exclusively by HuffPost UK, reveals the vast sums the Department for Work and Pensions (DWP) has spent carrying out health and disability assessments on benefit claimants.
It has prompted mental health and disability charities to call for DWP to urgently review the "failing" system of assessment checks.
Among the firms that have won contracts are global giants of the consultancy world.
A huge £595million contract was awarded to American consultancy group Maximus to provide health and disability assessments, the largest single DWP contract related to welfare reform since 2012 according to the data.
The firms Atos and Capita also won contracts totalling £634million to carry out assessments for Personal Independence Payments (PIP), a disability benefit.
Consultancy firm Deloitte was awarded a £750,000 contract for work to support the Universal Credit programme and a £3million deal was signed with IT firm Q-Nomy to develop an appointment booking service for the social security payment, which is intended to simplify working-age benefits.
Another £60,000 contract was awarded for the purchase of MacBooks for Universal Credit to Software Box Limited.
Vicki Nash, head of policy and campaigns at mental health charity Mind, told HuffPost UK: "Despite the vast amounts the government spends on benefits assessments - delivered by companies like Atos, Capita and Maximus - we hear every week from people with mental health problems who get the wrong decision, leaving them without support.
"We've long been calling for an overhaul of benefits assessments so that they work for those being put through them. For many people with long-term mental health problems, there's no need to be put through the stress and pressure of repeated reassessments."
Geoff Fimister, of the Disability Benefits Consortium, which represents 80 charities, added: "These are very large amounts of public money to be spending on services that are falling short."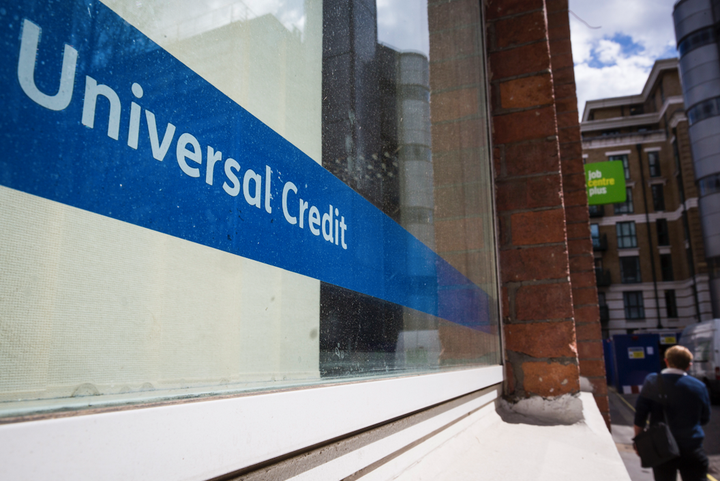 Tussell, a company that provides data and analysis on UK government contracts, compiled the figures and said they give an insight into the challenges the government is facing in delivering its wide reaching welfare reforms.
The data was generated by searching DWP public contract tenders for Universal Credit and related keywords.
It shows DWP has awarded 76 separate contracts related to welfare reform since 2012, totalling £1.4billion.
But the true figure will be higher as prior to 2015 some government procurement tenders were not published publicly. This changed from 2015 onwards when new rules under the Public Contracts Regulations 2015 meant all tenders had to be made public.
Four contracts also show a £0 value and do not include the contract amount.
Tussell's figures show the DWP has awarded £4.7billion in outsourced contracts across all areas of its work since 2012.
It is clear from the information publicly available that contracts relating to Universal Credit and Personal Independence Payments (PIP) constitute the vast majority of the DWP's sub-contracting pre-2015.
But from 2015 onwards, when the data is more robust, this trend was reversed.
Since January 2015, only about 2% (£66million) of DWP contract awards relate to Universal Credit or other welfare reforms of a total £2.8billion bill.
The most valuable contract since 2015 was an £8.2million award to Serco to manage a call centre for claimants of the disability benefit PIP.
The second was a £6million award to Advanced Personnel Management Group to provide healthcare staff to help conduct work capability assessments for Universal Credit and Employment Support Allowance.
Also included are multiple contracts awarded in 2017 regarding Phase 2 of the New Enterprise Allowance scheme, which offers support to those claiming Universal Credit to become self-employed and start businesses.
Gus Tugendhat, founder of Tussell, told HuffPost UK: "With the controversial rollout of Universal Credit still very much a work in progress, contract notices analysed by Tussell provide insight into some of the challenges the government is facing, including with IT systems and recruiting healthcare professionals for assessments.
"While the challenges are many, the government deserves credit for its transparency which we hope to see maintained."
Universal Credit is being introduced to replace six existing benefits with one monthly payment and the government says it is a more streamlined system that will help move people into work.
The DWP told HuffPost UK technical support was vital to carry out a digital delivery on the scale of Universal Credit and said the department operates within strict procurement guidelines to ensure maximum value for money.
It said while Universal Credit will cost £1.7billion to deliver, the new system will bring about £8billion a year in economic benefits when fully rolled out.
A DWP spokeswoman told HuffPost UK: "This is a random selection of some of our contracts spanning six years covering a range of DWP services and benefits, used by hundreds of thousands of people, that offer support to jobseekers to move into work, while having the right care in place for those that cannot work."
The 10 highest value contracts awarded by DWP linked to Universal Credit and welfare reforms since 2012

£595million to Maximus People Services Ltd for health and disability assessment services.
£207million to Atos for Personal Independence Payments assessment service Lot 1 contract extension (Lot numbers refer to different geographical areas)
£184million to Atos for Personal Independence Payments assessment service Lot 3
£122million to Capita for Personal Independence Payments assessment service contract extension Lot 1
£122million to Capita for Personal Independence Payments assessment service contract Extension Lot 2
£90million to Atos for a medical services IT contract
£8.2million to Serco to deliver a new claims telephony service for Personal Independence Payments
£6million to Advanced Personnel Management Group to provide healthcare staff to conduct work capability assessments for Universal Credit and Employment Support Allowance
£3.9million to Pinnacle People Limited for Phase 2 of the New Enterprise Allowance Scheme in the north east to support people into self-employment and to start their own businesses
£3.3million to Ixion Holdings (Contracts) Limited for Phase 2 of the New Enterprise Allowance Scheme in London and the home counties

Source: Tussell