Ismael El Iraki, a Moroccan film director living in Paris, told Jesse Hughes he hopes he can "realise how wrong that shit you spread is".
Earlier this month, the singer told Taki's Magazine, a US online publication, he saw "terrorists" in the Bataclan concert hall before their fateful 13 November show and that Muslims were "celebrating in the street during the attack".
The comments led two French festivals, the Rock en Seine concert in Paris and the Cabaret Vert festival to cancel scheduled performances from his band as organisers were "in total disagreement with Jesse Hughes' recent allegations".
In an emotional Facebook post, El Iraki wrote...
He said: "You say: 'Islam is the problem'. I say: 'All you fucking bigots and your fairytale shit stories are the problem. Racism and refusal to recognise one another as complex (more complex than ethnicity or race can explain) human beings is the problem. Reducing others to what you think you know is the problem.'
"You saw those guys the other night. Those marble-eye, brainwashed, horrible assassin motherfuckers were unable to even recognise a fellow human face. Dude, don't be like that. Just don't.
"Don't imagine that you are facing that awful fundamentalist deathwave alone. Because this is the world we live in now, and we're all in this shit together. Muslims and Arabs are caught up in it with you, they face dying a random, stupid death like you."
He added: "Rock'n'roll is love, man. LOVE.
"Look at yourself: you have become a spreader of hate, brother.
"Try to be more in life like the persona we all love when you are on stage. Try to spread the love. The real love, the kind that sees right through people's beards and skin colours and religious shit and garments, the kind that can unite not only a concert crowd but hopefully a nation, a whole world. I hope you can realize how wrong that shit you spread is, hope you can see all the wrong that you are doing.
"'There's still time to change the road you're on', brother. Zeppelin's words."
You can read the full text of El Iraki's post here.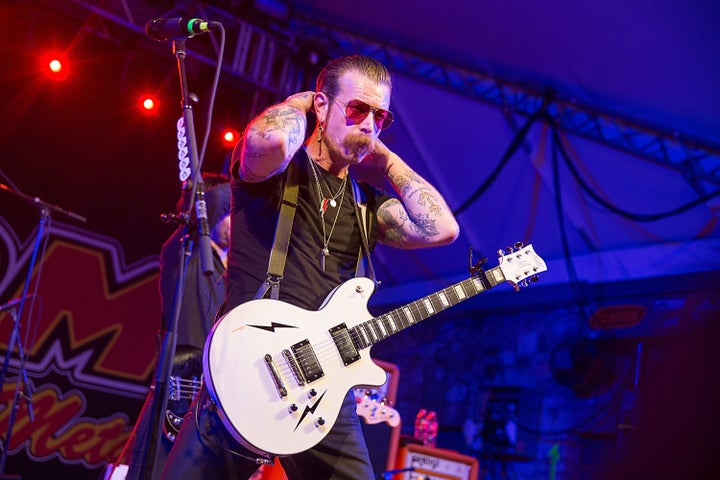 Eagles of Death Metal's performance on 13 November last year turned into a bloodbath when suicide bombers stormed in as part of coordinated attacks around the French capital.
The band was performing at the popular concert hall to a crowd of about 1,500 people when three terrorists stormed the hall and began shooting people.
Restaurants, cafes and a football stadium were also targeted in the attacks, which claimed the lives of 130 people.
The band returned to perform a show in Paris in February this year.
Hughes had claimed that the Bataclan attack was an inside job.
He later apologised for the remarks, saying they were "absurd" and a result of the trauma of the attack, according to Sky News.
The singer and guitarist, who is a long-term advocate of gun ownership, said France's gun control laws did not prevent terrorists targeting Paris.