In besieged East Ghouta, parents battling for their hungry child's survival have no foodbank queue to join.
Traumatised mum-of-three Um Muhammad has opened up about her family's plight as part of HuffPost UK's Christmas Appeal for Syrian children.
In a heartbreaking interview, the 27-year-old reveals her family go days without food and she has resorted to boiling water so her children, aged nine, seven and three, cease begging her for a meal.
She also tells of her fears for seven-year-old daughter Engie, who has a severe case of haemophilia - a genetic condition which means that, if she is injured, she will bleed much longer than a healthy child would.
"The besiegement we went through this year was the hardest thing we experienced since the beginning of the war," says Um Muhammad, her voice shaking.
The mother goes on to tell a harrowing tale of her struggle to survival.
"When we first left our home in one of the towns in East Ghouta in 2012, I never could imagine that it would be for this long or this tiring," she says.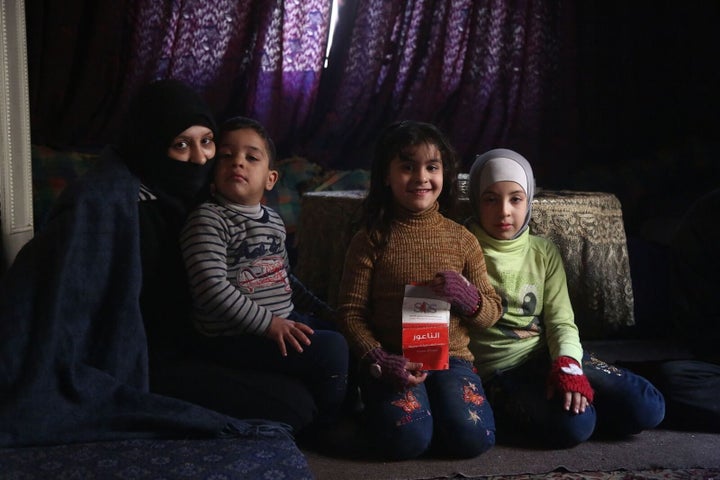 "I thought at first that everything would end in a few months, then we'd return home. But when we were displaced for the second time in just five months, something inside me broke."
Um Muhammad and her family had to move six times in five years - twice under fire from ongoing fighting.
"We moved from one place to another either because we couldn't afford to pay the rent anymore or because of the fighting," she said.
"In 2014, after we fled the violence yet again and arrived at our destination, my two girls, Asala and Engie had a terrible car accident.
"I slept in the hospital corridor in Damascus for a month waiting to know the fate of my two little girls. Asala had a brain concussion and it was extremely difficult to stop Engie's bleeding because she suffers from haemophilia."
The family is one of millions in Syria who lost their source of income in the war. "Even after my husband sold his sewing workshop and the machines he owned, we still couldn't afford to pay the SYP 17,000 [£24.74] rent."
But Um Muhammad's husband was severely injured in the violence.
"My husband's back was injured and he couldn't move for a while," she says. "It broke my heart and I felt completely abandoned as my husband was unable to work or provide for us.
"This was especially hard because Engie needs a lot of care and attention because of her medical condition.
"The last time we had to move, we fled our home under heavy shelling carrying nothing but the clothes on our backs. We finally arrived back in East Ghouta, in our old home which was almost completely destroyed by the heavy shelling.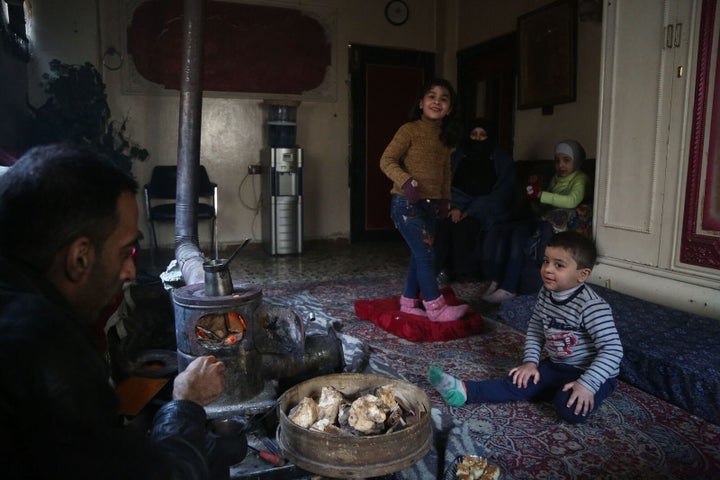 "That was early 2017 and we owned absolutely nothing. My husband is unable to work and we don't have access to treatment for our daughter here. Her severe case of haemophilia requires regular injections that just aren't available here. Her life depends on them."
She then describes the current humanitarian crisis strangling the Damascus region.
"In the middle of 2017, a short period of calm prevailed in East Ghouta but we couldn't enjoy the peace for too long before fighting picked up again and the siege became even harder," she says.
"There were days where we didn't eat. I used to put a pot on the stove to make my children believe that I was cooking so they stop asking for food. We used sugar substitutes instead of real sugar and we ate cabbage leaves with olives instead of bread."
Unicef has said that 137 children - aged between 17 years and just seven months - in East Ghouta with serious medical issues, including kidney failure, malnutrition and conflict-related, need to see a doctor immediately.
Five children are reported to have died already.
Millions of children across Syria are growing up knowing nothing but war, says the organisation.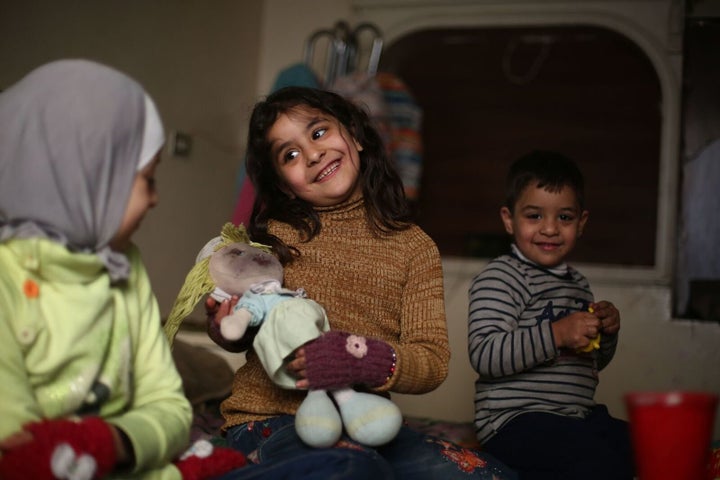 "Our 7-year old Engie is terrified of loud noises," says Um Muhammad. "She used to run to me in horror or hide under the table whenever she heard something.
"Now, she fights with her siblings often. There were many nights of tears because of all the pain and difficulties we've been through. My husband is on crutches now, and we don't have an income."
Tired of the burden of almost seven-years of suffering during the war, Um Muhammad has aged beyond her 27 years.
"I only have one wish," she says. "I want my girl Engie to live a normal life and receive her treatment. I want her to go back to school and have fun. But above all, I want this war to end. We are exhausted."
This Christmas, HuffPost UK has teamed up with Unicef to appeal for funds to help children whose lives are being devastated by the war, nearly seven years after it started.
Inside Syria, six million children are in need of urgent humanitarian aid - 12 times more than in 2012 - and outside 2.5 million are living as refugees in neighbouring countries in Turkey, Lebanon, Egypt, Iraq and in Jordan.
The war has claimed almost half a million lives and displaced 5.5 million people.
To help the children of Syria this winter please donate to the HuffPost UK Christmas Appeal unicef.uk/huffpost