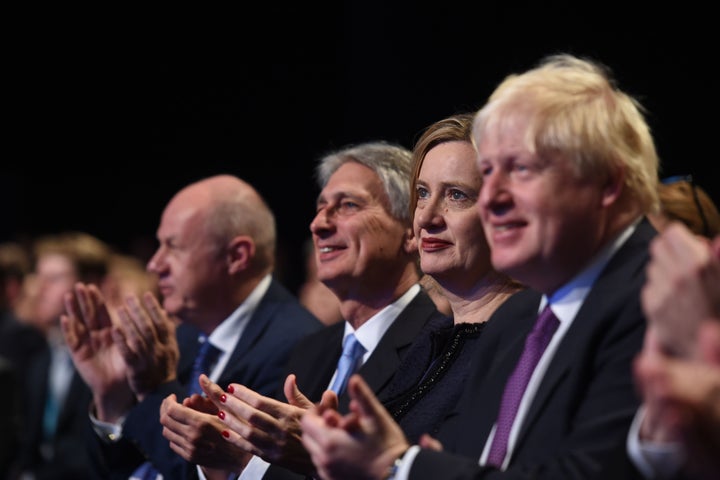 The BBC's Eddie Mair has suggested Boris Johnson is politics's answer to comedian Bernard Manning during a merciless interview with one of the Foreign Secretary's Cabinet colleagues.
The broadcaster sounded incredulous when Rudd said she was "disappointed" that comedian Simon Brodkin appeared to breach security before focusing on the controversial comments Johnson made about Libya.
On Tuesday night, the UK's chief diplomat said the Middle Eastern country's coast could be the new Dubai if it "cleared the dead bodies away".
In his exchange with Rudd, Mair likened Johnson to the late comedian who made dubious jokes.
Mair: "Do you think people want Bernard Manning as Foreign Secretary?"

Rudd: "I don't quite agree with that approach. I think the Foreign Secretary has an important job to do, and he'll be getting on with doing it."

Mair: ″I want to ask you about Theresa May's judgement in appointing and keeping Boris Johnson as Foreign Secretary. As you know, he said last night the Libyan city Sirte could be the new Dubai, adding 'all they have to do is clear the dead bodies away'. He hasn't apologised, why doesn't she sack him?"

Rudd: "The Prime minister can appoint her own Cabinet. We know that. Boris has set out his further explanation of why ..."

Mair: "No, he hasn't. He has merely criticised the critics."

Rudd: "He has set out his view on the situation on Sirte, he has expanded on it."

Mair: "He said it's a shame people who have no idea about Libya want to play politics."

Rudd: "I think he said a bit more than that."

Mair: "Well, I can read the rest of the quote, but he has not apologised for it."

Rudd: "I didn't suggest he had, that was your phrase. I'm not going to be drawn further down the Boris vortex, Eddie, but I'm very happy to discuss anything else on the speech and policies that I think are really relevant to people at home."
Though Rudd attempted to move the conversation on, Mair returned to whether May was right to appoint Johnson in the first place.
Mair: "When she appointed him, she knew he had published a poem about the Turkish Prime Minister having sex with a goat.

"She knew he described President Obama as part-Kenyan.

"She knew he referred to Papua New Guinea-style orgies of cannibalism and chief killing.

"She knew he talked of tribal warriors in Congo breaking out in watermelon smiles.

"And she knew he said Liverpool had failed to acknowledge the role - what he called - 'drunken fans played in the Hillsborough disaster'.

"I suggest to you the reason why Theresa May doesn't sack him is because she fears a leadership challenge.

"She's prepared to send Boris Johnson out to represent the United Kingdom across the world because she wants to protect her own job."

Rudd: "Well, those are your view Eddie ..."

Mair: "I'm suggesting it to you, what do you think?"

Rudd: "I think that Boris Johnson does a great job as Foreign Secretary in many ways. I know he has a colourful way of expressing things sometimes."

Mair: "Colourful ..."

Rudd: "And the comments sometimes ... if other people can get upset by are sometimes, I agree, ill-judged. But I don't think we should condemn him from one particular issue that he might have attacked inappropriately."
Mair's style of interviewing was criticised by Conservative MP, Anna Soubry.
Though broadcaster James O'Brien praised his 'quiet genius'.
It's not the first time Mair has highlighted the criticisms of Johnson.