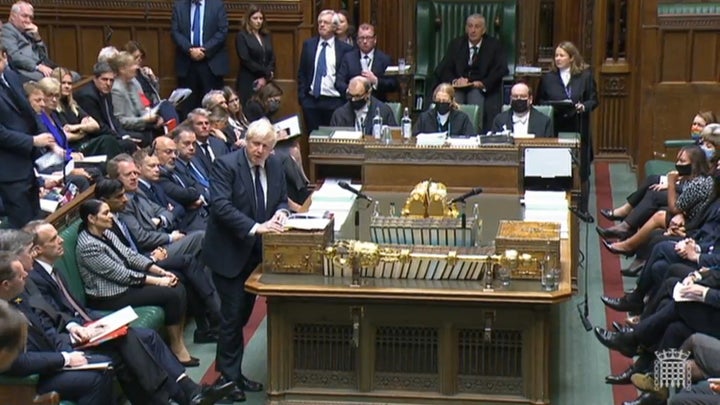 Health minister Edward Argar has defended Tory MPs who refuse to wear masks in parliament — despite the government toughening up its own advice to the public just yesterday.
Argar said the decision to wear a mask was a "choice" and "judgement call" for people, even as health secretary Sajid Javid yesterday urged the public to put them on in crowded spaces and to meet outdoors amid a rapid surge in the number of Covid cases.
Images of a packed Commons chamber with maskless MPs has prompted criticism that the government is undermining its own advice by not following it.
Liberal Democrat MP Layla Moran accused the Conservatives of "utter hypocrisy".
"Conservative MPs and ministers have a duty to lead by example and take precautions to protect themselves, their colleagues and staff," she said.
And asked by Times Radio whether Tory MPs should set an example, Argar replied: "You heard what Saj said — it's a judgment call. It's for individuals to make that judgment call."
Mask-wearing in public was just one of a number of interventions made by Javid on Wednesday, as he warned that Covid cases could go as high as 100,000 a day.
Speaking at a Downing Street press conference on Wednesday afternoon, the health secretary said the pandemic was "not over" and warned that if people did not wear masks in "really crowded places" then it was "likely we are going to have more restrictions".
Pressed on whether the government could ask the public to wear masks but not do the same themselves, Argar replied: "That's about people exercising their judgment based on the guidance, based on the advice."
There are currently around 49,000 Covid cases a day in the UK. Ministers have so far rejected demands it implement its "Plan B" contingency measures for suppressing Covid.
Argar defended the decision not to impose the contingency measures — which would see some restrictions such as working from home reintroduced — telling Sky News: "I don't think we're at that point yet."
However, the government own chief scientific adviser, Sir Patrick Vallance, warned ministers that they should act swiftly.
"I think what Patrick's saying there is you've got to look ahead," Argar said.
"We know that you have a lead time of two weeks roughly between infections and hospitalisations, and for the two weeks between, sadly, hospitalisations and deaths in the most serious cases.
"The key change has been the vaccination programme, which has altered the dynamics since I first started talking to you about this.
"I think what Patrick saying is always look to the future, consider when is the right moment to act.
"I don't think we're at that point yet."
There has also been concern in government that the rise in Covid cases can partly be attributed to the immunity afforded by two doses of the jab waning over time.
So far the drive to offer booster jabs has been criticised for being slow, with more than 3million having received their third jab so far, at a rate of 200,000 doses a day.
Former prime minister Tony Blair has said that number needs to be increased to 500,000 shots a day.
Asked whether that target could be met, Argar replied: "We've got the capacity to do it, we've got the people to do it, we've got the jabs to do it.
"If you get the call, if you're invited, please do do it because that is the best way of not only protecting yourself and your friends and your family, but also of easing that pressure and allowing us to keep going as normal as we can."
Argar said people no longer needed to wait to be invited to receive their third jab if the right amount of time since their second had passed.
"We've made a change, which is it's not just about waiting to be invited," he said.
"If you get to the six months plus one week, go on the national booking system and book yourself in.
"There's also the other factor which … does not delay but phases the rollout, which is the JCVI's current advice, which is don't have your booster until six months afterwards.
"So, if you look back six months, that cohort is starting to come through now."