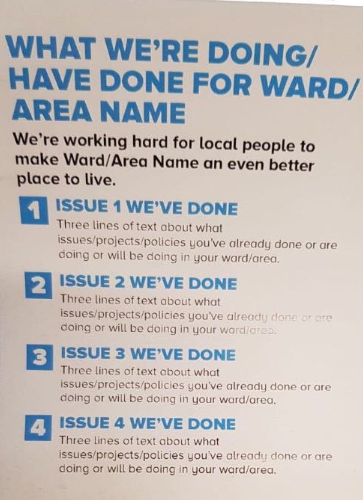 Conservatives are standing for election in east London on their record of "ISSUES WE'VE DONE" for "AREA NAME", according to their leaflet.
The leaflet, promoting the Tory candidate for Ilford Town, sets out in blue capitalised letters "WHAT WE'RE DOING/HAVE DONE FOR WARD/AREA NAME".
Underneath, it lists issues one to four that "we've done" for Ilford. In what appears to be an embarrassing copy-and-paste error, the leaflet reads: "Three lines of text about what issues/projects/policies you've already done or are doing or will be doing in your ward/area name."
The latest in a series of leaflet gaffes ahead of the local elections on Thursday, images of the leaflet quickly went viral on social media.
Back in Redbridge Council, where voters are preparing to go to the polls, Labour was gearing up for a fight – much like their party colleagues in north London, who were kicking off about an ex-MP being photoshopped into a picture with his floating dog.
"They don't respect you, your vote or your borough," Redbridge Labour said of the mail merge error.
In response, the Conservative leader in Redbridge Paul Canal tweeted: "To err is human, to forgive divine."
He added a link to the song "Human" by Rag'n'Bone Man, which includes the line: "I'm only human after all."
We'll know by Friday, when results starting coming in, whether voters indeed chose to forgive.
A spokesman for Ilford Conservatives told HuffPost: "This was a template that was sent to the printers in error.
"Our Ilford Town candidates have been out campaigning to ensure they deliver cleaner streets, better roads and less waste for the residents of Redbridge."