Within just hours of the historic Leave vote, it had already gained 60,000 signatures and counting.
We the undersigned call upon HM Government to implement a rule that if the remain or leave vote is less than 60% based a turnout less than 75% there should be another referendum.
Demand meant the petition website was temporarily unavailable.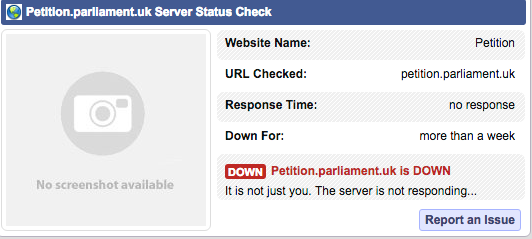 Leave won 51.9% of the total vote to Remain's 48.1% after the final count. Turnout in the referendum was 71.8% - with more than 30 million people voting.
Despite an on-the-day poll predicting a win for Remain, Leave voters turned out in droves in order to take the UK out of the EU.
For those who voted Remain, the mood is one of despair...
The Leave campaign swept up millions of votes across the north of England, the Midlands, the South East and Wales.
Remain votes in Scotland and London were not enough to hold back the Brexit tide.
Nigel Farage hailed the victory for the Brexit campaign as having been achieved "without a single bullet being fired".
A House of Commons spokesperson said of the petition website: "UK Parliament and the Government Digital Service are aware of the issue and are working on this to ensure the site is working well."
Popular in the Community