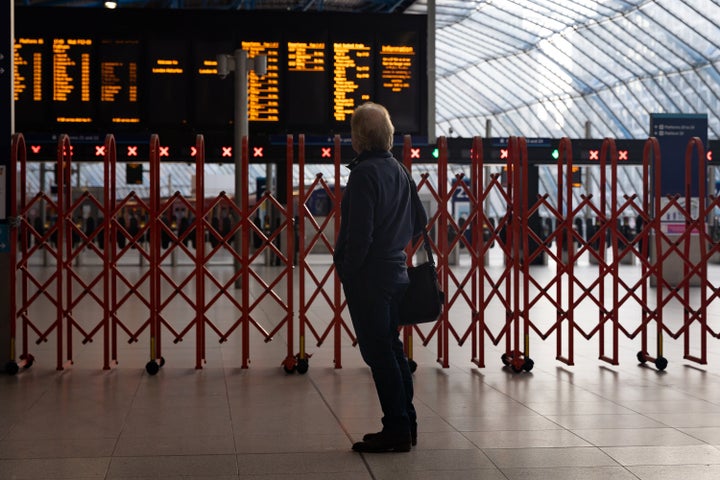 Okay so having our winter travel plans disrupted probably wasn't on our bingo card for the end of the year, but here we are.
Yesterday The ASLEF union announced their outline for a rolling programme of strikes taking place between 2-8 December 2023, involving 16 train companies.
This means that you might need to rethink your travel arrangements if you regularly travel with any of the 16 Train Operating Companies, (TOCs) ASLEF is in dispute with.
These are; Avanti West Coast; Chiltern Railways; c2c; CrossCountry; East Midlands Railway; Greater Anglia; GTR Great Northern Thameslink; Great Western Railway; Island Line; LNER; Northern Trains; Southeastern; Southern/Gatwick Express; South Western Railway; TransPennine Trains; and West Midlands Trains.
The decision was made following alleged false claims by Mark Harper to the Select Committee that a "deal was on the table".
"There isn't as he well knows - we have announced a new programme of rolling strikes," writes ASLEF in a press release.
As such, union members will walk out over six days based on the understanding that the "ramifications for the rail industry will be greater" than if they were to call everyone out on the same day.
Here's what that schedule looks like:
Saturday 2 December: EMR and LNER

Sunday 3 December: Avanti West Coast, Chiltern, Great Northern Thameslink, and WMT

Tuesday 5 December: C2C and Greater Anglia

Wednesday 6 December: Southeastern, Southern/Gatwick Express, SWR main line, SWR depot drivers, and Island Line.

Thursday 7 December: CrossCountry and GWR

Friday 8 December: Northern and TPT
"We are determined to win this dispute," said Mick Whelan, ASLEF's general secretary.
He continued: "And get a significant pay rise for train drivers who have not had an increase since 2019 while the cost of living, in that time, has soared.
"Mr Harper, who has gone missing in action during this dispute, says we should put the offer to our members. What the minister apparently fails to understand is that, since the RDG's risible offer in April, we have received overwhelming mandates, on enormous turnouts, for more industrial action!
"Our members have spoken and we know what they think. Every time they vote – and they have voted overwhelmingly – for strike action in pursuit of a proper pay rise it is a clear rejection of the offer that was made in April."
ASLEF says it has successfully struck pay deals with 14 companies in the last 12 months. Including freight companies, open access operators, Eurostar, and passenger companies in Scotland and Wales. However, they have been unable to do a deal with the 16 TOCs in England controlled by the government.
Whelan says: "This is a dispute in England made at Westminster by the Tory government."
ASLEF says they gave TOCs "a way out" of the dispute that they "chose not to accept. Because the government interfered".
"We suggested a significant across the board increase for all drivers, at all the companies involved, to deal with the cost-of-living crisis. Other matters, we said, could then be dealt with company by company. [Sic] Because t&cs are different at each company," ASLEF writes.
"One size does not – cannot and will not – fit all," they continue.
"We will continue to take industrial action until the train companies – and/or the government – sits down and negotiates with us in good faith," says Whelan.