But people-power is set to hit fever pitch this weekend as hundreds of thousands of demonstrators are expected to gather in central London to demand a so-called people's vote.
The move tops off yet another turbulent week in the Brexit news cycle, which has seen Theresa May narrowly win a little more time to sort out the mess – with just a week to go before Britain's original departure date of March 29th.
So where is the march, at what time, and who will be there? Here is what you need to know.
The main march will begin on Mayfair's Park Lane in central London and will move down Piccadilly, past Trafalgar Square and onto Whitehall to Parliament Square in Westminster on Saturday.
Demonstrators are expected to assemble at 12pm for a 1pm start, and the march will culminate in a rally where speeches will be held for about an hour.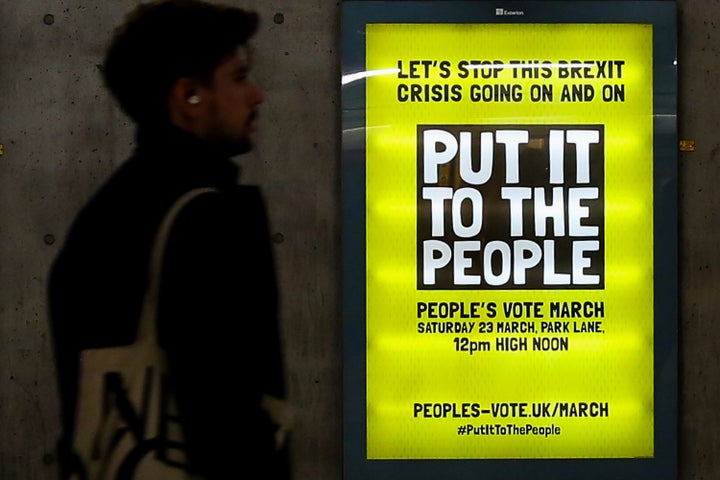 Organisers are demanding a poll be put to the people for a final say on the Brexit deal.
This is not the first of its kind – last October saw a record 700,000 people march on Westminster in favour of a second referendum on the final deal, led by London Mayor Sadiq Khan. The demo was the largest witnessed in the UK this century.
Yet organisers expect Saturday's numbers to exceed last year's record, with at least 200 coaches booked to travel into the capital, People's Vote have estimated.
Saturday's 'Put It To The People' march is a case of "now or never", organisers say.
"On the 23rd of March, just six days before the government hopes to take Britain out of the EU, hundreds of thousands of people will march on Parliament offering a solution to a crisis that threatens their living standards, businesses and jobs," a statement on their website reads.
A number of pro-remain MPs across benches have shown support for the march, including The Independent Group MPs Chuka Umunna and Anna Soubry, deputy Liberal Democrat leader Jo Swinson, and several Labour MPs.
Among them is David Lammy, who wrote in The Independent: "Whatever parliament decides over the coming weeks, and whatever amendments have already been passed, it is in those final days that we have the biggest chance to convince MPs to give this decision back to the public.
"The Put It To The People march will make the case for more democracy impossible to ignore.
"We will demand that any Brexit deal be put to the people for approval."
Meanwhile, a counter 'March to Leave' protest organised by Nigel Farage is scheduled to conclude on March 29th, in a bid to protest a "betrayal of the will of the people over Brexit".
The march kicked off in Sunderland on March 16, fuelled by drastically fewer supporters (in the hundreds), who are marching towards Parliament Square.
How likely is a second vote now?
The EU has given Theresa May until April 12 to get her withdrawal agreement passed by parliament. Otherwise, the UK will have to ask for more time or crash out without a deal.
Within the current timeframe approved by the EU, a second referendum is unlikely to happen as things stand, as it takes months to prepare. Legislation for the 2016 poll took seven months to be signed off, and the process could be longer now given that multiple options could end up on the hypothetical ballot paper.
While Labour supports a second vote in a bid to break the Brexit deadlock, Parliament rejected calls for another referendum in a vote on March 14.
But YouGov poll earlier this week found that Remain would win with a margin of 57-43% if a vote were to take place between staying in the EU or leaving without a deal, while a wider 61-39% margin is estimated if the vote was between remain and Theresa May's deal.