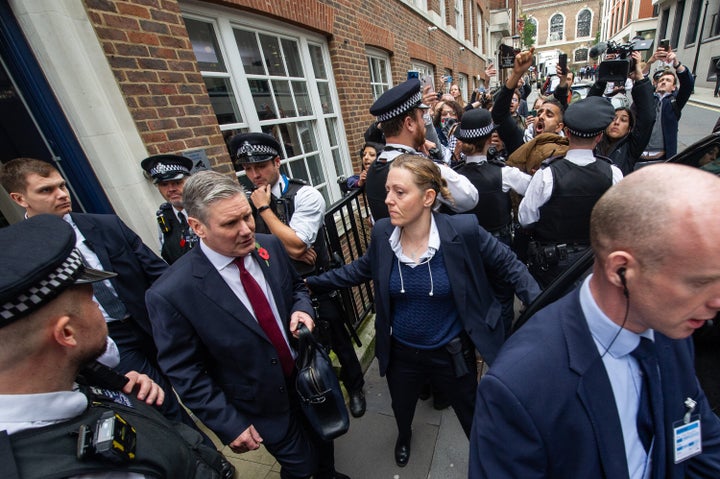 A revolt by Muslim voters over Keir Starmer's response to the Israel-Hamas war is unlikely to damage Labour's chances of winning the next election, according to a report.
Analysis by the More in Common think-tank seen by HuffPost UK suggests Labour may not lose a single seat even if thousands who backed the party in 2019 decide not to do so next year.
Starmer has faced a furious backlash from within his party after he rejected calls to back a ceasefire in the conflict.
More than 30 councillors have resigned in protest, while around a third of his MPs – including many frontbenchers – have also broken ranks to demand an end to the hostilities.
Two Labour council leaders have also demanded Starmer resign as party leader over the row.
It has been claimed that Labour could lose out on as many as 30 seats if Muslim voters withdraw their support for the party, enough to potentially deny Starmer the keys to No.10.
But the More in Common report says that with Labour still well ahead in the national opinion polls, any such protest would probably have little impact on the party's chances of victory.
It says: "Assuming a 10 point uniform national swing from the Conservatives to Labour, Labour would need more than 55% of voting Muslims to switch to a third party or to not vote in order for Labour to lose any seat they currently have.
"Given that 77% of voting Muslims voted Labour in 2019, a drop to 45% against a general national swing towards Labour would be dramatic.
"Given this, it is hard to see anti-Labour sentiment from Muslims playing a significant electoral role at the next general election.
"Labour should still care deeply about the concerns of Muslims – particularly if they want to differentiate themselves from the Conservatives' more divisive language on ethnic minorities - but this should be motivated by Labour's commitment to supporting marginalised communities rather than concerns about electoral politics."
The report concludes: "Having the support of the Muslim community is important to Labour for many reasons, but given the national swing away from the Conservatives, significant Muslim disillusionment with Labour is unlikely to have a significant electoral impact at the next election."
Luke Tryl, More in Common's UK director, said: "Politicians need to show they are listening to the concerns of all communities to ensure this doesn't become an irreparably divisive issue here at home.
"But it is unlikely that some disillusionment will cost Labour the election - given, above all, voters of all religions and none don't want to see Israel/Palestine become a partisan political football and will be deciding their vote on issues like the cost of living and NHS."
Elsewhere, the report – which is based on polls of British voters' opinions of the war – found that people are unlikely to take a side in the conflict, and are most concerned about protecting both Israeli and Palestinian civilians.
Luke Tryl added: "There is no doubt the eyes of the public are on the distressing events unfolding in Israel and Gaza.
"Top of mind for the public is ensuring civilians are protected and that terror is eliminated, which for most people means both Israel being able to defend itself and a better future for Palestine.
"What the public don't want is for the conflict to become another party political football and certainly not an 'election issue'. On issues like this the public are much more likely to want to see politicians working together rather than trying to seek political advantage."