Your gym membership is up for renewal. Be honest, now – how many times have you used it in the last year? According to research by thinkmoney, nearly one million people are shelling out for gym memberships they hardly use, wasting an average of £480 a year.
If your excuse is 'I'd love to go, but I don't have time', author and powerlifter Frederic Delavier empathises. "You have to get dressed, drive to the gym, and change into your workout clothes... then, after working out, you have to do it all again in the opposite order. All of this can take more time than the actual workout," she says.
There is a solution however: make the gym come to you, and save that £480. If you have a garage, shed or spare room, it's possible to create a bespoke gym at home without breaking the bank. After a modest outlay, you can exercise for free.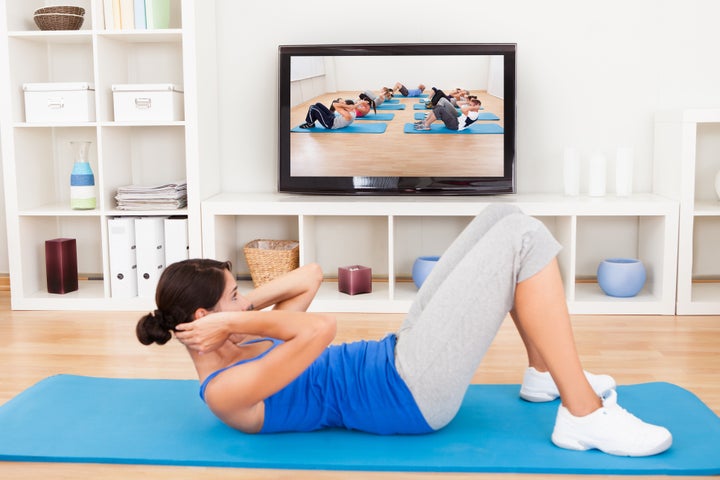 Take a motivation check
Before you put time and energy into creating your home gym, are you OK working out on your own? It can be a bit lonely without the chat, sociability and tips from others, although as Delavier points out, "Gyms certainly have a more social quality than your home can offer, but being social does not make your workout effective. Often, the opposite is true." Conversely, you could nip straight into your home gym and be in the pub chatting with friends an hour or so later.
Install an internet-enabled TV screen
This has so many motivational uses in a home gym. Stretch to power ballads, catch up with Orange Is The New Black while you do bicep curls, use YouTube tutorials to learn yoga, Pilates or even the vintage but effective Canadian Military Exercises. Attach a DVD player and dig out those workout DVDs that you've never taken the Cellophane off.
Soften the flooring
A concrete garage floor is not just depressing, it's quite damaging to both you and your equipment, so install some surprisingly cheap and cheerful foam flooring to soften impacts and soundproof your workouts. Don't forget the yoga mats for extra padding.
Hunt out equipment
It shouldn't be hard to source second-hand cheap or even free fitness gear; much of it is bought new with the best intentions, but consigned to gathering dust in corners. Ask around family and friends and on local social media - plenty of people would be delighted to clear out their old weights, rowing machines and skipping ropes. Sign up for community freebie sites Freecycle, Snaffle Up and Freegle, and keep checking back regularly. You could also swap equipment you don't use on Swapz.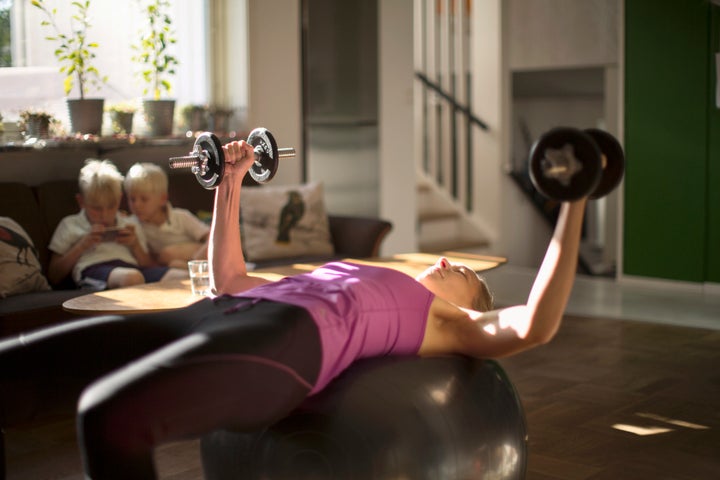 Keep it simple
For your home gym, concentrate on sourcing weights - kettlebells, dumbbells, barbells and a decent bench to go with them, a power rack (if you're lucky enough to find a cheap one, otherwise you could make one yourself) and perhaps a punch bag (great stress relief any time of day). What about the cardio machines? If you're given one, then all is well and good, but don't waste your money otherwise.
Make your own exercise bike
If you don't find a freebie bike or turbo trainer, you could reincarnate that old pushbike in the shed as an exercise bike by making a simple wooden stand for it. Perfect for low intensity workouts if you want to catch up on soaps or phone calls.
Embrace the great outdoors
Invest in a personal training session
You've set up your home gym and are ready to go! Just a final thought - as you are working out alone, there's no one to spot if your technique is off and putting yourself at risk of injury. It's worth getting a personal trainer in for a session to assess the safety of your home gym workout and to give you an effective training programme to follow. Then you can just get on with it in your own sweet time.
As Delavier concludes: "At home, with no one to impress, you can focus on effective work and not worry about what others think."