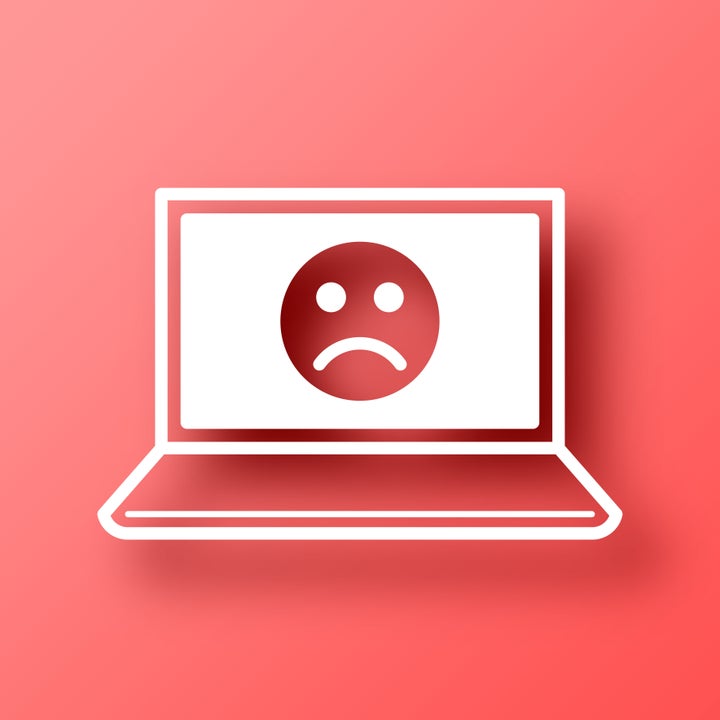 So you've met the girlies for brunch and told them about a new flame – he has deep, hazel eyes, orders extra parmesan with his pasta (green flag) and compliments your nails.
It's all going good; you send him a text on the bus home and tell him you're excited for the next date. He's probably at work or the gym, maybe with his friends or the dog, so he hasn't responded yet. The next evening you drop a shaky "?!" text because he's online, and the dreaded/hopeful three dots appear…and then quickly vanish.
After a week of radio silence, his profile picture has turned into the generic WhatsApp stick figure and the sad realisation dawns that you've been ghosted.
If you feel a frustrating urge to throw your phone, send hate mail or post a revenge Instagram story, you're not alone. With over 320 million people across the world using dating apps to find romantic connections, toxic patterns like ghosting, breadcrumbing and orbiting are more prevalent than ever. A 2016 survey by PlentyOfFish found that an overwhelming 80% of people between the ages of 18-23 have been ghosted.
But as conflicting dating patterns become more common, people on the internet are discovering creative ways to clapback and reclaim their agency.
Enter exit surveys and feedback forms for crap dates or unfriendly ghosts.
Recently, Brooklyn-based TikToker Stephanie D'Agostini posted a video explaining that a man she "didn't even like" ghosted her twice. The audacity, right? Instead of fuming quietly, she decided to send her date an exit survey inspired by long winded corporate forms but with a humorous twist.
The survey kicked off with "Please provide a 1-2 sentence explanation of why you did it" with options like "You were overwhelmed by my beauty" and "I'm too good for you." The second question asked the date to circle if he thinks D'Agostini is "Cute, hot, sexy or pretty" followed by the instruction "Can and must circle all four."
In another follow up question, the 27-year-old TikToker asked for his exes' contact details as well as his mother's so she could make a group chat. The final question – that left us cackling – asked the date to provide compensation for her "emotional distress" with options ranging from buying her a house to gifting her free subscriptions to streaming platforms.
Hilarious as it is, the trend is spreading on TikTok like wildfire with more and more users creating similar videos featuring the feedback forms they sent their exes.
D'Agostini's video has 616k views and over 600 comments of people applauding the idea and requesting for the link to the survey. But why does an exit survey for your ex feel so liberating?
"By sending the survey, I want to remind the ghoster that he is the punchline of the joke, not me. If at this age, someone cannot communicate and explain their actions, and resorts to disappearing without notice, it's childish behaviour," D'Agostini explains.
The comedian adds that the video is a reminder to everyone who has been ghosted that it's not their fault. After all, it's no secret that dating today is a dumpster fire.
Social media is full to the brim with people sharing unpleasant, exasperating and straight-up disappointing dating experiences of being stood up, led on or ghosted. Amidst this unending chaos, the exit survey trend faces people with the comforting reality that they are not alone in feeling this way.
Reading comments like "you understand me" and "this happens to so many of us" under D'Agostini's post, reinforces a kind of solidarity and grace towards yourself.
"The benefit of these sorts of trends is that they help contribute to a sense of community among daters. It can really help your self-esteem and confidence to realise you're not the only person on the receiving end of bad behaviour," explains Michelle Begy, matchmaker and founder of dating agency Ignite Dating. Additionally, being ghosted often leaves us feeling helpless.
It's annoying to be typing and erasing fiery messages while the other person is just unbothered and unavailable. In this case, sending an exit survey to a ghoster is a nervy way to take back control and have the last word. "It can be cathartic to call out the bad behaviour even if the date doesn't bother to reply," adds Begy.
However, the expert warns that here's where things could get complex. The intention behind sending out the survey is imperative – is it to call out the ghoster in a snappy manner or is it with the hope to rekindle conversation and find answers?
In most situations, by disappearing without explanation the date has already revealed an undeniable red flag. Even if they do respond to the survey, it's not guaranteed that it would be kind or what the sender hopes to hear. Begy explains, "Ghosting is usually down to an issue with the individual, so it's not worth wasting time and energy worrying about what you've done wrong or hoping to find that clarity from their answers."
So it's important to be padded and prepared for what comes after sending out the survey, whether it's to a ghoster or an ex.
For Sydney-based Chloe Barry-Hank, the exit form was an entertaining way to reflect on her past relationships. She created a tongue-in-cheek survey for three of her exes as a half-joke, half-exercise in growth and some of the responses shocked her. "I was pretty surprised by how blunt one of them was but the others were insightful," she said, adding that she has a relatively good relationship with these men.
But Barry-Hank is not alone in using dating surveys in a seemingly earnest way.
Sarah Cosca, a 27-year-old digital marketer from California matched with someone on Hinge, only to be sent a questionnaire quickly after. Unlike the trend of using exit surveys and feedback forms to embarrass ghosters, Cosca's experience was before her first date and turned out to be surprisingly productive.
In the questionnaire, she answered what a good and bad date would be, what her green flags are and if she's available to meet in the next 10-14 days. It also included silly prompts like "what's a good baby name" but for the most part, the survey helped Cosca and her date understand if they were on the same page.
"I'm in my late 20s so I don't want to waste time dating people who have vastly different expectations of relationships than I do and neither did he, so I enjoyed receiving the survey" she explained, showing her support for the practice.
At a time when we go on dating apps and filter our searches by location and interests, or swipe right and left on profiles after a singular glance, people are more comfortable than ever with creating their own rules in romantic dynamics.
In fact as per a recent Bumble survey, 85% of Gen Z daters believe being upfront with what you want is the most important aspect of a relationship.
"The trend of exit surveys is yet another example of this generation doing things on their terms. They are a generation who are looking to learn and grow, and they're not ashamed to be bold when they're doing it by asking for feedback from their dates," says Dr Caroline West, the sex and relationships expert at the dating app.
Whether this shift looks like ghosting and sending sassy exit surveys or filling questionnaires to optimise dates, the new dawn of dating is here and it's banging on the door louder than ever.