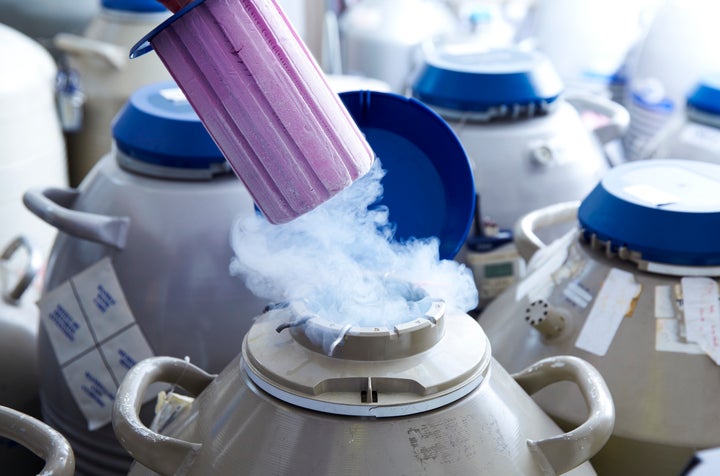 The 10-year limit for storing frozen eggs should be extended, fertility campaigners have urged, claiming current legislation "does not have any scientific basis".
Currently, women who've elected to undergo "social egg freezing" – meaning freezing for non-medical reasons – in the UK are only permitted to store eggs for 10 years. In contrast, when a woman freezes eggs following cancer treatment, they can be stored for up to 55 years.
Fertility and genetics charity the Progress Educational Trust (PET) has launched its #ExtendTheLimit campaign, calling on the government to extend the 10-year storage limit. It comes after egg freezing was named the fastest growing fertility trend in the UK earlier this year.
"Should a 28-year-old woman freeze her eggs, those eggs will need to be used or destroyed by the time she is 38, which is potentially right when she may need them the most," she explained. "Women can currently use donor eggs to conceive with no legal age limit in the UK on this procedure (although many clinics will not provide the treatment to women over 50).
"It therefore is unsound for women to be denied use of their own eggs to conceive, effectively being their own donor, especially as the donor egg pool remains low."
Laura*, 44, from London, underwent egg freezing seven-and-a-half years ago at the age of 36. She decided to preserve her fertility because she was single and knew she wanted children in the future. But now, her time is running out again.
"As it happens I am in a relationship with someone now, but it's too early on to think about children so I'm in a real dilemma about what to do," Laura previously told HuffPost.
"That's the reason this whole thing's so silly, because it's supposed to take away the panic and the rush, yet if there's only a 10-year limit, you start to panic after about five years, because you know that the clock is ticking."
Jane*, 45, froze her eggs in 2009 and, earlier in 2019, faced the destruction of her frozen eggs. "Being told my eggs would be destroyed was heart-breaking, heartless and massively upsetting. This was my only chance left of having a biological family."
PET's director Sarah Norcross said the charity's #ExtendTheLimit campaign hopes to "improve reproductive options" for women like Laura and Jane. As well as a call to government, the campaign includes an online petition where the public can show their support.
"Women deserve reproductive choice yet increasing numbers of women in the UK are facing the stark choice of having to destroy their frozen eggs or become a mother before they are ready to do so because of an outdated and unscientific law," Norcross said. "Just a minor amendment would give so many women hope for a fertile future."