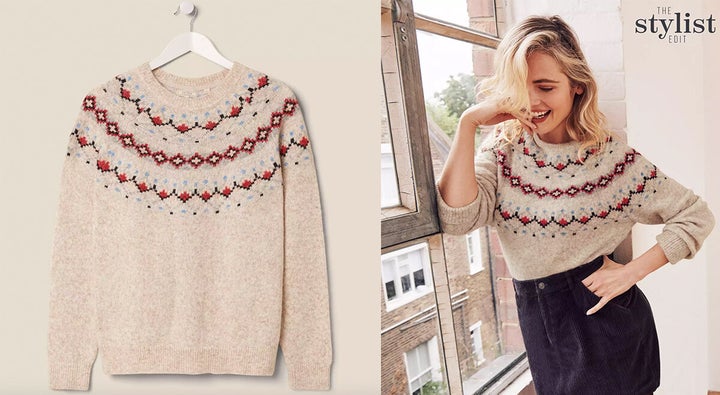 It's officially autumn and, if you're anything like us, it means you're on the hunt for new knitwear to keep the chill out.
A fairisle pattern is a classic choice, especially for Christmas. And Fat Face appears to think the same – only its Felicity Fairisle Jumper is turning heads for a slightly different reason: the strategically placed pattern resembles boobs.
Referring to the top and bottom lines of pattern, one user wrote: "Cannot be unseen. I look forward to observing those jumpers in the wild."
While another commented, "I'd feel like a right tit wearing that," and someone else added: "More titwear than knitwear." (We love a good pun).
Most agreed it was surprising that the jumper had made it onto shop floors, but there were a handful of people who were still keen, with one saying, "I'd still wear it."
When HuffPost UK contacted Fat Face about the design, we were told that while "booby bunting" wasn't quite the look the designers were going for with the jumper they're "embracing it, grabbing life by the boobs and donating 10% of the sale of the jumper to breast cancer awareness charity CoppaFeel."
Personally, we love it. It's fun, festive and we're all for boob-covered accessories. We'd wear with high-waisted jeans, chunky trainers, and a bobble hat. If you feel the same, the knit is available in sizes 6-18 and costs £56.
We all work hard to earn our money – so it shouldn't feel like hard work to spend it well. At HuffPost Finds we'll help you find the best stuff that deserves your cash, from the ultimate lipstick to a durable iron to replace the one that broke (RIP). All our choices are completely independent but we may earn a small commission if you click a link and make a purchase.