Sadiq Khan has given a powerful speech about the spate of terror attacks in the wake of the Finsbury Park incident, saying "terrorism is terrorism" regardless of its ideology.
Police have said it was "clearly an attack on Muslims" when a van was driven into pedestrians as they left the Muslim Welfare House on Seven Sisters Road, after Ramadan midnight prayers. One man was killed and nine people rushed to hospital.
Khan said: "It doesn't matter whether you are inspired by a perverse form of Islam or whether you're inspired by some other motive to try and terrorise others."
The Government quickly described Finsbury Park as a "potential terrorist attack". It follows three Islamist attacks in three months - two in London and one in Manchester - that have shaken the nation.
The suspect was not known to the security services, minister Ben Wallace has said. A 47-year-old man remains in custody and is being held for terrorism offences. Multiple reports have named him as Darren Osborne, a father-of-four who lives in Cardiff.
Addressing reporters at the scene on Monday afternoon, Khan was ashen-faced as he described a "terrible few weeks in London, unprecedented in recent times".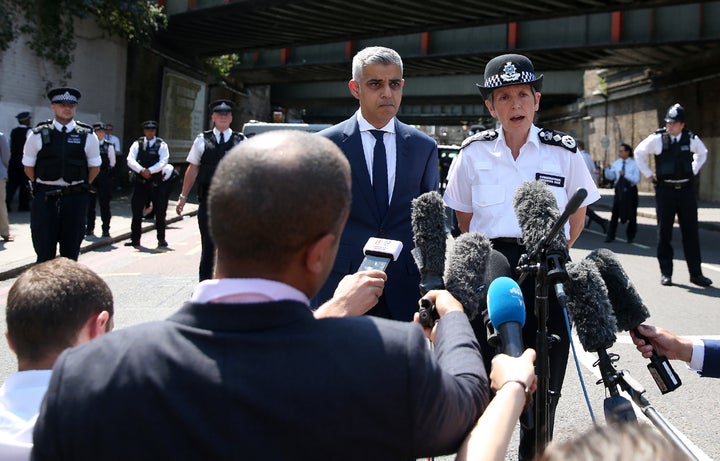 He compared the Finsbury Park incident to the Westminster Bridge and London Bridge attacks that shook the city this year, saying each was "an attack on our shared values of tolerance, freedom and respect".
"The intention is the same - to divide our communities, to make us stop leading the lives that we do," he added. "We will stay a strong city. We will ensure we are not cowed by terrorism."
Appearing alongside him, Metropolitan Police Commissioner Cressida Dick said this was "quite clearly an attack on Muslims".
She added: "[Terrorists] think they will break our society down and cause division between us. They won't do that and they won't win.
"This is a very resilient city and this a very resilient set of communities."
"By God's grace, we managed to surround him and protect him from any harm." he said.
"We stopped all forms of attack and abuse that were coming from every angle."
He said people flagged down a passing police van.
"It wasn't me alone. There were a group of brothers who were calm and collected who managed to calm people and to extinguish any flames of anger or mob rule that would have taken charge," he added.
Theresa May visited Finsbury Park Mosque, near the scene of the attack, earlier on Monday.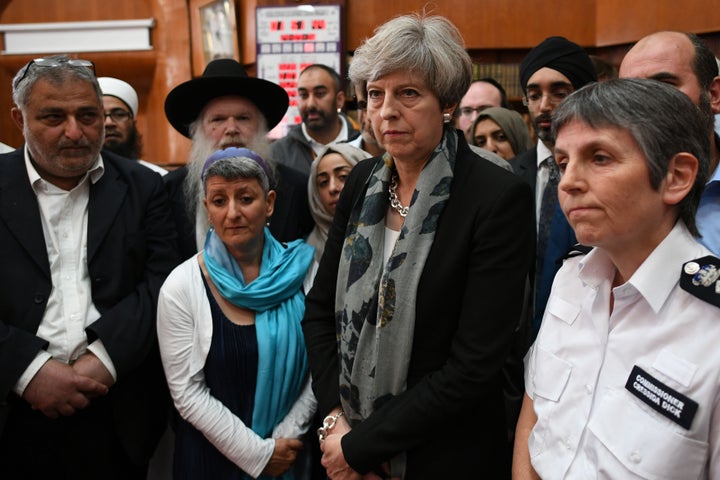 As she left, someone shouted: "How come you were so quick today? Kensington you weren't so fast."
This refers to May's initial failure to visit the victims of last week's Grenfell Tower fire.
Locals told HuffPost UK they were more impressed with Jeremy Corbyn's visit, during which he spent around two hours in the mosque and left to huge applause and cheers.
"Jeremy is the man. He come out and he talks to the people, unlike some people, who can't even face us. He is an honest man. He tells it like it is. Mark my words, he's the future prime minister," Muhammed Afzal said.
Local resident Sam Rezan told HuffPost UK: "She is absolutely out of touch. Even politicians from her own party don't want her anymore.
"She should have been outside talking to the people here and reassuring us, not hiding away. She should have resigned a week ago."
Tayyabah Ahmed said Corbyn was "very genuine" and, while May had "said the right thing", it remained to be seen what her Government would do.
She felt "demonised" as a Muslim, adding: "The whole issue of Islamophobia hasn't been taken seriously.
"The media have portrayed Muslims as terrorists... So far we've just had a lot of rhetoric about Islamists... Britain First was outside the East London Mosque last week. They were basically trying to provoke friction. Nothing was done about it.
"So it will be interesting to see what Government actually does."
She added: "If this attack had not happened in Jeremy's constituency, would May even be here? Would it have got the same media attention?"