Andrew Locker said the industry had been "betrayed" by Boris Johnson, who has delivered a "fraction of what we were promised".
"We are going to really, really struggle this year."
Speaking to the BBC's Today programme, he added: "I am angry, disappointed and betrayed. Boris Johnson promised us the rights to all the fish that swim in our exclusive economic zone and we have got a fraction of that.
"We are absolutely worse off. When we were within the EU we used to trade fish with the EU. We used to swap things we didn't use with fish that they didn't use and that enabled us to put together an annual fishing plan.
"What we have got now is a fraction of what we were promised through Brexit."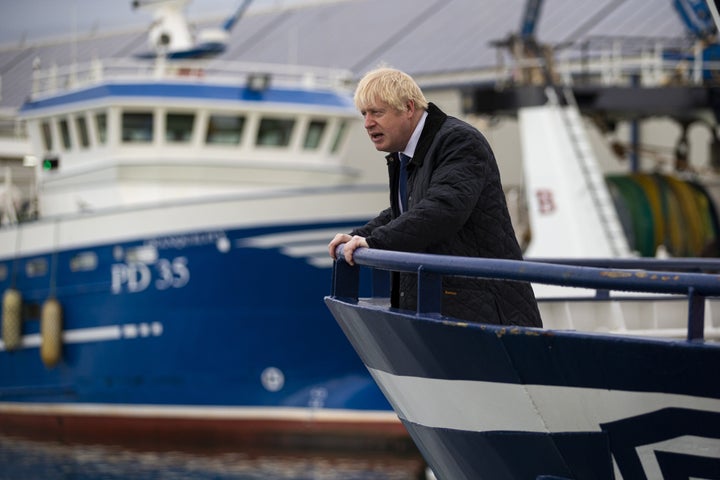 The comments echo those from chief executive of the National Federation of Fishermen's Organisation (NFFO), Barrie Deas, who accused Johnson of having "bottled it" on fishing quotas to secure only "a fraction of what the UK has a right to under international law".
Deas said the PM had "sacrificed" fishing to other priorities, with the subject proving to be an enduring sticking point during negotiations.
Cabinet Office minister Michael Gove rejected claims that Britain's fishermen will be worse off as a result of the post-Brexit trade deal.
"I don't accept that. I think it is fair to say that we are in a stronger position than we were in the EU and in the common fisheries policy," he told the BBC Radio 4 Today programme.
"In the common fisheries policy we were only able to access about 50% of the fish in our waters. It is the case that we are now getting a significant uptick in that number, so we will have by 2026 about two-thirds of the fish in our waters.
"This staged process gives us a chance to increase the size of the fleet, to invest in our coastal communities, and, of course, in due course we will have that opportunity to increase that quota even further."
From a purely economic standpoint, the intense haggling over fishing rights seems a bit odd – even when combined with fish and shellfish processing, the sector makes up 0.1% of Britain's GDP.
Yet many Brexit supporters see it as a symbol of the regained sovereignty that Brexit will supposedly bring and it has been heavily promoted by the likes of Nigel Farage, who even went so far as convening his own fishing armada during the run up to the EU referendum.
European ambassadors will begin the process of approving the post-Brexit trade deal, as Britons were urged to prepare for life without the EU's benefits.
The diplomats will meet on Monday to determine how they can provisionally approve the deal covering £660 billion of trade in time for the end of the transition period on Thursday.