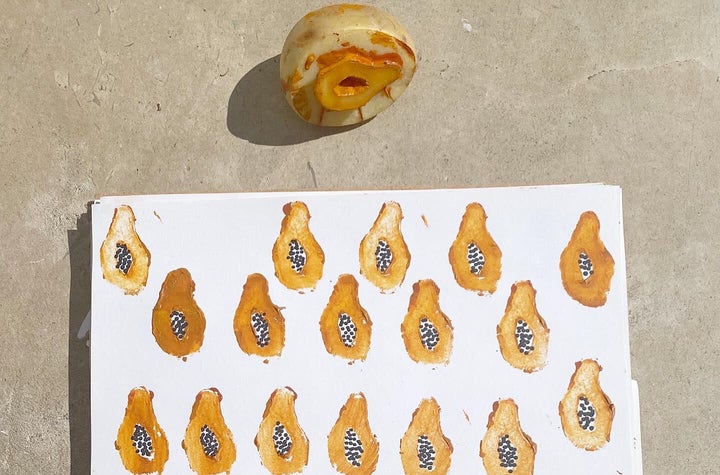 During the coronavirus crisis, many of us are cherishing our food and savouring every last morsel to reduce waste and avoid unnecessary trips to the shops.
So, what can you do with the miscellaneous remnants of food from the back of the fridge? If it's not suitable for cooking, you can give these scraps a second life by turning them into something useful.
Here are five useful food hacks for your leftovers that'll keep you busy.
1. Experiment with natural dye
Fruits, vegetables, and flowers have been used for centuries to alter the colour of clothing – and anyone can do it. Making homemade dyes is eco-friendly, and costs next to nothing.
"Avocado pits give off a great dusty pink to vibrant pink, onion skins are a golden tan and turmeric is anywhere from a golden to fluorescent yellow," says set and prop designer and owner of hand-dyed clothing line Upstate, Kalen Kaminski. "Pre-quarantine, I'd ask my local Mexican restaurant to hold onto pits for me – now, I'm just eating a bunch of avocados!"
So how much do you need? "Pits I would start with around 10; onion skins I'd say the skin of four large white onions for a pot; turmeric goes a long way – I start with a tablespoon in a pot of water and test my fabric."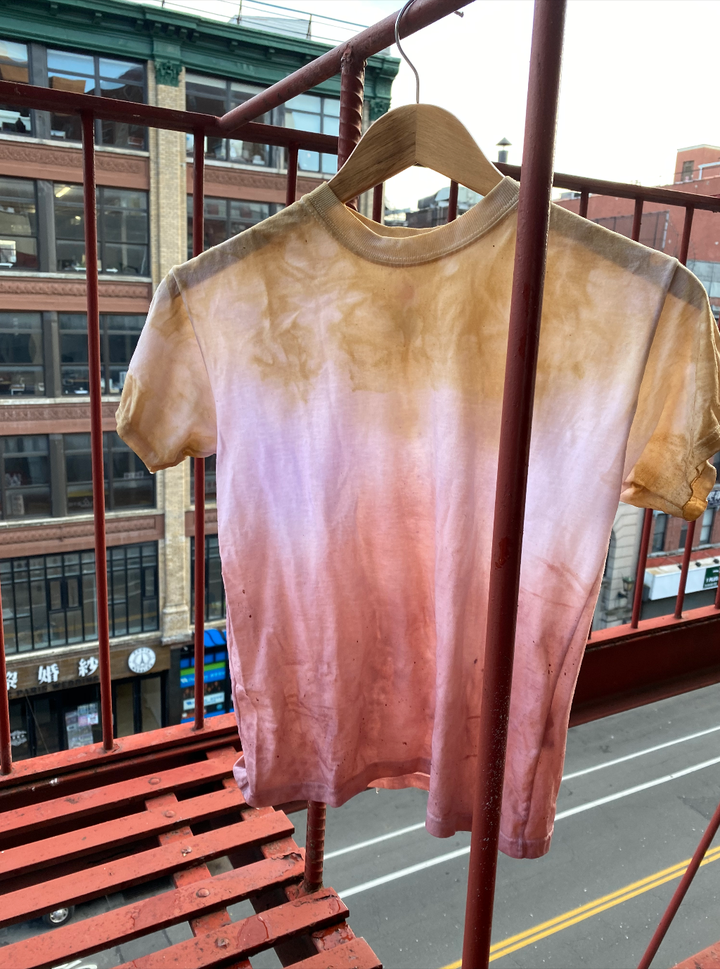 Lots of fabrics are suitable to use – from cotton, linen, and silk, but each will respond to a given dye differently. "Only use 100% natural items that are cotton, linen, and silk," explains Kaminski. "Synthetic fibres will not hold a natural dye. Try dish towels, napkins, towels, pillowcases, or a stained top."
The binding part – getting the dye on the fabric – is when you can get creative. You wrap up the food and fabric with rubber bands, fold the fabric in a shibori fold and clamp it, or soak for a more solid effect, says Kaminski.
"Start with one thing like the avocado pits and have patience. The longer it soaks the more vibrant the colour," she says. "It may take a few times to figure out your rhythm with dyeing. It's like following a recipe, the first time it's good but the more you make it, it's easier to finesse."
Experiment with different patterns, designs, and folds, each DIY project is unique and will come out differently.
2. Stamp it out
It's time to reacquaint ourselves with our leftover spuds and pretend we're back in school with a creative stamp art session. Plus, this is a simple way to keep the kids busy for hours. You'll be rewarded with some beautiful new art to hang on the walls – or cute card designs to send to loved ones.
"Cut a potato in half, wipe it dry and then sketch onto it," chef and author Emily Dobbs explains. "Then cut out sections and use it like a stamp. Potatoes are good because they make a nice shape to hold in your hand and have a good surface area."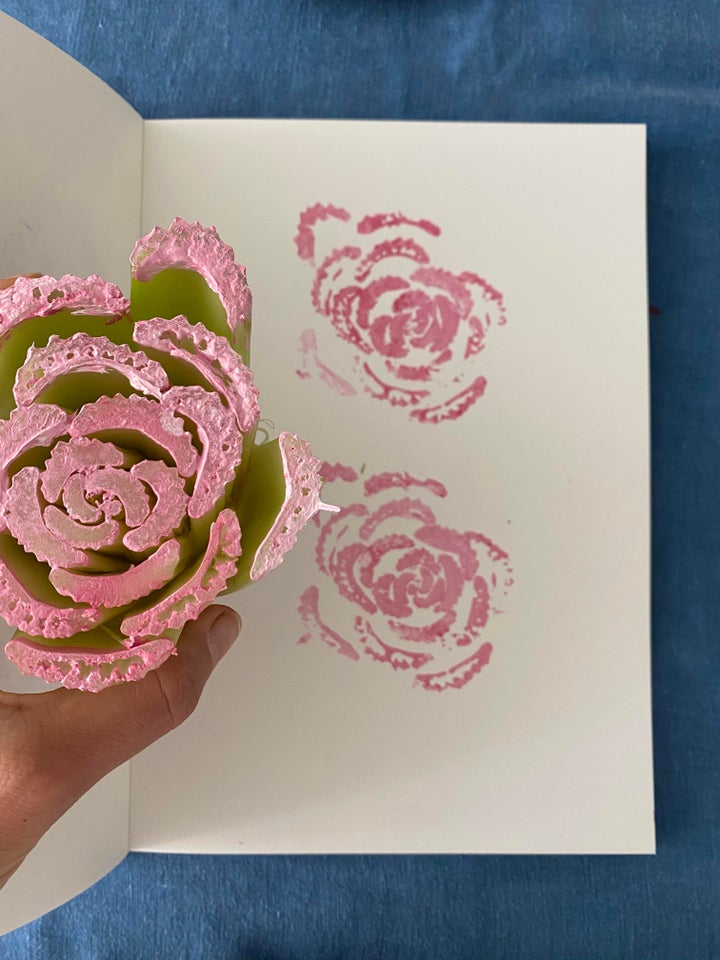 Don't restrict yourself to using only potatoes, though. There's a whole world of veg waiting to be stamped. "You could use any starchy vegetables such as sweet potato, celeriac, or squash," Dobbs suggests. "I've printed with celery hearts and Brussel sprouts cut in half – they create a rose shape print and it's really beautiful."
Be inventive and have fun. Some fruits have natural juices and will produce lovely stains, so sometimes paint isn't needed at all. "If you can't think of a sketch, it's very soothing to print strawberries. All you need to do is cut them in half, let the natural juice and shape do the work," says Dobbs.
"Like cooking, I think my best sketches are when I'm really free-flowing and just enjoying the meditative process of it."
3. Regrow plants
A great way to minimise kitchen waste is to regrow vegetable odds and ends such as pak choi, spring onions, and celery – a bit like having your own windowsill garden.
Place a few kitchen scraps in an inch of water, let them sit in partial sunshine and you'll start to see regrowth in a matter of days. Just be sure to change the water daily and trim off any mouldy or brown bits.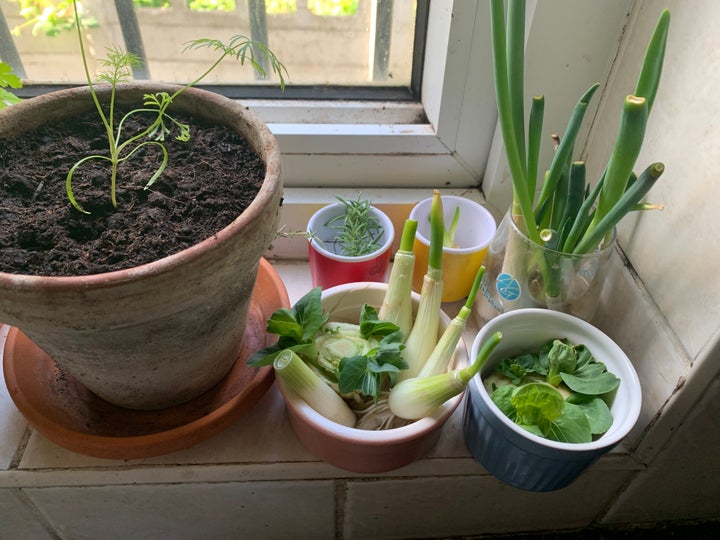 "This method also works for onions, lemongrass, bulb fennel or lettuce," says food writer, grower and founder of Otter Farm, Mark Diacono. "Afterwards, you can plant them out in a sunny spot and new growth will spring up."
Don't leave herbs out of the equation. "With soft herbs like coriander and basil, pick most leaves from each stem, leave a few at the top, and place in a jar filled with water to leave somewhere with good sunshine. Once propagated, pot up and grow into a plant," says Diacono.
"I wouldn't recommend growing garlic or potatoes from those bought in the shops as they're more susceptible to disease than those bought through a nursery."
4. Stock up on stock
Stock is an obvious choice to reduce waste, and many restaurants do the same with their scraps. Whether it's vegetable peelings, carrot tops, potato skins, onion skins, mushroom stalks or herb stems, simply pop them in a freezer bag and accumulate more to save for when you're ready to make your stock.
Once you have enough, empty everything into a heavy-bottomed pan, season with salt and pepper, and cover with plenty of water. Bring to the boil, reduce the heat, cover, and simmer for a couple of hours. Voilà, it's ready to use.
5. Get pickling
Instead of throwing away watermelon rinds, old grapes or cantaloupe, pickle them – and put the lesser part of the adored fruit that's starting to go bad to good use. The juices from some of the flesh can be used as part of the pickling liquid. Add white wine vinegar, some salt, sugar and maple syrup, as shown in this recipe.
You can pickle vegetables too, of course. Why not try pickling those onions that may otherwise go to waste? Cider vinegar, sugar, salt, seasoning and the onions themselves should do the trick. Chuck it all in a pan and bring to simmer. Then drain, pour over boiling water, and pack in a jar. It'll keep for six months unopened, or two weeks in the fridge once opened.