The majority of football fans want Premier League clubs to give single-plastic the boot this season.
A YouGov poll, commissioned by Friends of the Earth, found that 84% agree clubs should ensure reusable or returnable cups are used in their stadiums.
Friends of the Earth and BASIS (the British Association for Sustainable Sport) are now calling on football clubs to introduce a returnable cup scheme in their stadiums, as part of a comprehensive set of measures for getting rid of unnecessary single-use plastic.
The environmental campaign group estimates that over six million single-use plastic beer cups may have been used in the Premier League last season alone.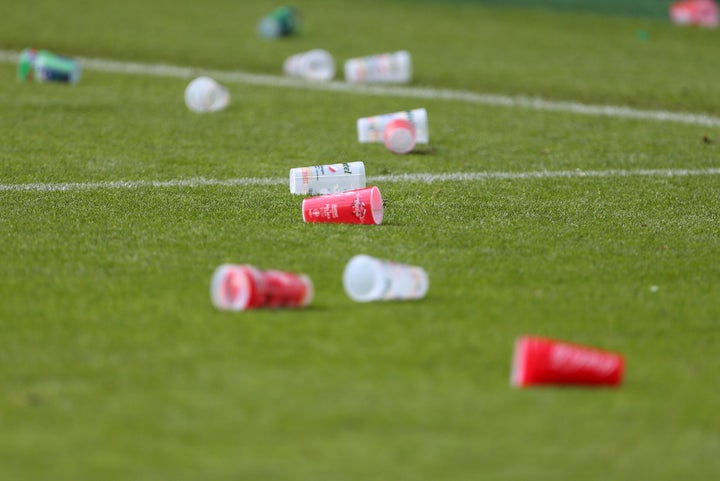 Friends of the Earth wants clubs to sign its Plastic Pledge – and some clubs are making moves on this already. Manchester City introduced a stadium-wide returnable cup scheme at the end of last month; Tottenham Hotspur is trialling a re-usable cup scheme this Saturday; and a number of clubs ran trials last season.
The charity's plastic campaigner, Julian Kirby, said: "Football clubs across the UK should aim to be champions off the pitch, as well as on it, by giving single-use plastic the boot.
"Fans want football clubs to take action on plastic. We're encouraged that a number of clubs have already introduced measures on this issue – but we need every Premier and Football League club do what it can to get rid of unnecessary single-use plastic," said Kirby.
Russell Seymour, chief executive of BASIS added that the impacts of plastic waste and pollution are "one of the most important environmental issues" of our time. "We are happy to work with Friends of the Earth and the sport of football to reduce these impacts," he said.
The Friends of the Earth 'Plastic Pledge' for football clubs:

• By the start of next season (20/21), eliminate single-use plastic cups for all beer and other cold drinks and replace them with reusable cups.

• By the end of the current (19/20) season remove non-essential single-use plastic straws, bags, stirrers, sauce sachets, milk jiggers (small cartons) and cutlery, prioritising reusable alternatives where feasible or removing completely.

• Ensure that fans can easily access drinking water through drinking fountains and refill their own reusable water bottles (meeting relevant safety recommendations) at water refill stations.

• Engage with fans, visitors and the surrounding community about the action the club is taking to curb single-use plastic and why it is important, and what they can do.

• Constantly review the use of single-use plastic products – and where practicable eliminating SUP from use.