While Theresa May scrambles to extend the UK's Brexit deadline, the tone has stepped up a notch across the Channel, as France contemplates the terms of an exit delay.
Sources from the Elysee Palace say France is ready to say yes to a postponement, although will not agree to it blindly, HuffPost France reports.
The extension can only be granted after leaders of the EU27 agree unanimously on it.
"This is not obvious and it is not automatic," said the Elysee.
It comes as – with just days to go until the scheduled March 29 exit – the prime minister sent a formal letter to European Union, asking for a deadline extension to June 30.
Any extension will be agreed at a crunch summit of EU leaders in Brussels on Thursday.
According to Nathalie Loiseau, France's minister of European affairs, there is little remaining chance that President Emmanuel Macron will agree to a delay without conditions, or what is called a 'technical delay'.
"The interest of the European Union will rise above all," warns the Elysee, which refuses that Theresa May "save time to gain time."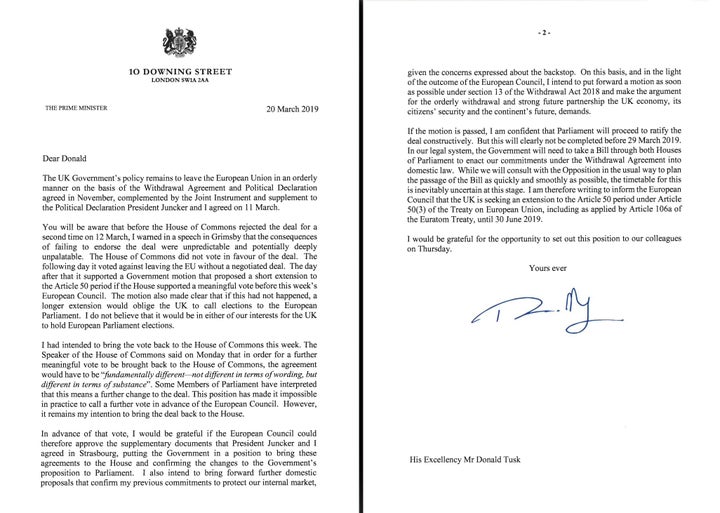 Before granting a possible delay, the source said, Macron will ask himself the question 'what will he be used for?'.
"We do not have time, but we can get more time if something justifies it, but the stakes are so serious, you have to be clear and transparent about the assumptions," the president's office said.
While the idea of giving May more time to resolve the crisis makes sense, the potential implications in the balance.
"We can't remain indefinitely in uncertainty with the Brexit question dominating the European debate," said the Elysee.
"But frankly, if May arrives saying 'I will organise general elections or a new referendum' I don't see how we could say no to a delay".
The French government is expected to then make the argument for the shortest delay possible, ideally not lasting beyond the end of 2019.
A spokesman for European Commission President Jean-Claude Juncker this morning said that "patience is wearing thin".
Meanwhile Norbert Röttgen, chair of the foreign affairs committee of the Bundestag, Germany's federal parliament, has said the EU should delay its final decision until the UK comes up with an approved plan.
He said May's request for extension was "meaningless" without parliamentary approval.
"EU cannot become accomplice of May's internal tactical manoeuvres," he tweeted.