The moment we all feared is here.
The price of Freddos has risen to 30p.
And now it seems that dark day is finally here.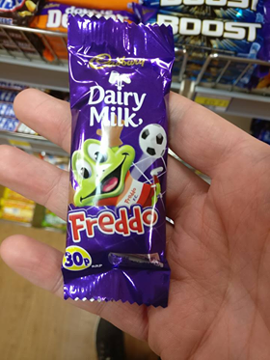 US food giant Mondelēz, which owns Toblerone as well as Cadbury, said that it was having to make "selective price increases" as a "last resort".
Other confectionary could be affected in the hikes too, although the company has not named which foods will be victims.
Mondelēz said that products were becoming more expensive to manufacture and also cited rising commodity costs and foreign exchange pressures for the price hikee.
A spokesperson said: "It is well reported that food and drink manufacturers have been experiencing increasing input costs for some time which, coupled with recent foreign exchange pressures, are making food products more expensive to make. For example, the price of cocoa, which we import into the UK, is up by over 50% since 2013.
"We have, and continue to, carry these increased costs within our business as much as possible, because our priority is to keep our brands as affordable as we can. Increasing prices is always a last resort, but to ensure we can keep people's favourite brands on shelf and look after the 4,500 people we employ in the UK, we are having to make some selective price increases with our customers in the UK."
The company did note that retailers set the price of the chocolate bar on the shelf.
They did not specifically link the rise to Brexit but many speculated the currency turmoil sparked by the vote could be an influencing factor.