More than £40 billion has been added to the value of Britain's biggest companies after the financial markets staged a fightback following punishing falls in the wake of the Brexit vote.
The FTSE 100 index was up 2.6%, or 158.19 points to 6140.39, after seeing nearly £100 billion wiped off the value of Britain's blue chips in the previous two sessions.
Sterling also rose more than 0.7% to just over 1.33 US dollars after dropping to a 31-year low against the greenback - and was 0.4% higher at 1.20 euro.
The London market continued to race ahead after Wall Street opened, with the Dow Jones Industrial Average up 0.7%
Equities across Europe were also rallying strongly, with the Cac 40 in France up 2.7% and Germany's Dax 1.9% higher.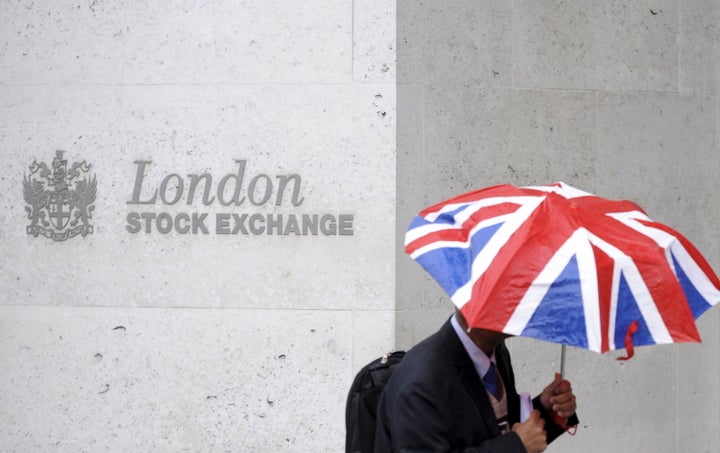 Oil prices joined in the bounce back, with Brent crude 1% higher at 47.64 US dollars a barrel.
But Connor Campbell at Spreadex warned the rally could be a "dead cat bounce".
He said: "This may well be a dead cat bounce, but one imagines - given the state they are in - the global markets will welcome any respite they can."
He later added: "The main change from Monday to Tuesday seems to be the performance of the banks. Accepting around £3 billion in a Bank of England liquidity auction this morning, the UK's banking sector is looking a bit rosier after having the colour completely drain from its face at the start of the week."
The pound and the FTSE have taken a pounding since the shock referendum result, which has led to volatility across global stock markets.
On Monday, Standard & Poor's stripped the UK of its triple-A credit rating following the vote.
Tony Cross, market analyst at Trustnet Direct, said while the UK's credit downgrade was a blow, it meant "just a little of the uncertainty is starting to ebb away".
He added: "It's still way too early to start thinking that the market is stabilising, but at least after two days of close-on freefall, we do seem to be moving towards that idea of finding a level."
Banks, housebuilders and retailers led the fightback in London - with stocks that have been punished in recent days clawing back some of their heavy losses.
Lending giants Lloyds Banking Group and Barclays, which have seen their shares decimated since the Brexit vote, were up 7% and 3% respectively.
Royal Bank of Scotland edged down 0.2%, having seen its shares plunge to its lowest since January 2009, when the bank was rescued in a taxpayer bail out at the height of the financial crisis.
Barratt Developments and Taylor Wimpey led housebuilders higher in the FTSE 100, up 7% and 5% respectively.
Bovis Homes was 5% higher in the FTSE 250 Index.
Builders have been hit hard amid fears over the impact of the vote on property prices and the housing market.
Retailers were also seeing strong gains in the rally, with Next the biggest blue chip riser in the sector, up 8% - followed by Marks & Spencer with a 5% rise.
Rolls-Royce was another enjoying gains - up 2% - as it reaffirmed its commitment to the UK despite Brexit and said currency movements would boost underlying revenues by around £400 million and improve underlying profit before tax by around £40 million.
Online grocer Ocado was 8% higher in the FTSE 250 as chief executive Tim Steiner assured over the impact of Brexit on the retail sector and posted a 5.7% rise in half-year earnings.
But he warned the weaker pound could lead to higher prices for shoppers as supermarkets face higher costs to import food and goods.
However, shares in challenger bank Shawbrook crashed by more than 14% after it was hit with a £9 million impairment charge.
The firm said the financial blow came after it spotted "irregularities" in one office within its asset finance business where some loans broke its lending rules.
Related