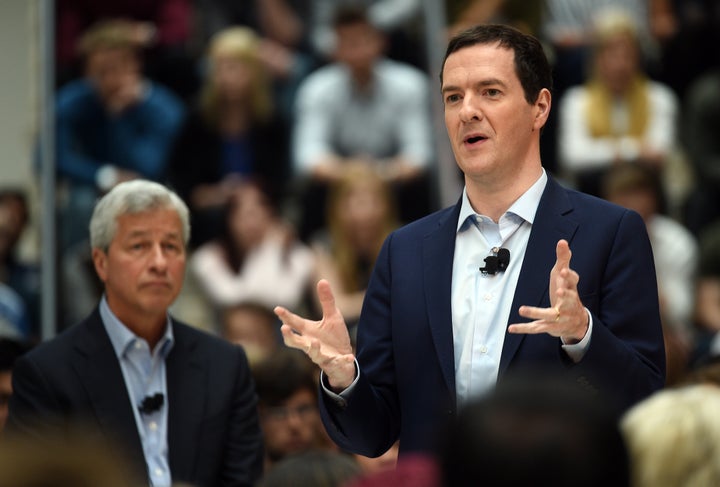 George Osborne is facing a furious Tory Eurosceptic blacklash after warning Brexit would force him to raise taxes and slash spending on the NHS, schools and defence.
With just over a week to go to the EU referendum, the Conservative Party's internal war escalated dramatically as the Chancellor said leaving the EU would force him to stage an emergency Budget to fill a £30bn "black hole".
The row erupted amid speculation that Osborne could even threaten that City trading would have to be suspended the day after a vote to quite the EU.
The FTSE stock market saw £34bn wiped off its value on Tuesday following a rash of polls pointing to Brexit, and other European exchanges took fright at the prospect of Britain leaving the 28-nation bloc.
Osborne, who joined former Labour Chancellor Alistair Darling to warn of the dangers of Brexit, insisted he would have to tear up Tory manifesto pledges to cope with the shock to the economy.
"The Conservative government would do what was needed to deal with huge instability and the chaos in our economy," he told BBC Radio 4's Today programme this morning.
"The country would not be able to afford the size of the public services we have at the moment".
But in a sign of the potential political chaos in Westminster should the UK vote to leave on June 23, some 65 Tory MPs signed a statement declaring that the would not vote for such a Budget.
Along with the Eurosceptic Tories - who said this morning that Osborne's position was now "untenable" - Labour under Jeremy Corbyn would be unlikely to support further austerity.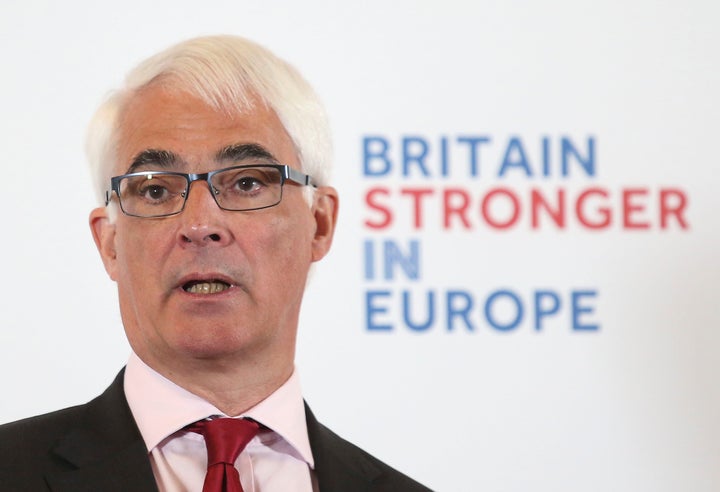 A senior Labour source told HuffPost UK: "Labour wouldn't support any Budget that slashes public services or furthers austerity, that has failed our economy.
"But you can't trust these backbench Brexit Tories who have voted through every cut so far, to suddenly find a conscience.
"The Brexit Tories weren't standing up to Osborne when he introduced the bedroom tax, cut disability benefits or slashed care for elderly people."
Former Government economist Jonathan Portes added: "Frankly, this is scaremongering. It is entirely legitimate for them to argue that over the long run Brexit will reduce UK growth, with damaging consequences for tax and spending.
"But in the short run tax increases or spending cuts would be entirely the wrong response to a Brexit shock. Both know that full well, and it is misleading for them to claim otherwise."
The Chancellor refused to answer when it was put to him that the Official Opposition would not back any move to cut funding to the NHS or schools.
But Osborne said a post-Brexit Chancellor, whether it was him or not, would have no choice.
"I am pointing out that the kind of measures we would have to take, that any chancellor and any government, would have to take," he said.
"Conservatives understand and indeed many Labour politicians understand, you can not have chaos in our public finances. You would have to deal with the hole that would emerge if we quit the EU."
Vote Leave Chief Executive Matthew Elliott said: "George Osborne's reckless teenage temper tantrum has proved a step too far. Threatening to vandalise the economy has led to his MPs effectively declaring no confidence in him."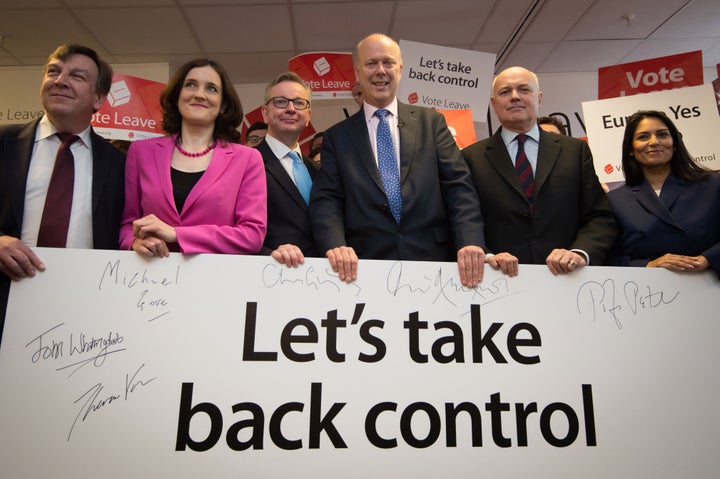 Tory MP Steve Baker, one of the MPs opposing Osborne's suggested Budget, dismissed the Chancellor's warning as "just a scary story, a campaign tactic".
He told the BBC the 'Remain' campaign was "whipping up fear to secure a political objective".
Two Tory MPs on the list of 65 asked David Cameron questions at Prime Minister's Question Time. One backbencher, Christopher Chope, attacked the "vindictive Budget" plan and the MP was openly heckled by his own side.
Eurosceptic fury also focused on reports that the Chancellor may decide to suspend trading on the stock market the day after a Brexit vote.
Conservative employment minister and Brexit campaigner Priti Patel told The Huffington Post it would be "totally irresponsible" of Osborne to suggest such a move ahead of the referendum.
She said that it had been Osborne and Bank Governor Mark Carney who had spooked the markets with talk about sterling and house prices.
The 57 Tory MPs who have said they would oppose Osborne's Budget include Iain Duncan Smith, Liam Fox and Owen Paterson.

"We find it incredible that the chancellor could seriously be threatening to renege on so many manifesto pledges," they said in a statement.

"It is absurd to say that if people vote to take back control from the EU that he would want to punish them in this way."

"We do not believe that he would find it possible to get support in Parliament for these proposals to cut the NHS, our police forces and our schools.

"If the chancellor is serious then we cannot possibly allow this to go ahead. It would be unnecessary, wrong and a rejection of the platform on which we all stood.

"If he were to proceed with these proposals, the chancellor's position would become untenable.

"This is a blatant attempt to talk down the market and the country. The chancellor risks doing damage to the British economy in his bid to win this political campaign."
Osborne also warned voters this morning there was no going back if they voted for Brexit in eight days time. "It's going to be a one-way exit," he said. "When we walk through that door next Thursday, there is no coming back."
Today, the chancellor will join forces with former Labour chancellor Alistair Darling to warn schools, hospitals and the armed forces would all see funding slashed after a win for the Leave side.
According to Osborne, the basic rate of income tax would increase by 10%, climbing to 22p in the pound, the top rate would rise 3p to 43p, and inheritance tax would go up 5p to 45p in the pound.
The NHS would see cuts of £2.5 billion, with the defence budget reduced by £1.2 billion, and education spending down by £1.15 billion.
The Chancellor said they were "illustrative examples" of what would be in an emergency Budget.
Vote Leave's most senior Labour MP, Gisela Stuart, said: "I simply can't believe that Alistair Darling and the Labour Party would support an Osborne punishment budget that is designed to hit the poorest hardest."
And some 'moderate' Labour MPs pointed out that the party would never vote for a Tory Budget.
Related