A German woman who has lived in the UK for 43 years called LBC in tears on Tuesday saying she is too scared to leave her home after receiving racist abuse from her neighbours.
The caller, identified as Karen, told James O'Brien that she had dog excrement thrown at her door and was told by her neighbours to leave Britain following Friday's vote to exit the European Union.
Karen told O'Brien: "I'm so frightened.
"I'm so scared I don't know what is going to happen next."
Karen said she has lived in Britain since 1973, having relocated from Germany with her late British husband who was a local GP.
She lives in a middle class area and said that her neighbours, many of whom are pensioners, were targeting her because she's German.
Karen said: "I haven't been out of the house for three days. My neighbours told me they don't want me living in this road.
"My friend's grandson got beaten up because he had a foreign grandmother.
"I'm so scared, I don't know what's going to happen next."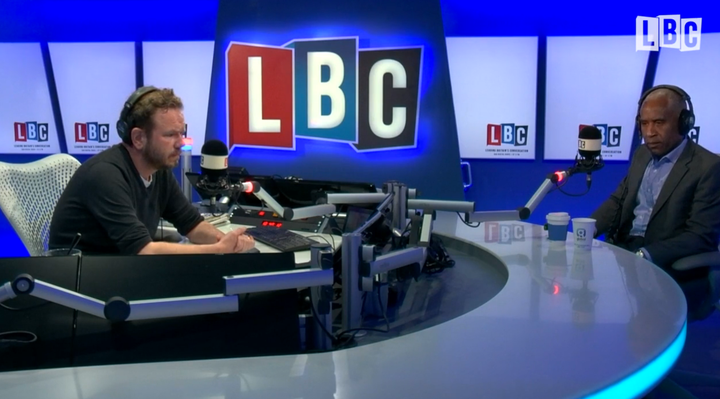 Simon Woolley, from Operation Black Vote, was in the studio with O'Brien at the time.
He said: "She (Karen) and others deserve better, having lived here and worked here and loved our country. It breaks my heart to hear her being subjected to this."
Woolley continued: "This is what's happened... because it's normalised. Nigel Farage, Boris Johnson, they have normalised this and this is how it's translating.
"Fifty years we have fought for race equality and you have on your programme in 2016 a good woman desperate, in tears, because she fears going out her front door for no other reason than being German."
O'Brien told the distressed caller that she was "going to be alright" and reassured Karen that she was not on her own.
There was an outpouring of support and sympathy for the caller's plight.
The result of the EU referendum has seen an increase in anti-immigration rhetoric.
A detailed list compiled by Tell MAMA, a group that measures anti-Muslim attacks, reveals the abuse people have received since Friday.
Examples of the racist behaviour documented includes a taxi driver telling a Muslim woman that he voted to leave the EU "to get rid of people like you".
Other people report being called a "p***" and physical abuse.
Scores of people documented online the racial abuse that they have been subjected to.
Police are hunting a group of teenagers who were filmed hurling racial abuse at a mixed-race passenger on a Manchester tram on Monday.
And BBC reporter Sima Kotecha revealed her "utter shock" after being called a "p**i" in her home town - a word she says she has not heard in that area since the 1980s.
Leaders of the main political parties condemned the racial abuse during a House of Commons session on Monday.
The politicians' comments came after Mayor of London Sadiq Khan said he had asked Scotland Yard to be "extra vigilant" after a number of incidents were reported in the capital and around Britain.