In a heartwarming post for Father's Day, the mum to three-year-old Buzz and one-year-old Buddy said she feels "fully supported" by her husband.
"There's one question that has started grating on me, and that's: 'Is Tom a hands-on dad?', along with: 'What's he like as a father?' or 'Has he surprised you in his new role?'" the mum wrote on Instagram on Sunday 18 June.
"I'll say straight away that Tom is an amazing dad. He is one half of the parenting team and we very much do everything together. I feel fully supported in the knowledge that parenting, for us, is a mutual responsibility."
Fletcher said she wouldn't be able to have kids and carry on working without having her husband there by her side as much as he is.
She continued: "I guess the thing that started to irk me about those questions, is that no one would ever ask Tom what I was like as a mum, or ponder over my involvement, or dare to ask if I was any good at it.
"So the fact Tom, and all dads, are having their skills questioned as though being 'hands-on' is optional, is a murky area for me.
"I feel like we've moved on as a society. Dads are more involved. Well, in my eyes, they should be."
She asked fans not to "dumb down her husband" or any other dad who has readjusted their life accordingly for their families.
"Don't treat dads who interact with their children like they're doing something alien that warrants your praise," she wrote.
"If you wouldn't do it to a mum, don't do it to a dad."
Fletcher's post had nearly 60,000 likes, and she was praised for recognising how important dads are in their children's lives.
"I absolutely love this post," one mother wrote. "My husband is a doting father, people are always surprised and say: 'Oh you're so lucky to have him'.
"Like really? We both work to give our babies the best we can. And it's so hard trying to juggle but so much easier knowing we are in it together. You always hit the nail on the head in the most loveliest way."
Another wrote: "YES! Absolutely agree. My girls have an amazing dad and wouldn't be nearly as happy or get half the enjoyment out of life without him and his crazy ways. As a team we make their world complete."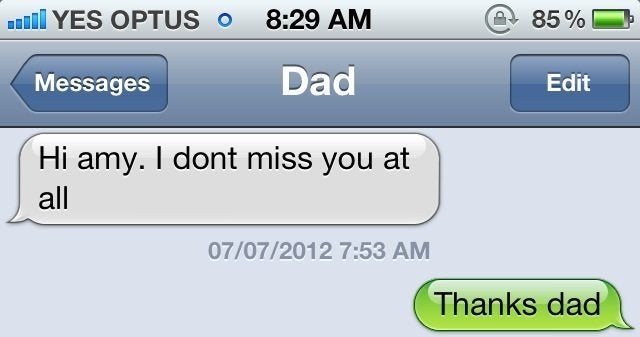 13 Hilarious Texts From Dad