You're reading our series Summer's Not Cancelled, celebrating summer in this new normal. From rediscovering nature and time with friends and family, to virtual festivals and unforgettable staycations – summer's still here, it's just different.
Want a nature getaway without having to give up the home comforts of hot running water, heating, and lighting? Maybe glamping really is the answer.
Handily, VisitEngland has just announced its 2020 list of Award For Excellence winners featuring some of the best camping and glamping sites in the UK. From wooden eco pods and sturdy yurts to beach huts with private access to the sea, there is luxury camping to be had all over the UK, making it the great option for a weekend away close to home.
You don't have to go abroad to experience the great outdoors in comfort and style. And let's face it, domestic travel is the way forward at the moment.
Before you grab your camp chairs and pack a picnic, it's worth check outing out the latest travel guidance and top tips to help you plan responsibly, so you can respect and protect the countryside right here in the UK.
Here are eight great glamping spots to make happy campers of you all.
1. Landal Darwin Forest, Derbyshire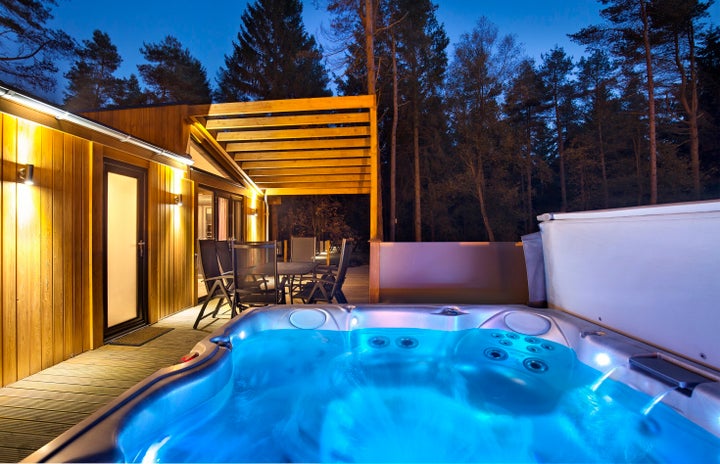 A five-star lodge holiday park for a five-star holiday to remember. This park located just outside of Matlock on the edge of the Peak District National Park has 132 luxury lodges nestled within a stunning forest setting, as well as fantastic onsite facilities including a swimming pool, spa, gym, play centre, restaurant, and an array of sporting activities for all the family, including woodland walks and cycling trails to explore. Or, if prefer to relax and unwind, you can soak all your troubles away in your room's private hot tub, with a view of trees as far as the eye can see.
Lodges start from £269 a night. For more information visit their website.
2. Swallowtail Hill, East Sussex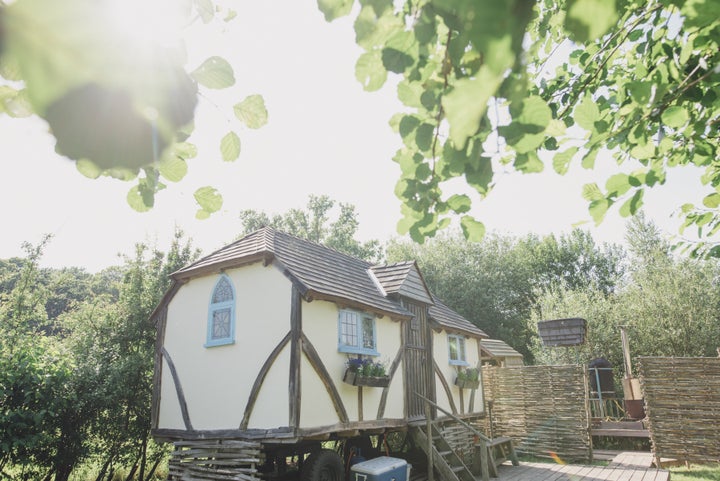 Escape the city and enjoy the idyllic farm life where you can meet donkeys, pygmy goats and pigs galore. Bask in Swallowtail Hill farm's beautiful 40 acres, which are filled with wildflower meadow and woodland. Get your slice of peace and quiet away from the pace of modern life by choosing from six accommodation options on offer. They range from off-grid cottages for those looking for complete silence to matching pair of cabins perfect for families wanting space and a wonderful woodland retreat.
Cabins start from £199.50 minimum two-night stay. For more information visit their website.
3. Eye Kettleby Lakes, Leicestershire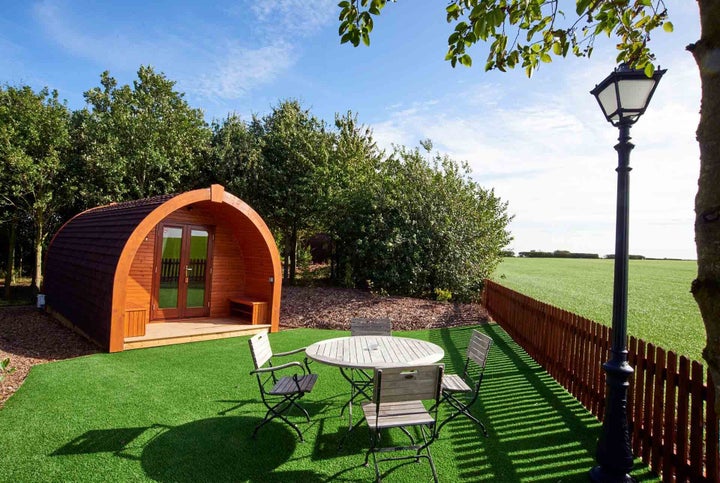 Got a keen eye for the good life? Then look no further than Eye Kettleby Lakes. Take your pick between luxe-lodges or smaller equally glam glamping pods, then either chill by the lakeside or fish til your heart's content. Don't worry about being entirely self-sufficient; there's plenty of amenities on offer such as a clubhouse with a bar, a tearoom, and accommodation luxuries like fire pits, charcoal BBQ and flat-screen TVs to make your stay special. What's more, you'll be a stone's throw away from the Melton Mowbray area, a market town with loads of pubs and most famously known for its pork pies and Stilton cheese, so be sure to save space in the suitcase to stock up.
Cabins start from £85 a night. For more information visit their website.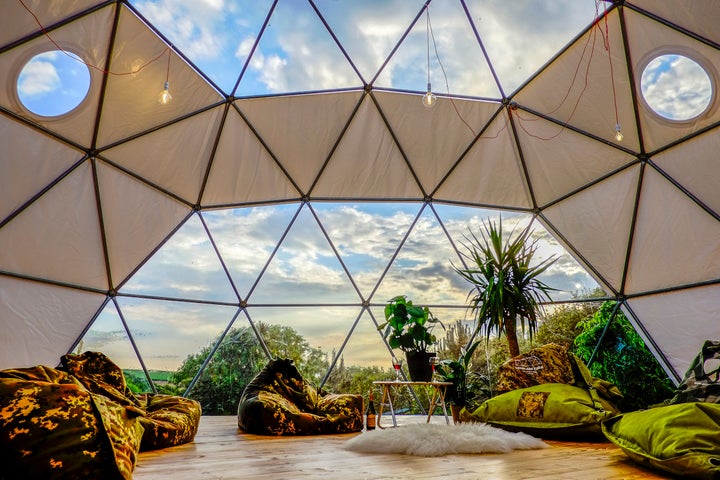 This eco-friendly haven in Devon is not only a great jumping off spot for visiting sandy beaches but is a perfect place to rest your head and view the stars. All accommodation comes with maximum privacy and fantastic views. Start your day off right with a breakfast hamper from Loveland Farm and then explore all the activities Devon has to offer before stargazing with your friends and family in the evening.
Tipi prices start from £196 and pod prices start from £270 minimum two-night stay. For more information visit their website.
5. Rosie's Hut, South Devon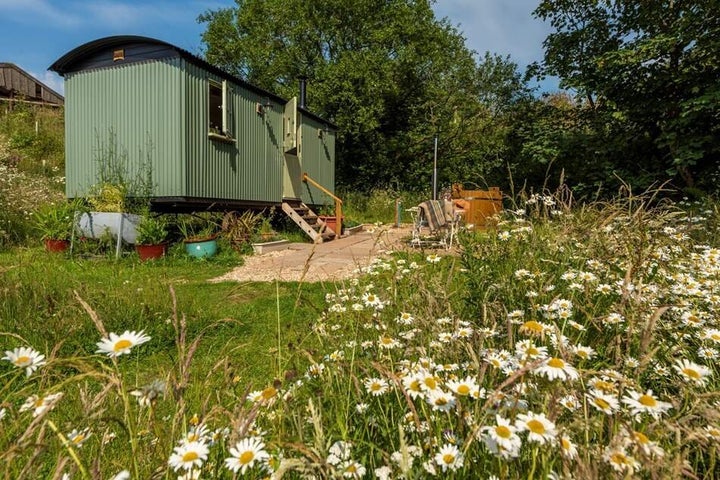 Now's your chance to fully immerse yourself into Cottagecore by staying at one of Rosie's Hut beautiful glamping properties. Set in a secluded location near the south coast of Devon with gorgeous uninterrupted countryside views. Although we might've skipped past summer solstice, the sun continues to shine and draw out those beautiful long and warm autumnal evenings as we enter into September. The cherry on top for the most romantic getaway under the stars? A wood-fired hottub that's perfect for unwinding after an action-packed day.
Prices from £504.25 minimum-three night stay. For more information visit their website.
6. Hadlow Hideaways, East Sussex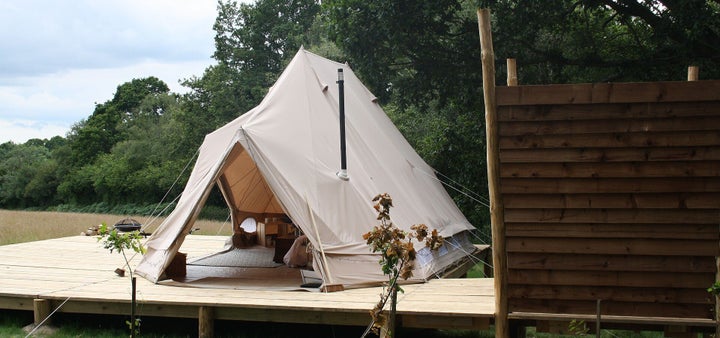 Another eco-friendly site with bell tents and hot tubs that combines classic camping traditions with modern luxuries. Situated on the edge of a private wood in East Sussex, the tents offer campfires, gas stoves, and fold-out camping chairs, while also having its own kitchen shack, en-suite toilet, shower room and a wood-burning stove. With five tents in total to choose from, two of which are larger 'emperor' tents that can sleep up to six people. And the best thing? The owners have a drift of pigs and a clutch of chickens, so any kids in the party can help feed the animals and collect the eggs.
Prices from £230 minimum two-night stay. For more information visit their website.
7. Exe Valley Glamping, Devon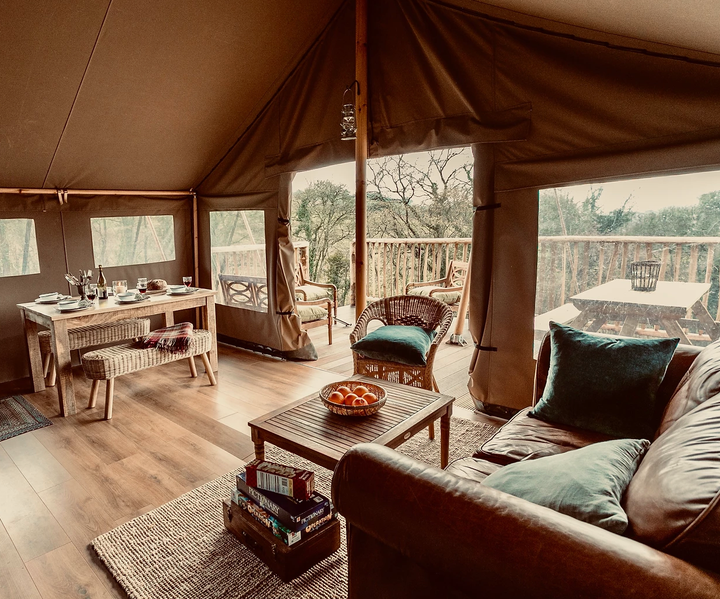 The eco-friendly, family-orientated safari lodges are set within 150 acres on a family farm in the grassy glamping meadow area. All accommodation is tastefully decorated and designed with the environment in mind, as well as being off-grid with solar energy for lighting and power for the fridge. Take in the breathtaking scenery while you make the most of the campfires, stars, and board games. While you're in the area, be sure to take advantage of the nearby craft shops, tearooms, riverside walks, a railway museum, and pubs in Bickleigh village.

Prices from £500 minimum three-night stay. For more information visit their website.
8. Carswell Beach Hut, Plymouth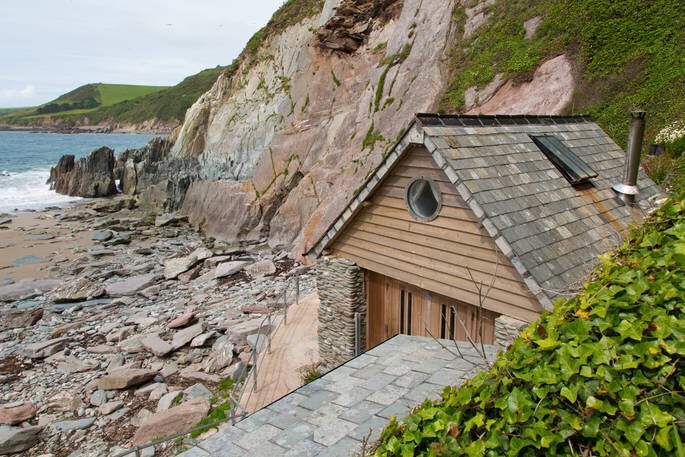 There's off the beaten path, and then there's Carswell Beach Hut. Head down a steep cliff path and after a 15-minute walk from the parking spot lies Carswell Beach Hut, which sits pretty above a private strip of rocky and sandy beach. The beach hut might be far removed from the rest of the world, but it doesn't come without luxury amenities such as electric lighting, plug sockets, shower room with flushing toilet and wood-burner. For the ultimate cosy coastal getaway, laze in the wood-fired hot tub or relax in the hammock chairs after a day of exploring rock pools and swimming in the sea.

Prices from £348 per night. For more information visit their website.