The shooting of Harambe the gorilla after a boy fell into his enclosure at a zoo in the US on Saturday has caused many to remember two similar incidents that had very different outcomes.
The death of the 17-year-old critically-endangered animal sparked a fierce backlash, with many people saying he should not have been shot dead as he did not intend to hurt the child.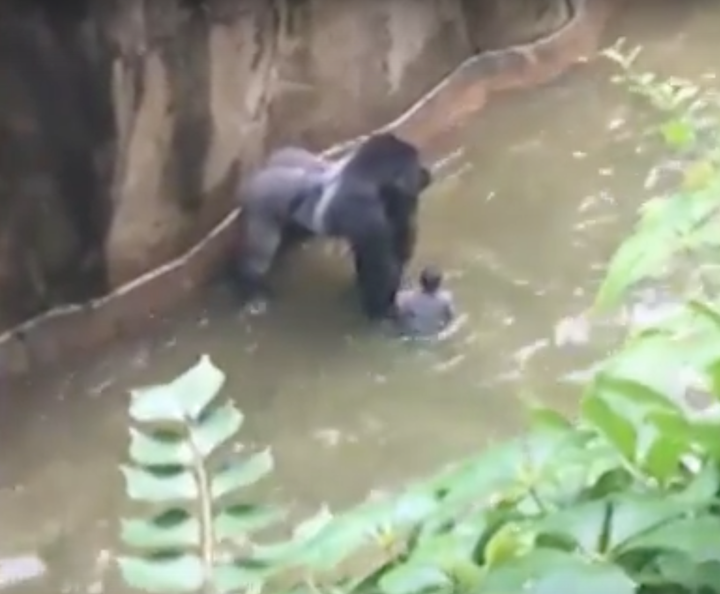 Zoo officials said they shot the 400lb animal when the situation became "life-threatening" after Harambe picked the child up and stayed with him for about 10 minutes.
Thane Maynard, the director of the Cincinnati Zoo, said the decision to kill the gorilla was the right one. He said the gorilla was agitated and disoriented by the commotion during the 10 minutes after the boy fell.
However, many have also drawn comparisons with two other exceptional circumstances, whereby gorillas have saved children who have fallen into their enclosures at zoos.
On August 31, 1986, five-year-old Levan Merritt fell into the gorilla enclosure at Jersey Zoo and lost consciousness.
Jambo the 'Gentle Giant' stood guard over the child, protecting him against other gorillas in the enclosure.
Ten years later, on August 19, 1996, a three-year-old boy fell nearly 20ft into the Western Lowland Gorilla Pit at the Brookfield Zoo.
The boy was knocked unconscious and all spectators could do was watch.
As a female gorilla named Binti Jua approached the child, people began to scream, thinking that she would hurt him.
Instead, she picked the child up, cradled him and carried him to to an access entrance where staff could get to him.
People on social media have also been quick to point out the similarities between these two incidents and that of Harambe.
"We are all devastated that this tragic accident resulted in the death of a critically-endangered gorilla."
He added: "This is a huge loss for the zoo family and the gorilla population worldwide."
Authorities said the child, who has not been identified, fell 10 to 12 feet.
He was taken to Cincinnati Children's Hospital Medical Centre, where he is expected to recover.
Maynard said the gorilla did not appear to be attacking the child, but he said the animal was "extremely strong" and in an agitated situation.
He said tranquilising the gorilla would not have knocked him out immediately, leaving the boy in danger.