The growing anger and the threat of industrial action risks eclipsing Rishi Sunak's manicured budget and the successful vaccine roll-out, with calls for the public to support a slow hand clap next week against the pay proposals.
A 1% rise represents a drop in the bucket in the context of the government-backed Covid relief package worth £407bn.
NHS accounts for 2019/20 show that £45.1bn was spent on salaries and wages, meaning a rise of 1% would amount to approximately £450m. Under another estimate, the Department of Health and Social Care referenced a figure of £56.1bn covering permanent and "bank" staff spending in 2019/20 in evidence to the NHS pay review board. That would mean a 1% uptick costing around £561m.
Critics have pointed to how the government has lavished significant sums of money elsewhere, often on projects with questionable merits. Here are a list of just a handful or so that have caused anger in the last 18 months.
£2.6m: Refurbishment for White House-style press briefings
Downing Street has spent more than £2.6 million on renovations in order to hold White House-style press briefings, it was revealed on Saturday.
According to the PA news agency after a response to a Freedom of Information request, a total £2,607,767.67, largely excluding VAT, was spent to allow daily broadcasting by various news organisations within the Grade I listed building.
An extensive overhaul within No 9 Downing Street began last year as the government announced the plans to hold the televised question and answer sessions with journalists, with their launch long delayed during the coronavirus pandemic.
Labour deputy leader Angela Rayner said: "It would take around 100 years for a newly qualified nurse to get paid this kind of money.
"It sums up Boris Johnson's warped priorities that he can find millions for vanity projects, while picking the pockets of NHS workers."
Lib Dem deputy leader Daisy Cooper added: "This is nothing more than an expensive vanity project and is just more evidence that this government's priority is spin, not substance.
"The prime minister himself said that he 'owed his life' to Covid doctors and nurses but now he's happy to see front-line nurses take a real-terms pay cut, whilst he gets a flashy new TV studio – the prime minister should hang his head in shame."
£37bn: Spending on troubled Test and Trace system
HuffPost UK revealed on Thursday that the small print of Sunak's budget showed the Test and Trace system is to get another £15bn, bringing its total cost to £37bn. The funding for 2021/22 comes on top of this year's spending allocation of £22bn.
MPs said that the "eye-watering" sums should prompt ministers to do more to prove that the system, run by Tory peer Dido Harding, was giving taxpayers real value for money.
Test and Trace has been dogged by criticism since its launch last April, with critics seizing on its use of private consultants at £1,000-a-day, its outsourcing to firms like Serco and its failure to deliver contact tracing rates or rapid test turnaround times seen as vital to stop the spread of Covid.
The National Audit Office published an interim report on Test and Trace last November which concluded that the government "needs to learn lessons" and that the service "is able to make a bigger contribution to suppressing the infection than it has to date".
£340,000: Payout to Home Office official after Priti Patel bullying claims
On Thursday, it emerged the government agreed a "substantial" payout to settle a top civil servant's employment tribunal claim after he quit amid allegations of home secretary Priti Patel's bullying.
Home Office chief Sir Philip Rutnam is reported to have accepted a six-figure sum after launching legal action against the Cabinet minister.
The department's former permanent secretary dramatically resigned in February last year, accusing Patel of a "vicious and orchestrated" briefing campaign against him, claiming constructive dismissal and accusing Patel of bullying her subordinates.
A 10-day employment tribunal to hear Sir Philip's case was due to take place in September.
Neither the Home Office nor the the FDA Union would disclose the amount of the settlement but it is understood to be a "substantial" sum.
£4.4bn: Additional costs of Brexit preparations
Britain's withdrawal from the European Union cost the taxpayer more than £4 billion in additional government costs, according to the Whitehall spending watchdog last March.
The NAO said that between the EU referendum in June 2016 and March 31 last year, government departments will have spent at least £4.4 billion, while £6.3 billion was allocated by the Treasury for Brexit preparations.
They included planning for both "deal" and "no deal" scenarios, with £2 billion specifically earmarked for "no deal" preparations in 2019-20 – although this was scaled back after the prospects of "no deal" receded.
Of the money spent, £1.9 billion went on staffing costs, £1.5 billion on building new systems and infrastructure, and £288 million on bringing in expertise and external advice.
At the peak of activity, in October 2019, there were 22,000 staff working on Brexit preparations, including 1,500 who had been moved within government to prepare for a possible "no deal" exit.
£150m: Millions of unusable face masks
During the early days of the pandemic, the government scrambled to secure deals with suppliers for precious personal protective equipment (PPE). Questions have been raised about many of the contracts, among the most notorious being a deal for 50 million face masks that did not work.
The masks were bought for NHS England from investment firm Ayanda Capital as part of a £252 million contract. But the government said because they used ear-loop fastenings rather than head loops, they may not have fit tightly enough for clinical use. It confirmed in court papers that the masks would not be used in the NHS.
Based on incomplete Whitehall figures, the Good Law Project and EveryDoctor estimate the 50m masks would have cost more than £150m of public money.
£60m: Falling short of supplying computers to disadvantaged schools
A £60m contract was awarded for the education department to provide laptops to teachers and disadvantaged children during the lockdown.
But in August, HuffPost UK revealed the scale of the failure to deliver the computers to the poorest communities. Figures obtained by the Children's Commissioner for England showed 27 academy trusts were left with just one device each.
In April, education secretary Gavin Williamson pledged the government would fund devices for children on free school meals in Year 10, as well as for vulnerable pupils with social workers and care leavers. But, despite some 540,000 pupils being eligible for the scheme, just 220,000 laptops were delivered to schools by August as a second lockdown loomed.
£1m: Boris Johnson's 'Brexit plane' gets a red, white and blue makeover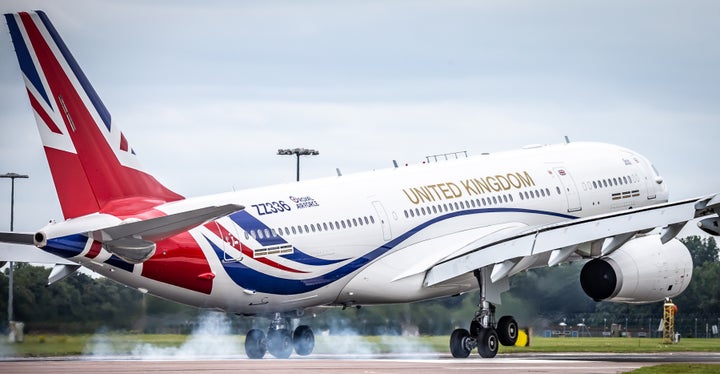 A plane used to transport the prime minister and the royal family was given a red, white and blue makeover that cost almost £1m.
The once-grey RAF Voyager was resprayed in white, with a Union flag on the tailfin and United Kingdom written in gold on the fuselage.
Boris Johnson had complained about the military paint scheme used on the jet.
As well as being a serving military plane, Voyager is used to transport the prime minister and members of the royal family to engagements abroad.
The cost of the respray, undertaken at an airport in Cambridgeshire, was condemned by opposition politicians when it was revealed.
The SNP lambasted it as an "utterly unacceptable use of public funds".
Downing Street, which confirmed the work would cost "around £900,000", said the new colour scheme meant the plane could better represent the UK around the world with "national branding".