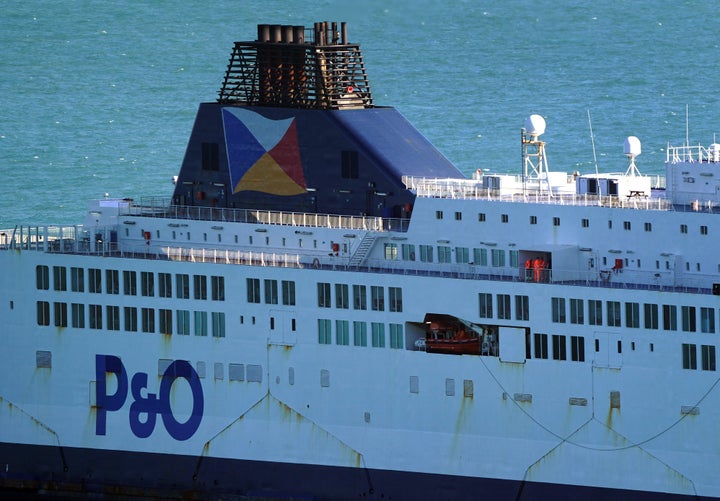 Two cabinet ministers have been mocked after getting the name of P&O Ferries' chairman wrong in letters criticising the firm for sacking 800 staff.
Grant Shapps and Kwasi Kwarteng addressed the strongly-worded missives to Robert Woods.
But embarrassingly for the pair, he retired from the role last year.
Their mistake was only spotted after they tweeted their letters highlighting the action the government is taking in response to the row.
P&O caused widespread anger on Thursday after 800 members of staff were told they were being fired with immediate effect on a video call.
A 24-second clip of the recording was obtained by BBC South East on Thursday.
A P&O Ferries boss in the footage tells the room: "The company has made the decision going forward that it will be primarily crewed by a third party crew provider.
"Therefore I am sorry to inform you that this means your employment is terminated with immediate effect on the grounds of redundancy.
"Your final day of employment is today."
In his now-deleted tweet, transport secretary Shapps said: "I've written to P&O Ferries raising concerns about treatment of the 800 staff made redundant yesterday. I'm also questioning the legality of this move & reviewing P&O Ferries' contracts across government. The company must sit down with workers and reconsider this action."
His letter was addressed to "Robert Woods, Chairman, P&O Ferries".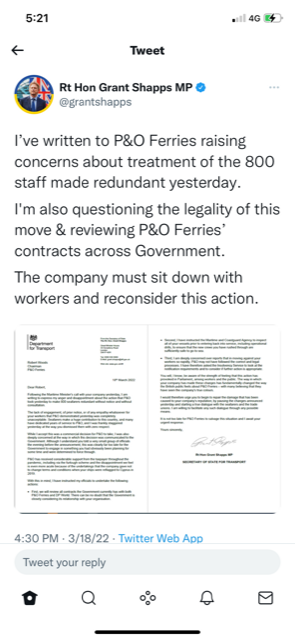 Business secretary Kwarteng's tweet, which has also been deleted, said: "P&O Ferries has lost the trust of the British public and has given business a bad name. The government wants answers."
His letter was also signed by Paul Scully, the small business minister.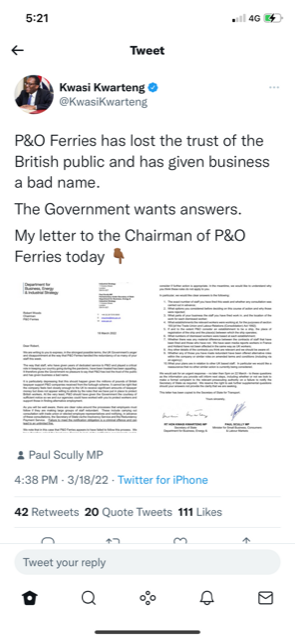 Kwarteng later tweeted a redrafted letter, which was addressed to Peter Hebblethwaite, P&O Ferries' chief executive.
Louise Haigh, Labour's shadow transport secretary, said: "The Conservative government is a sinking ship.
"Some 48-hours after finding out that 800 British workers would lose their jobs, the transport secretary can't even figure out the correct person to write to, to protect these workers.
"They deserve better. They deserve a Labour government who will act before the horse has bolted – by ending fire and rehire, and giving them security and respect."
Liberal Democrat MP Alistair Carmichael said: "Shapps has form on getting names wrong. For some time he used to tell people that he was Michael Green.
"While it is welcome that the government is demanding answers, it would be more welcome if they asked the right people. They might even have acted years ago when they were warned that UK seafarers were being exploited and needed better protection in law."