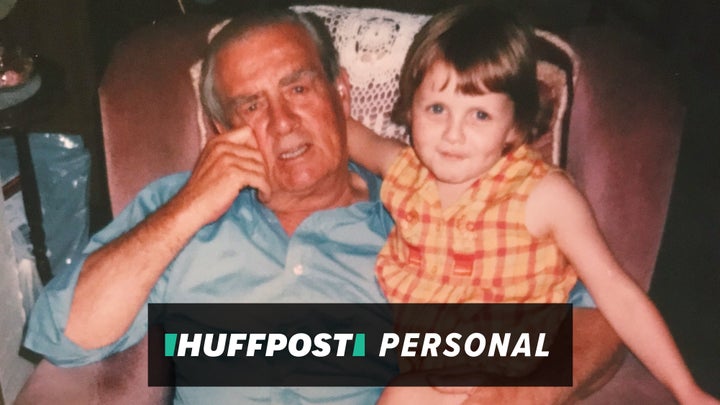 Exactly a year to the day after I lost my grandad to dementia, I found myself speaking on the phone to a bereavement counsellor.
"Grief helps people gain a different perspective on life. They realise actually how fragile life is and it motivates them to make the most of life," she said.
I never wanted to see the day I lost grandad. He had always dreamed I'd go to university one day, and together we had looked forward to my first day and graduation day in equal measure. Yet just four months before donning my robes and black cap, I sat with him in a private hospital room, watching as he took his final breaths.
He was diagnosed with vascular dementia in June 2014, a couple of months before my first day at university. Despite successful surgery to repair a leaky valve in his heart, there soon followed a bout of pneumonia, two falls and a suspected bleed to the brain before his diagnosis at age 85.
"We were kindred spirits, despite our almost 70 years age difference"
Vascular dementia occurs due to brain damage after a lack of blood supply to the brain. It's the second most common form of dementia in the UK, affecting 150,000 people. For someone who prided themselves on their intelligence and quick-thinking, seeing my grandad deteriorate was heart-breaking.
We were kindred spirits, despite our almost 70 years age difference. He would revel in me wanting to spend time reading and writing stories from a young age, and I always asked questions about his life and experiences, clinging to every word. He was the first person I'd call when I achieved a good grade in an exam, and I'd always go to him when I was struggling with homework or having a bad day at school.
Ironically, his health took a turn for the worse during my final year of university. In December 2017 his dementia was advancing rapidly, and he was taken to hospital following a particularly aggressive water infection. He spent Christmas in hospital and sadly never came home again. In February 2018 he was placed in a care home, but less than two weeks later on St David's Day, he passed away.
Everyone around me knew how much I looked up to grandad, so they were completely shocked when just five days later I was back at university attending lectures and seminars as normal. Inside I was a wreck but I couldn't let him down, so I soldiered on.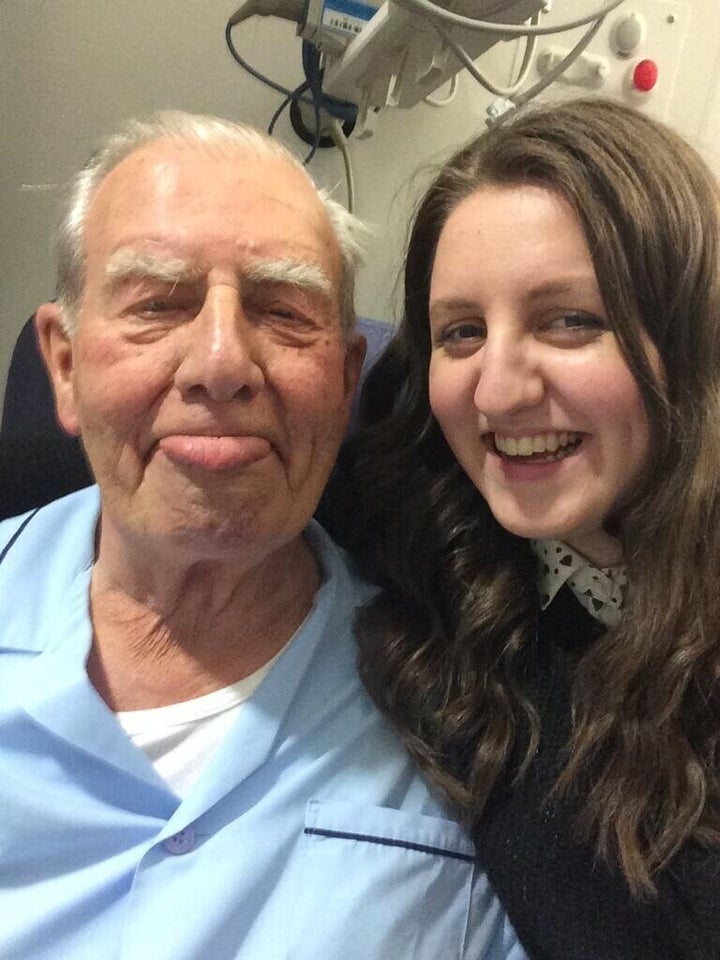 I threw myself headfirst into everything to keep busy, living life as normally as possible. Grandad's motto in life had always been "I can do it", and I was determined to prove I could carry on.
This mentality seemed to pay off: not long after his passing, I seemed to be flourishing. I achieved some of my highest grades, personal goals, and even interviewed successfully for my dream journalism Masters.
When I passed my degree with a 2:1, all I wanted to do was ring grandad and tell him I'd done it, and hear how proud he was of me. That's when I realised I'd been doing this for both of us.
I rang my mum with the good news. "He'd be so proud of you," she whispered in between sobs.
"People who come to me for counselling see they've got enough strength, but maybe don't realise it themselves or don't recognise the small things they're able to do as they're moving through the grief process, increasing in strength," Susan told me during our timely phone call. These words are perhaps the most pertinent to my journey through grief.
In many spiritual circles, it is believed robins are a symbol of the dead visiting loved ones. Just after grandad's funeral, my mum noticed a robin dancing on the lawn in the back garden, even coming up to the patio door to peer inside and get a closer look at our living room. A week before my graduation, on a day she was feeling particularly low, another robin appeared in front of her, this time quietly perched on the garden fence and watching. It brought us all great comfort.
"While he couldn't be there physically, he would be there in spirit because I was living life as he'd hoped I would"
Suddenly, graduation day was upon us. It was bittersweet, and the thought of grandad not being there broke my heart. However, to make sure he was with us in spirit, my dad had taken inspiration from the robin sightings and bought me and mum matching jewellery: a robin pendant for her and robin-shaped earrings for me. They were the last piece of the puzzle.
Putting them on, a weight lifted. While he couldn't be there physically, he would be there in spirit because I was living life as he'd hoped I would – and graduating was a huge part of that. The thought soothed me. Walking out of the house towards our big moment, the one we'd always dreamed of, I knew that with grandad in my heart I could get through anything.
As time goes on, grief inevitably becomes easier to muddle through. The wound never truly heals, but it hurts less. There are days when I'm so consumed by plans with friends, university deadlines, and even housework, that when I do think of him, it's fleeting. However, as I recently read on a highly apt Instagram post that I came across, while sadness is a cloudy day, grief is a sudden thunderstorm. Sometimes I hear a song that was played at his funeral, or see a bottle of Bell's whiskey discounted in the supermarket, or even drive past the betting shop he'd go to most days to have a flutter on the horses, and realise far too late I'm having a cry to myself in public.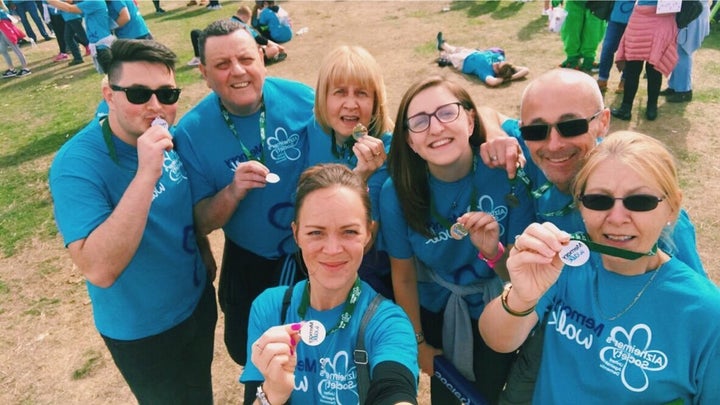 And whether I want to admit I'm sad or not, those days need to happen in order to see the good in my life, to find the motivation to reach a deadline, and to strive for exactly the kind of job I want and deserve. None of that would be possible without the love and friendship grandad provided me.
Last September, to mark his birthday, me and my family took part in a Memory Walk for Alzheimer's Society. Walking that 7km through helped raise over £1,500 – the perfect way to mark his memory. This September he would be 90, but when I think of how close he was to such a milestone, I don't actually feel sad. In fact, I'm happy. He had such a long, fulfilled life before his dementia diagnosis, and I know he would look back with pride.
Dementia is a cruel disease, and over time it robbed him of his memory, his abilities, even his dignity towards the end; when he died, in some ways, our family was relieved he no longer had to suffer at its hands. But that's not how we'll remember him. He was a wise man who always taught me to be resilient, to learn from my mistakes, and to fight through the hard times. I may have lost my best friend, but I carry his spirit with me every day.
Kirstie Sutherland is a freelance journalist. Follow her on Twitter at @kirstiesuthers.